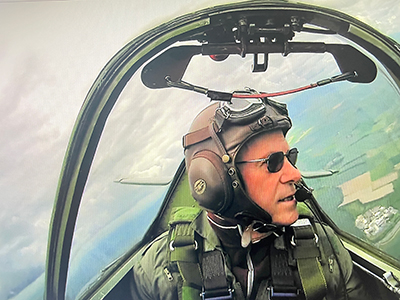 Modelling
What first attracted you to Scale Modelling?
Without doubt my Gran. She bought me a 1:72 scale Revell Albatros DV bi-plane in red plastic. I was hooked!
How long have you been scale modelling for?
Since I was 7 – with a 10 year break in-between to do the usual 'other' things.
Specialist area of modelling?
As I've said a few times now in SMN, I'm no armour modeller, but I am fascinated by the great creations the armour guys seem to produce and we've got our fair share here in SMN, not to mention the stunning maritime creations in Finished Now. At heart though, I am a diehard aircraft modeller. I just have always been smitten by the real things and always wanted to try and create small replicas for as long as I can remember.
Preferred scale?
1:32.
What is your favourite real subject of all time (Aircraft, Armour or Maritime)?
English Electric Lightning F.Mk.6.
The best thing you've ever built?
This is a hard one, but probably the Hasegawa Fw190A-8 (pictured below) in 1:32 I built for the Osprey Modelling Series of books (Fw 190A-F). It just all came together.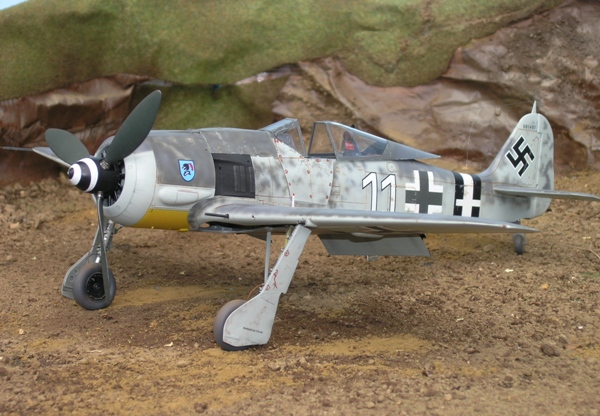 And finally, most memorable Modelling disaster?
How ironic is this for someone who doesn't build many ships – at all! Years ago, I was asked to build and review the Tamiya Nagara warship in 1:700. I could add whatever I wanted and so I thought, at least, it's got to have etched railings and rigging.
So I set about doing all that and, after much struggling, the etched additions all seemed to go quite well – pretty presentable really. Then it came to the rigging, and someone told me to use human hair – works really well (apparently!). Having secured a donor head (poor long-suffering Sara!) and attaching it all with cyano and getting the final tension by gentle heat from a match (recently extinguished and held near to the hair), it all tightened up brilliantly. Fantastic!
Come the day of the shoot – rigging all sagging! Arggh – I didn't know that hair changes depending on the atmospheric conditions – not a lot of use really if you can't predict when the model can be seen to good effect. A hair drier got us through the photo session and then it never saw the light of day again!
Scale Modelling Now
How long have you been a reviewer for?
Probably more than 30 years, for Tamiya Model Mag, Scale Models then of course since starting SMN back in February 2010.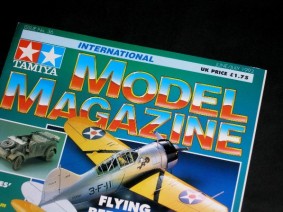 What made you get involved with SMN?
I just had to try to put into practice my vision for a great scale model magazine. Paper mags simply don't have the capacity or content that I wanted to see in a mag like: lots of techniques, much more in-depth builds; reviewers and contributors explaining not only what they are doing, but how – sharing that knowledge with others.
Yes, there are forums, but not a fully professional subscription magazine that's online only and so I had to create one!
What's your favourite thing (s) about SMN?
For me, it's the Techniques Bank and Finished Now areas of SMN because this is where there is a huge wealth of 'how-to' knowledge for everyone who takes time to explore these areas. The increasing number of HD videos and even including these in some of the builds is a great way to help others pick up the 'how-to' stuff.
Your favourite SMN review?
This is really difficult but recently we had the pleasure of including the big 1:24 Airfix Sea harrier FRS.1 conversion to FA.2 and that comes close to my perfect model. There's so many talented guys that contribute to SMN, I am hugely proud of what each and every one of them has done and continues to do.
They make a fantastic contribution and I hope that that's because they share my passion to create and make successful something we all believe in – something new, innovative and high quality. There's nothing I like more than a new update that pops up in my e-mail inbox, so that I can see just what progress there's been on any project. I love that – always something exciting to see.
About You…
Sum yourself up in no-more than five words.
Enthusiastic, driven, honest, objective, friendly.
Biggest hobby outside of Scale Modelling?
Photography – aircraft and armour subjects mainly, plus some creative stuff.
Favourite food/meal?
Roast lamb – has to be – one of Sara's specials!
The three people you most admire (outside of family/friends)?
Jesse Wright, former IPMS Membership Secretary – he was always so supportive on the numerous times we chatted at model shows and was a fantastic motivator.
Guy Gibson VC – for pulling off one of the most extraordinary feats of courage and leadership with the other crews of the Dams Raid in 1943.
John Gillies – for believing in me and giving me his practical support when I was a police officer 16 years ago.
And finally…tell us a (clean) joke.
Sadly, I can't remember jokes but I always remember a story years ago when I was in the Met.
We were on picket duty at some crossroads at about 4am in the middle of nowhere, dawn just breaking – about twenty police officers with nothing useful to do (or so it seemed). This guy wandered by walking his Golden Labrador – well, such joy that an exciting event like this should unfold.
Needless to say he and his dog were inundated with enthusiastic chat and petting for his dog. This was about the time the Met was keen to promote good public relations and had loads of 'I've met the Met' stickers made, supplied on rolls and intended for schools visits no doubt. Well, of course, some got liberated and had made their way with us to Notts. So, picture the scene – happy dog walker and Labrador bouncing off after their meeting with the Met, completely oblivious to the fact they both were covered in I've met the Met stickers! Sounds like one for Simon Mayo and Radio 2!