SMN 'Meet the Team' Questions
Modelling
What first attracted you to Scale Modelling?
For as long as I can remember my Dad built model aircraft and had loads of related magazines and books knocking around the house. I guess it was just a matter of time before I took up the hobby.
How long have you been scale modelling for?
When I was 6 or 7 I got an Airfix gift set for Christmas. It had 3 kits, glue and stinky enamel paint. I know one of the kits was a Harrier GR3 and I had this built before bedtime. I think I upset my parents when I was covering their dining table in Humbrol gloss black at 6am the next day!
I took the almost mandatory break around age 17 for work, women and beer (there was a LOT of beer!) before marrying and settling down. I needed something to keep me out of the pub and modelling cropped back up. This was 2007 and I haven't looked back. Sometimes I think my wife wishes I had kept the pub option – it certainly would've been cheaper and taken up less space…
Specialist area of Modelling?
I'm certainly no specialist, but I focus my efforts on aircraft – the more colourful the better! I am also partial to the odd car or motorbike model.
Preferred Scale?
1:32, just for the amount of detail it's possible to add and the large canvas for painting. Unfortunately, my display space has disappeared far too rapidly so I'm doing mostly 1:48 now.
What is your favourite real subject of all time (aircraft, armour or maritime)?
The mighty Tin Triangle – the Avro Vulcan. Apparently I was enthralled by her when I was a baby, but certainly can't remember that. I know for sure that she captured me when I first saw her fly at the Jersey air show in 2008. The awesome shape, graceful lines and THAT sound; awesome! Oh to win the lottery and get a flight…
The best thing you've ever built?
I am most pleased with my 1:32 Academy Hornet in a VFC-12 "Fighting Omars" aggressor scheme. It certainly is an eye-catching model, in terms of both size and colouring.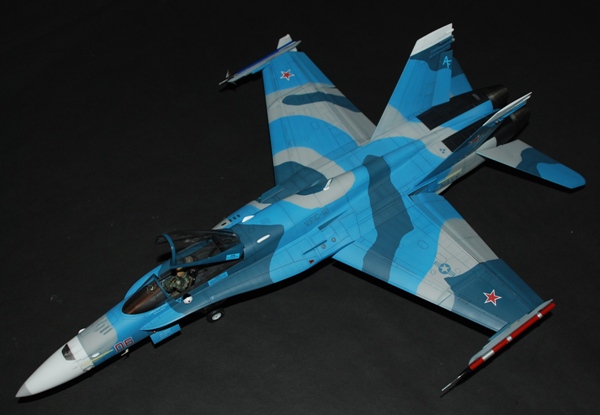 And finally: Most memorable Modelling disaster?
Nothing really stands out, but I seem to fudge up something on every model. Fairy power spray features high up on my "required items" list! And a spot of luck…
Scale Modelling Now
How long have you been a reviewer for?
Since July 2011.
What made you get involved with SMN?
I became friends with Dave Coward through the local model club at RAF Kinloss. He seemed to be impressed with my work and suggested that maybe I would like to write about my builds. Meeting Geoff at the Scottish Nationals in April 2011 sealed the deal.
What's your favourite thing(s) about SMN?
The fact that so much information is contained within each review. If it isn't in an SMN review, you don't need to know about it.
Favourite SMN review?
I haven't got a particular favourite because it is so hard to pick just one! The quality of the content and the sheer quantity of it too should make SMN the outstanding magazine of the modelling world.
About You…
Sum yourself up in no more than five words.
I like a good challenge.
Biggest hobby/hobbies outside of Scale Modelling?
I have two young children who keep me on my toes so I don't have time for much else with them around.
Favourite food/meal?
Fillet steak, medium rare. The ONLY way to have steak. With proper chips, mushrooms, peas and onion rings, washed down with a few pints of Spitfire ale.
Three famous people who you admire
Wilber and Orville Wright – obvious really.
Sir Winston Churchill – again obvious, but he kept us British and he was a great leader. I'm sure certain people could learn a lot from him.
Bruce Dickinson – Lead singer of top British rock band Iron Maiden, licensed airline pilot, radio and TV presenter, writer and fencer. Also an all-round good chap.
And finally…tell us a (clean) joke…
A country policeman was on his beat one afternoon when he spotted an elderly couple, hand in hand, walking up a lane which led only to the back of a farm. Concerned that they were lost, he followed them and was surprised to find them having sex up against a fence. As there was nobody around to make a complaint, he decided to leave them to it and waited for them to finish. Truth be told, he was surprised at how enthusiastically they were going about it: the man seemed to have far more energy than his age would have suggested and the woman was shaking and crying out like a teenager.
When the couple came back down the lane, he approached them and had a quiet word about their behaviour in public and warned them that if they did it again, he would have to arrest them.
"Oh, don't you worry about that, constable," said the woman. "We won't be going back there. It's just that it holds special memories for us – you see, we've been married for sixty years and we came to this village on our honeymoon. One afternoon we were out for a stroll and we went up that lane – we found it didn't lead anywhere but it was a lovely day and we couldn't help ourselves – we made love right on that spot. When we came back here for our anniversary we decided to do it again for old times' sake – we didn't mean any harm!"
" Well, so long as you don't do it again," said the policeman. "But if this is your first visit to the village in sixty years, you must have noticed a lot of changes!"
" Too right!" said the old man. "For one thing, sixty years ago that wasn't an electric fence!"
Andy G.