Super Wing Series No.4
Price around: £53.60GBP (before tax and shipping)
Review by Geoff Coughlin (November 2016)
Get this and many other impressive Zoukei-Mura kits direct from the manufacturer. Thanks to ZM for supplying our review sample.
A little bit of a surprise…
I never really saw this one coming… with the relatively recent release of a new-tool F-4J from Academy, the fact that ZM have now released a state-of-the-art F-4J Phantom II as well means we are again spoilt for choice. If the 'Toom' is your bag, then these are happy days indeed.
We've already completed a full build by Adam B of the new Academy F-4B kit (very similar to their 'J' kit) and you'll find that in Aircraft-Finished Now under Academy. There's also a full in-box review in Here Now of Academy F-4B kit..
Take a look at this manufacturer's website to see their ZM model completed – here. The good news that I can tell you is that our ZM F-4J is well underway and I think you'll be in for a treat when it's done, so keep an eye on SMN's Aircraft-Build Now and What's New for that.
Note…
It's worth noting that ZM produces a number of detail accessory sets available at extra cost: colour PE for the cockpit, metal undercarriage, weighted tyres, British F-47 No.74 "Tiger" Sqn decals etc. See them here.
The Zoukei-Mura F-4J Phantom II kit…
As soon as you look into the box everything is perfectly packaged and there are many sprues with lots of perfectly detailed parts moulded in grey plastic.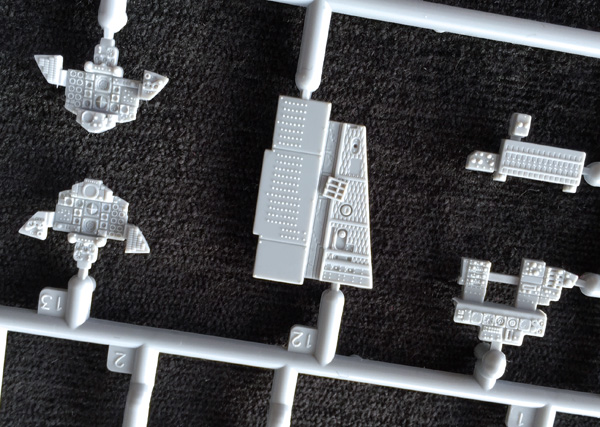 Quality is astonishing, truly it is – just take a close look at the accompanying photos of the cockpit detail, engines and wheels as examples – really excellent raised and recessed details. That back end under the tail has some incredible ribbing detail.
Overview
The parts are well formed and certainly accurately capture the look and shape of the Phantom II, I really can't fault anything there. Assembly is mostly conventional although you do have the option to include a detailed J-79 engine (or two). This is one of those things that's a bit odd though – not much point in detailing it, for it never to be seen again. You can build the engine and place it on a trolly cleverly made from sections of the sprue frame. The only problem is you only have one set of afterburner/reheat cans and this poses a challenge – it would have been better for ZM to simply add two sets of cans, that would have made life easier.
Cockpit
This is a real highlight – everything is in there that you may want in an F-4 cockpit: detailed seats, instrument panels, sills, rudder pedals, control columns, canopy details and even the complex wiring you get on the rear decking and behind the pilot's seats is pretty well represented and that's impressive.
Wheels, wells and undercarriage
Very impressive again, it's all there on the detail front and these areas look impressively realistic on the completed model.
Engines and cans
I've really covered this above just to say that the engines are very well detailed and would look good mounted on a dolly next to your completed model or in a dio. I'd be tempted to buy a set of resin cans from one of the aftermarket manufacturers and then you can have a complete model and display one or both General Electric J79s? Your call.
Full intake trunking is provided that should avoid any issues when you look down into the intakes. This is commonly a tricky area in F-4 kits and ZM has captured it perfectly.
Stores
4 X AIM-9s (early versions), 4 X AIM-7 Sparrows and a centre line drop tank, plus the all-important pair of wing drop tanks complete the package.
Clear parts
The usual two options included for closed or open. Parts are very clear, blemish-free and have no canopy seam line to remove.
Instruction book
Very comprehensive with plenty of clear advice about options and follows the usual exploded view approach. Paint references are included too for Vallejo paints and it's useful that FS numbers are included where appropriate. Again, it would have been nice to have a few other mainstream paint manufacturers' colours listed but the lack of them may indicate some commercial arrangement that precludes them.
Decals and painting guide
The quality of the decal sheet included is excellent – they are Cartograf manufactured. I think what's a little disappointing is that you only get one option and that's for the much previously used by other manufacturers, 'Showtime 100'. With all the myriad of bright, colourful and creative schemes applied to US F-4Js it's just a bit unimaginative. As I say, you can't fault what's provided on quality though and you also get a full set of stencils.
Large scale colour painting guides show locations for all the decals and painting.
Overall then, here's my summary…
Geoff C.
SMN Quick summary Star rating out of 5
| FEATURE | STAR RATING (out of five) |
| --- | --- |
| Quality of moulding | ***** |
| Level of detail | ***** |
| Accuracy | ***** |
| Instructions | **** |
| Decals | **** |
| Subject choice | **** |
| Overall | **** |
As if you need it (well, some of you at least! …a little bit of background to the Phantom II
The McDonnell Douglas F-4 Phantom II is a tandem two-seat, twin-engine, all-weather, long-range supersonic jet interceptor aircraft/fighter-bomber originally developed for the United States Navy by McDonnell Aircraft. It first entered service in 1960 with the U.S. Navy. Proving highly adaptable, it was also adopted by the U.S. Marine Corps and the U.S. Air Force, and by the mid-1960s had become a major part of their respective air wings.
The Phantom is a large fighter with a top speed of over Mach 2.2. It can carry more than 18,000 pounds (8,400 kg) of weapons on nine external hard points, including air-to-air missiles, air-to-ground missiles, and various bombs. The F-4, like other interceptors of its time, was designed without an internal cannon. Later models incorporated an M61 Vulcan rotary cannon. Beginning in 1959, it set 15 world records for in-flight performance, including an absolute speed record, and an absolute altitude record.
During the Vietnam War, the F-4 was used extensively; it served as the principal air superiority fighter for both the Navy and Air Force, and became important in the ground-attack and aerial reconnaissance roles late in the war. The Phantom has the distinction of being the last U.S. fighter flown to attain ace status in the 20th century. During the Vietnam War, the U.S. Air Force had one pilot and two weapon systems officers (WSOs), and the US Navy had one pilot and one radar intercept officer (RIO) become aces by achieving five aerial kills against enemy fighter aircraft. The F-4 continued to form a major part of U.S. military air power throughout the 1970s and 1980s, being gradually replaced by more modern aircraft such as the F-15 Eagle and F-16 in the U.S. Air Force, the Grumman F-14 Tomcat in the U.S. Navy, and the F/A-18 Hornet in the U.S. Navy and U.S. Marine Corps.
The F-4 Phantom II remained in use by the U.S. in the reconnaissance and Wild Weasel (Suppression of Enemy Air Defences) roles in the 1991 Gulf War, finally leaving service in 1996. It was also the only aircraft used by both U.S. flight demonstration teams: the USAF Thunderbirds (F-4E) and the US Navy Blue Angels (F-4J). The F-4 was also operated by the armed forces of 11 other nations. Israeli Phantoms saw extensive combat in several Arab–Israeli conflicts, while Iran used its large fleet of Phantoms in the Iran–Iraq War. Phantoms remain in front line service with five countries. Phantom production ran from 1958 to 1981, with a total of 5,195 built, making it the most numerous American supersonic military aircraft.