Review by: Geoff Coughlin (Jan 2012)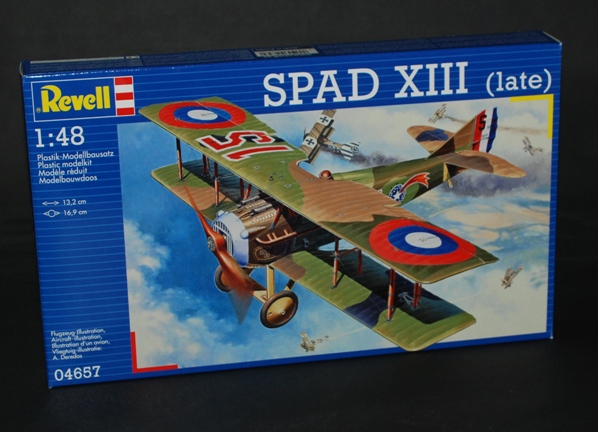 Our thanks to Revell for supplying our review sample.
A little bit of Reference…
And Inspiration…
The Kit
This is an impressive kit which may look familiar to you, as it is the Eduard kit re-boxed with Revell decals and instructions; another example of inter-manufacturer collaboration at its best.
Nothing wrong with that from my point of view, but it always helps to know what you will be buying.
The Eduard stamp is retained on the sprue frame.
Box and Contents
We've got great box artwork, as is becoming usual these days, with an image of a Spad XIII peeling away after having just despatched a Fokker Dr.I.
Let's go inside…
The light brown sprues are packaged well and no damage is apparent as well as being typical of both manufacturers. Taking the main components first, they are well tooled and moulded detail has a quality feel, and about right for the scale.
No distortion was apparent and a dry fit of the fuselage promises a decent fit; as does the fuselage to wing join.
Click on the Thumbnails to enlarge the images and have a look yourself.
Cockpit
The Spad XIII cockpit is pretty basic as you'd expect, with wall and other cockpit detail well reproduced and, as on the real aircraft, is minimal.
Much of the interior is unlikely to be seen but you'll want to add some basic belts to the seats for added realism.
Engine
The engine fitted to the Spad XIII is almost complete encased, unlike many other WWI types, so the fuselage panels can be painted with the remainder of the airframe.
Undercarriage Units
These are well moulded, as you can probably see from the images above. Detail is crisp and authentic; all that'll be needed is the bracing wire between the struts.
Wings
Nice fabric effect on the wings and, looking at the video above, this moulded rib effect doesn't look too over the top and can provide some nice weathering opportunities.
Strut location looks positive and will of course have your work cut out rigging your Spad. This shouldn't deter you as there is a lot of reference and advice in your SMN with several WWI builds.
Clear Parts
The clear parts look clear and the small canopy should fit perfectly well looking at it and given the Eduard origins of the moulds.
Instructions and Decals
The Revell instructions follow their usual exploded stages format. Location of parts is clear but colour paint coding is for Revell paints only. You'll have to match your own choice of paints if you go elsewhere for your choice of colour.
The build sequence is pretty standard and logical but many modellers will part company with the stated order to suit their experience.
The decals look to be good quality and there's good subject choice:
Spad XIII S 18869, Lieutenant J M Swaab, 22nd Aero Squadron, 2nd Pursuit Group, United States Air Service, France, Autumn 1918
Spad XIII S 18869, Lt. Rene Fonck, Escadron de Chasse,1/2 Cigognes, France, 1918
Decal dial detail is also provided. All the colours are in register and colour density looks impressive and carrier film limited, so I wouldn't expect any problems with application.
Applying your decals to a seriously glossy finish is ideal to avoid any 'silvering' where the decal carrier film shows through. SMN's Les Venus is planning to build this model at some point in the future, so keep an eye on Build Now for that!
A sneak preview…
Here's a few images of the Finished Model, as sent to us by Revell.
Conclusion
This is a great subject and should prove very popular amongst all WWI fans, but any aviation modeller interested in the type should also take a look at this kit.
The inclusion of good colour schemes on Revell's decal sheet is a bonus, especially if you have already built this model in Eduard packaging with other markings.
The model itself looks to be well engineered at first glance and from the dry/test-fit. Moulding is good and the moulded detail is fine for current 1:48 scale kits.
The Spad XIII is a famous WWI type and will make a great addition to any scale model collection.
| FEATURE | STAR RATING (out of five) |
| --- | --- |
| Quality of moulding | **** |
| Accuracy | **** |
| Instructions | *** |
| Decals | **** |
| Subject choice | **** |
| Overall | **** |
Highly recommended for all scale modellers.
Geoff C.