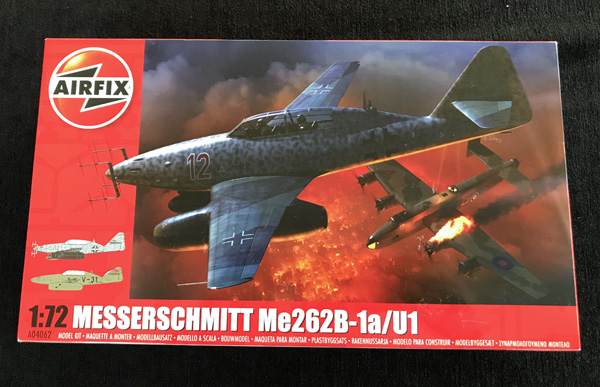 Kit Ref: A04062
Price around £18.99 GBP (February 2019)
Review with Geoff Coughlin

Get this impressive kit here now at Airfix
This is the second of the new-tool Messerschmitt Me262's – this time the night fighter variant the B-1a/U1.
The easiest thing to do is show you what's included and you can see for yourself what's on offer this time.
---
---
There is a full build along with HD video demos of the first release, the A1a and you can find that in the Airfix pages of Aircraft-Finished Now. The engine nacelle-to-wing join was a bit problematic on this build and should be easier to fix if it's still an issue by trimming the nacelle joining surfaces.
Markings
• Scheme 1: 10./NJG 11, W.Nr 111980, Red 12 + RAF Version
• Scheme 2: Avia CS-92 Czech AF.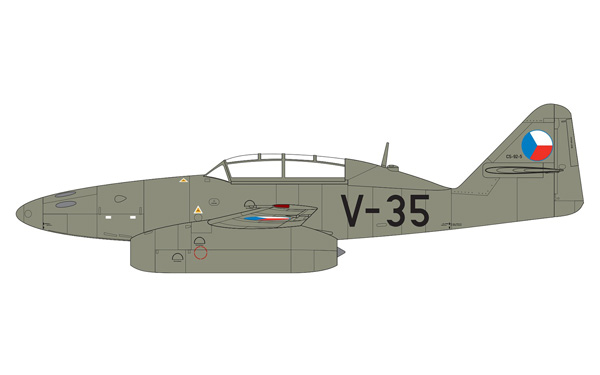 Decals
Quality looks extremely good in every respect. Based on recent experience these new decal sheets are amongst the best out there in my view. I had a great experience with the decals included in the Airfix 1:48 Hawker Hunter F.6
Here's my summary…
Geoff C.
SMN Quick summary Star rating out of 5
| FEATURE | STAR RATING (out of five) |
| --- | --- |
| Quality of moulding | **** |
| Level of detail | **** |
| Accuracy | **** |
| Instructions | *** |
| Decals | ***** |
| Subject choice | ***** |
| Overall | **** |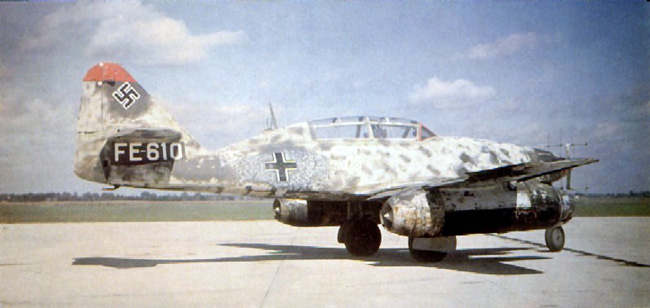 Photo: Me 262 B-1a/U1 night fighter (converted trainer), postwar image on US testing ground. W-nr: 110306, US-number FE-610 (later T2-610), FuG 218 Neptun radar
Here's a little bit about the Messerschmitt Me262…
The Messerschmitt Me 262, nicknamed Schwalbe (German: "Swallow") in fighter versions, or Sturmvogel (German: "Storm Bird") in fighter-bomber versions, was the world's first operational jet-powered fighter aircraft. Design work started before World War II began, but problems with engines, metallurgy and top-level interference kept the aircraft from operational status with the Luftwaffe until mid-1944. The Me 262 was faster and more heavily armed than any Allied fighter, including the British jet-powered Gloster Meteor. One of the most advanced aviation designs in operational use during World War II, the Me 262's roles included light bomber, reconnaissance and experimental night fighter versions.
Me 262 pilots claimed a total of 542 Allied aircraft shot down, although higher claims are sometimes made. The Allies countered its effectiveness in the air by attacking the aircraft on the ground and during takeoff and landing. Strategic materials shortages and design compromises on the Junkers Jumo 004 axial-flow turbojet engines led to reliability problems. Attacks by Allied forces on fuel supplies during the deteriorating late-war situation also reduced the effectiveness of the aircraft as a fighting force. Armament production within Germany was focused on more easily manufactured aircraft. In the end, the Me 262 had a negligible impact on the course of the war as a result of its late introduction and the consequently small numbers put in operational service.
While German use of the aircraft ended with the close of World War II, a small number were operated by the Czechoslovak Air Force until 1951. Also it heavily influenced several designs, like Sukhoi Su-9 (1946) and Nakajima Kikka. Captured Me 262s were studied and flight tested by the major powers, and ultimately influenced the designs of post-war aircraft such as the North American F-86 Sabre, MiG-15 and Boeing B-47 Stratojet. Several aircraft survive on static display in museums, and there are several privately built flying reproductions that use modern General Electric J85 engines.
Messerschmitt Me262B-1a/U1
Me 262 B-1a trainers converted into provisional night fighters, FuG 218 Neptun radar, with Hirschgeweih (eng: antler) eight-dipole antenna array.
(Source: Wikipedia)