Ref: 2694B
Review by: Geoff Coughlin (October 2011)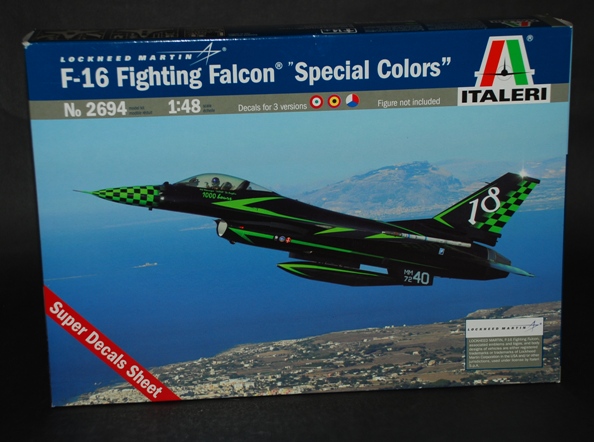 Anyone who visited the excellent 2010 Waddington Air Show, couldn't have failed to notice the spectacular paint scheme applied to the F-16ADF of Italian AF in the static park. 'Stunning' was the term I used then and this has been enhanced even more so as time has gone on.
I shot quite a few pics at the time (that you can see in your SMN Photo Reference Library) – just in case anyone produced the decal sheet, which, of course, they did. Out with the wallet and here you have it.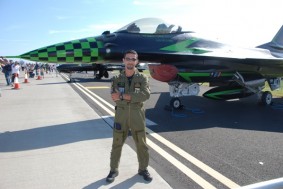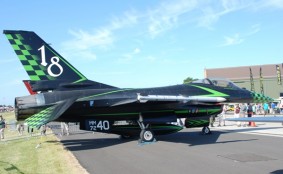 The good news is that Andy Goodwin is going to build this one very soon, so keep an eye out in Build Now for it – you won't be disappointed.
The main point of this build will be to show off that awesome Black aircraft with vivid Lime green flashes and markings. Prepare to either enjoy it or throw up, depending on your viewpoint on the scheme!
It's just that scheme – talk about jet Jocks and hot rods – doesn't get any better for me!
Additional Reference
Check out this website!
And here's something to get you in the mood!
The Italeri kit
This isn't a new kit, but it is a good one with plenty of the features you'd expect to find in a quality modern kit, including:
Recessed panel lines
Good dry fit of the main components
Fair raised detail in the cockpit
Reasonable ACES II ejection seat
Stunning decals including a great Tiger Meet option for a Dutch machine
Clear moulded canopy (but no tinted option – not needed for the 18 Gruppo 37 Stormo black/green scheme)
Plenty of stores – AAMs and Drop tanks
Access ladder
Quality
No real flash to speak of, so the tooling stands up well. I've built one of these Italeri F-16's before and I remember enjoying the build. The grey plastic has a slight texture to it, but this can be easily sanded smooth with a pad.
Instructions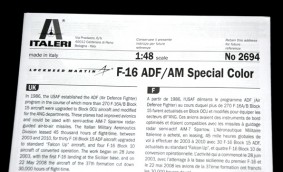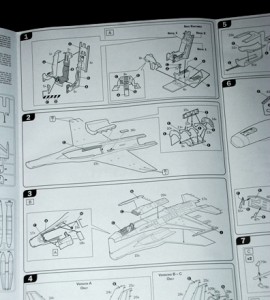 These are pretty easy to follow with the usual exploded stages approach. Helpful hints, like where to drill the holes to take the stores pylons etc, all make the whole build process very straightforward.
Decals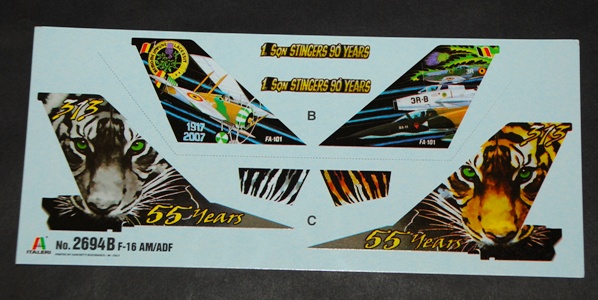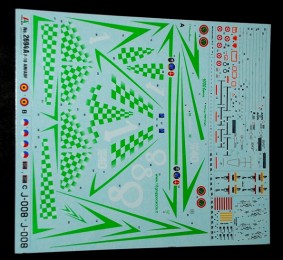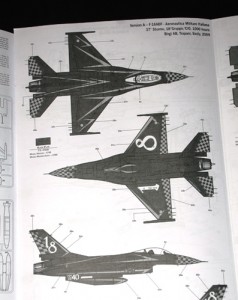 These look to be very good quality on both the main sheet and the supplementary one, with the awesome Tiger Meet Dutch aircraft option. Another plus is the full stencil set included, as well as a third option for a Belgian AF aircraft – but surely, for building, it's got to be one of the 'Special Colours' options?
Conclusion
Overall a very impressive package, especially considering the reasonable price and variety of options.
I once came close to writing a Modelling manual on the F-16 and it's a pity that project never came off, because I believe that the F-16 has a huge following worldwide. This kit and decal options will doubtless appeal to that following and, who knows, may just tempt you into a go at an F-16 that's anything but grey!
Highly Recommended.
Geoff C