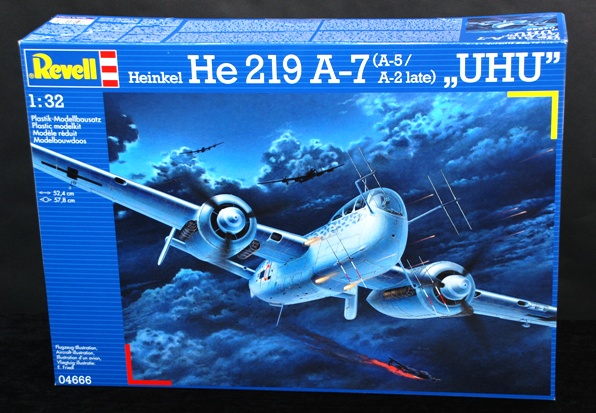 Review by Geoff Coughlin (Nov 2012)
Price around £49.99 GBP
Our thanks to Revell for supplying our review sample. Revell model kits are available from all good toy and model retailers. For further information visit www.revell.eu or email ukbranch@revell.de
A little bit of inspiration and reference here…
A little bit of background
The Heinkel He 219 "Uhu" (Eagle-Owl) was a night fighter that served with the German Luftwaffe in the later stages of World War II. A relatively sophisticated design, the He 219 possessed a variety of innovations, including an advanced VHF-band intercept radar. It was also the first operational military aircraft in the world to be equipped with ejection seats, and the first operational German World War II-era aircraft with tricycle landing gear. Had the Uhu been available in quantity, it might have had a significant effect upon the strategic night bombing offensive of the Royal Air Force; but only 294 of all models were built by the end of the war and these saw only limited service.
The first major production series was the He 219 A-0, although initially the preproduction series, it matured into a long running production series due to numerous changes incorporated into the design, along with the cancellation of several planned variants. Production problems as a result of Allied bombing in March meant the A-0 did not reach Luftwaffe units until October 1943. The A-0 were usually armed with two 20 mm MG 151/20 cannon in the wing roots and up to four 20 mm or 30 mm cannon in a ventral weapons bay. The first 10 to 15 aircraft were delivered with the 490 MHz UHF-band FuG 212 "Lichtenstein" C-1 radar set, complete with its 4 x 8-element Matratze antenna array. A total of 104 He 219 A-0s were built until the summer of 1944, the majority of them at EHW in Wien-Schwechat.
The last major production version was the A-7 with improved DB 603E engines. The A-7 was typically outfitted with two 20 mm MG 151/20 cannon in the wing roots (inboard of the propeller arcs), two 20 mm MG 151/20 in the ventral weapons bay, and two 30 mm (1.18 in) MK 108s as Schräge Musik. The production was to start in November/December 1944 with 210 aircraft ordered. The number produced is not exactly known as the original documents have either been lost or contained no subversion number.
The Revell Kit
Not only do we now have a 1:32 Junkers Ju 88 and Heinkel He 111 but, incredibly, an He 219A-7 "Uhu" – heady days indeed! As an ardent Luftwaffe fighter modelling fan I have been waiting eagerly for this release and now it's here, so I'm not really excited am I? Too right I am, but I am keen here to calm down and try to give you an objective assessment of what Revell has achieved in this release.