Ref code: A12007
Price around: £49.99 GBP (Oct 2013) [already widely available for less] Review by Geoff Coughlin
See our FINISHED NOW BUILD REVIEW
Our thanks to Airfix for supplying our review sample. Get this impressive little kit here now at: www.airfix.com
Check out this great drawing of a Gloster Javelin by Gavin Snowdon!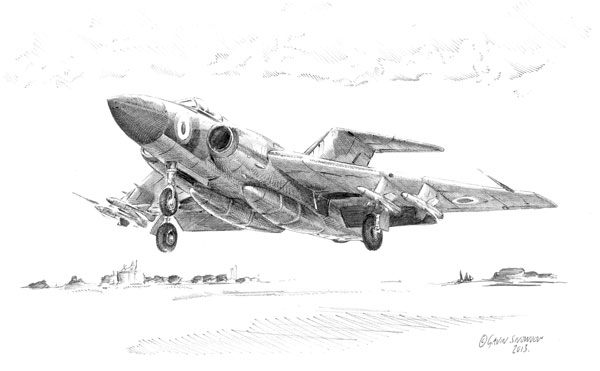 Reference
This is an excellent reference: Gloster Javelin – The RAF's First Delta Winged Fighter. We have reviewed this excellent title in your Book Review area but you can get this title here now.
A little bit of background
The Gloster Javelin was developed in the 1950s as a two-seat, all weather interceptors. Serving with the RAF during the late 1950s and much of the 1960s, the Javelin was the last aircraft to bear the Gloster name.
A distinctive fighter, the Javelin was equipped with a broad delta wing and a large finned T-Tail. Its cannons were placed in the wing, harking back to an earlier era of fighter development, but its missile armament was cutting edge. Progressing through nine marks in a short career, the Javelin had a troubled development, with its only action coming during the Malayan campaign from 1963-1966.
The Airfix kit
This is the first injection moulded 1:48 Gloster Javelin to be produced and features include: detailed access ladder, optional open or closed canopy, removable intake and jet pipe covers, along with optional detailed armament and fuel tanks. The model also has poseable elevators, ailerons, rudder, flaps and airbrakes.
Apart from this review sample I had a great opportunity to inspect this new kit at our model club meeting last night – two of the guys had already bought it and Adam had actually completed the cockpit and a very nice job he has mad e of it too! We will be bringing you my own build shortly and that will start next week in Build Now, so keep an eye out for that! Adam reports that the fit of parts so far has been excellent and parts very well engineered.

Initial impressions
These are extremely positive; not least because of the model's size, range of accessories and options together with a raise in standards – yet again by Airfix. Let's take a closer look…
The first thing to take a very close look at are the panel lines – extremely fine and precisely engraved, better still than most recent releases by Airfix – they should look very nice under paint and suitable weathering. This is a major feature of the kit – get it wrong (too deep and overdone and the model is always going to play catch up in modellers' eyes, get it right as Airfix has done here and you start to look further – a great start!
The finesse of some of the parts is seriously breathtaking like the crew access ladder, actuator rams for doors and parts that move on the real aircraft, pitot heads and so on.