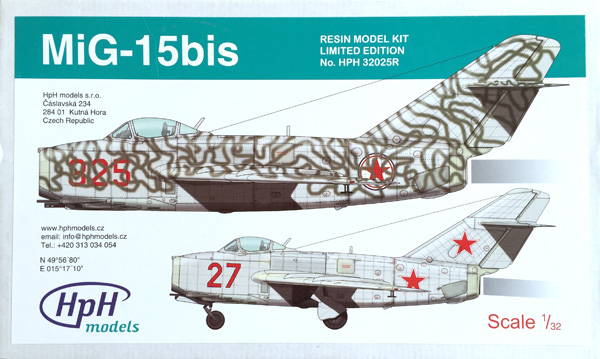 Kit Ref: 32025R
Price around €150.00 (£119.00, $167.00)
Review by Geoff Coughlin (June 2016)
The HpH Package…
I'm not sure if you are familiar with HpH kits but this is a summary of what's on offer:
• Resin main components
• Extensive detailing across all areas of the package
• Photo etch parts covering many of the smaller areas
• Colour photo-etch (by Eduard) for the cockpit instrument panels
• Turned brass canons
• Fabric set harness (by HGW)
• Clear canopy
• Canopy masks
• Quality decal sheet
• CD containing instructions.
General observations…
I've included photos of all the parts and you can see that this is a quality product by any standards.
The main components are well cast in resin with fine recessed panel line detail and riveting that should work well in 1:32 scale. Most of the parts have some excess flash and of course many of the smaller parts have moulding blocks to remove. This is normal and no hardship because HpH have taken great care to try and make this task easy wherever possible, especially on the finer parts – notice the thin wide areas of excess resin on some of the 'flatter' parts.
From what I can see almost all the parts are well moulded with little, if any distortion and this bodes well for the full build that will follow shortly, so keep an eye on Build Now for that.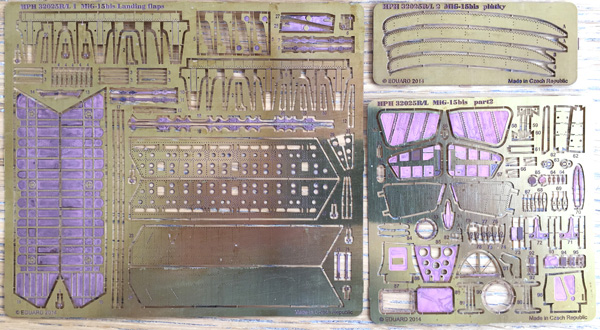 Photo etch
This is extensive – no less that three frets covering a huge number of smaller parts that will add a significant amount of finesse to your model.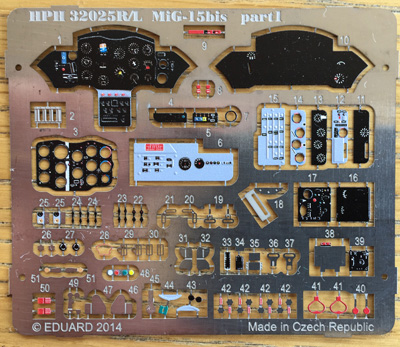 Colour photo etch
A nice touch this, to add a colour fret of PE made by Eduard. Sometimes this can be problematic matching the colour of the background to that on the colour PE parts but that's not a problem here as the main panel is black, leaving you to paint the remainder of the cockpit as necessary with no clash.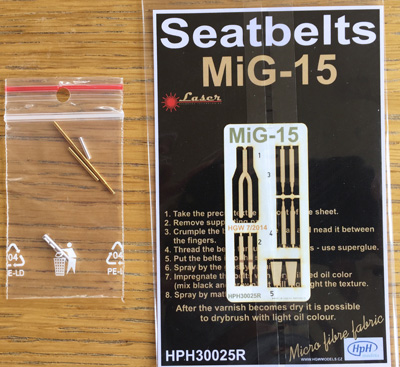 Turned brass
This is nicely produced and will look great on the completed model – much better than plastic gun barrels.
Fabric seat harness
HGW are making great strides these days, producing excellent fabric belts that look great in 1:32 scale and these are no exception.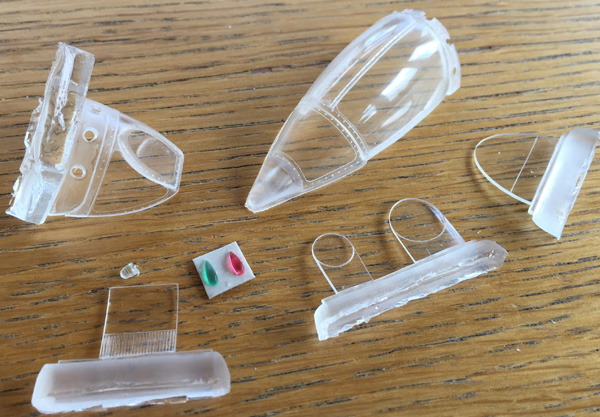 Canopy
Moulded in two parts is important as you can see here – you want to see all that cockpit detail. Blemish-free and no distortions.
Decals
A decent decal sheet is included for:
MiG-15bis, 147.GIAP VVS, Soviet Air Force, Kubinka AFB, 1952
MiG-15bis, 351.IAP, Major A.M. Karelin, Korea, 1952
Quality looks good, colour solid and all markings in register – nice that many stencils are included as this will help to break up the potentially monotone finish.
Instructions
These are supplied on a CD, although you can download a PDF direct from the HpH website. I'm not a great fan of instructions provided in this way, although I can see that it's a way of reducing cost and helping to keep the cost of the whole package within reason.
The instructions themselves are very good, featuring a combination of photos of the various build sections in situ and drawings too – the whole thing runs to around 36 pages, so comprehensive for sure.
In summary
HpH kits are complex and have a huge amount of detail and for many, that's the attraction. We have only built their Supermarine Walrus (in the HpH pages of Finished Now) and Julian made a fantastic job of that, although it wasn't without trial. This new MiG-15 Bis looks very good and from what I've seen here therefore comes highly recommended. As I say, watch out for the full build and we'll see what Julian S makes of it as he goes along.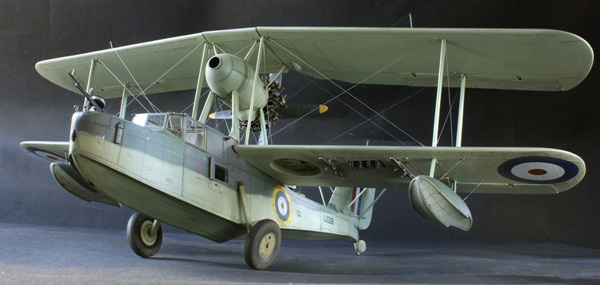 Geoff C.
SMN Quick summary Star rating out of 5
| FEATURE | STAR RATING (out of five) |
| --- | --- |
| Quality of moulding | **** |
| Level of detail | ***** |
| Accuracy | **** |
| Instructions | **** |
| Decals | **** |
| Subject choice | ***** |
| Overall | **** |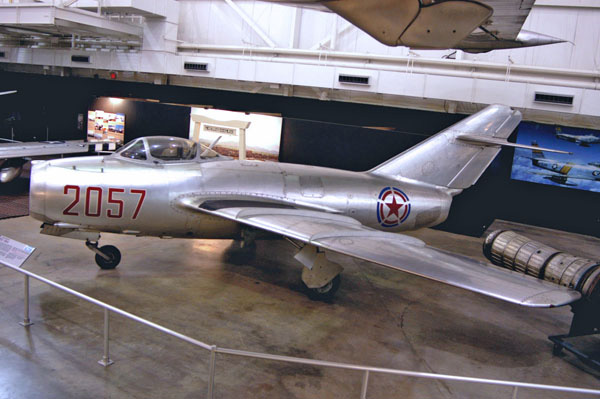 A little bit about the MiG-15
The Mikoyan-Gurevich MiG-15 (Russian: Микоян и Гуревич МиГ-15; NATO reporting name: "Fagot") was a jet fighter aircraft developed by Mikoyan-Gurevich OKB for the Soviet Union. The MiG-15 was one of the first successful jet fighters to incorporate swept wings to achieve high transonic speeds. In combat over Korea, it outclassed straight-winged jet day fighters which were largely relegated to ground attack roles, and was quickly countered by the similar American swept-wing F-86 Sabre. The MiG-15 is often mentioned, along with the North American F-86 Sabre, as the best fighter aircraft of the Korean War, and among the best fighter aircraft of all time.
When refined into the more advanced MiG-17, the basic design would again surprise the West when it proved effective against supersonic fighters such as the F-105 Thunderchief and McDonnell Douglas F-4 Phantom II in the Vietnam War of the 1960s.
The MiG-15 is believed to have been one of the most widely produced jet aircraft ever made; in excess of 12,000 were manufactured. Licensed foreign production may have raised the production total to over 18,000. The MiG-15 remains in service with the North Korean Air Force as an advanced trainer.