Review by: Geoff Coughlin
Price: £12.00 (March 2012)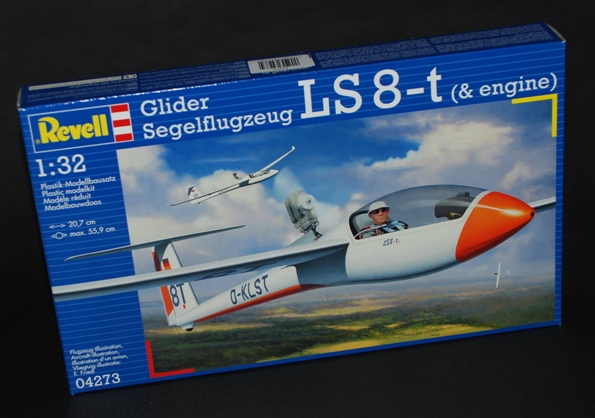 Our thanks to Revell for supplying our review sample.

Something to get you in the mood!
The Glider Segelflugzeug…
OK, so it's not strictly a military subject, but it is of great interest nonetheless.
With a total production of over 500 units, the LS-8 is the single-seat glider that has been built in greatest numbers over the past 15 years and is still the front runner in international contests.
The uniqueness of the concept and the superior flying capabilities of the LS-8 have gained for it numerous medals in national and international championships in the standard, as well as the 18m class.
With a view to increasing mobility, the LS-8 was equipped with an auxiliary motor that could be switched on. In the meantime, over 2/3 of glider production has been power-assisted in this way as the concept offers enormous advantages.
The very detailed model kit has a filigree reproduction of this motor with propeller. Naturally, the wing tips are optional on both the 15 m and the 18 m versions.
The Revell Kit
Revell are proving prolific these days with plenty of new-tool kits being released. 1:32 scale is proving particularly popular and this re-boxing with new decals for the Glider Segelflugzeug (dating from 2006) is another good addition to the large Revell range.
Box and Contents
The box artwork is usually very good and it's decent enough here, showing a glider pilot enjoying a wonderful summer afternoon flying over the German countryside. Let's go inside…
The white plastic sprues are packaged in the usual poly bag and no damage is apparent.
Taking the main components first, they are quite well tooled, feeling quite hard and brittle-like. No distortion was apparent and a dry fit of the fuselage halves promises a decent fit and overall shape looks pretty good; impressive, given the complex nature of the curved on this aircraft.
Moving to the wings, they are good in outline shape and this is again no mean feat, given the slender shape.
Detail Sprues
The components feature very few panel lines, as you'd expect from a state of the art aerodynamic glider and they are reasonable for the scale. This project is all going to be about fine preparation and that finished paint job; immaculate!
Cockpit detail is provided; seat, control column and decals are provided for the seats should you wish to use them.
The engine that pops out on the real aircraft when a boost in lift is required is nicely detailed, but you may feel that it will spoil those lovely lines if deployed – your call.
This kit is pretty fairly priced at around £12.00 and will make up into an impressive model that has size and, if displayed on the stand provided, will make a nice centre piece for you display space.
Clear Parts
The clear parts look ok, being clear and blemish-free.
Instructions and Decals
The Revell instructions follow their usual exploded stages format.
Location of parts is clear but colour paint coding is for Revell paints only. However, the colour names are provided which will help you to match your own choice of paints.
This is a basic model and so should present little difficulty in working out where all the parts are located, even for inexperienced modellers.
The decals seem good, very good in fact, being newly created and designed by Daco and manufactured in Italy. Certainly colour saturation and register is good and all markings are accurate and sharp in their detail.
This is probably the best part of the package; good quality decals will make a world of difference to your completed model.
Conclusion
Basically, if civil scale modelling is your bag or you just fancy something different, then this kit is worth a look.
There will never be a huge choice of glider models available at any point, so this one looks like it could prove popular.
Using different markings supplied, a number of variants could be built from the base kit if you fancy buying more than one. If you're prepared to spend some time being patient with your prep and spray work, you can get good results from these older-tooled kits.
| FEATURE | STAR RATING (out of five) |
| --- | --- |
| Quality of moulding | *** |
| Accuracy | **** |
| Instructions | *** |
| Decals | ***** |
| Subject choice | *** |
| Overall | *** |
Recommended for all scale modellers, whatever your experience.
Geoff C.