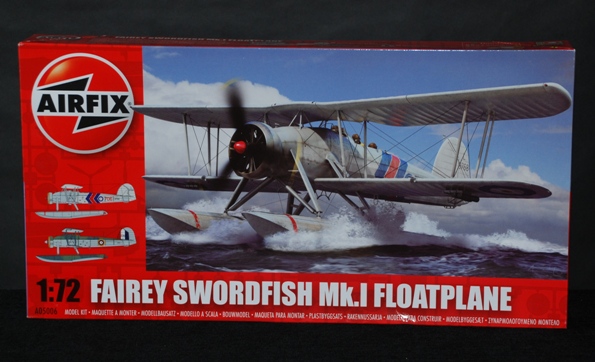 Price: around 15.99 GBP (Aug 2012)
Kit Ref: A05006
Review by Geoff Coughlin
Our thanks to Airfix for supplying our review sample. Get this impressive kit here now at: www.airfix.com
Reference to help you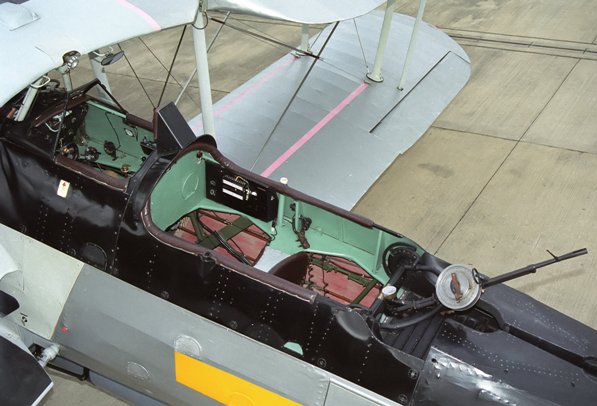 There has already been a great Here Now review done by David G for SMN and you can find that here …
Your SMN Photo Reference Library for a unique internal and external walkaround for the Fairey Swordfish Mk.I
Check out Finished Now for builds of the much larger Trumpeter kit
My own title 'How to build the Tamiya Fairey Swordfish' available from ADH Publishing (second edition).
You'll love this!
A little bit of background
The Fairey Swordfish was a torpedo bomber built by the Fairey Aviation Company and used by the Fleet Air Arm of the Royal Navy during the Second World War. Affectionately known as the "Stringbag" by its crews, it was outdated by 1939, but achieved some spectacular successes during the war, notably the sinking of one and damaging two battleships of the Regia Marina (the Italian Navy) in the Battle of Taranto and the famous crippling of the Bismarck. It was operated primarily as a fleet attack aircraft; however, during its later years, it was also used as an anti-submarine and training craft. Designed in the 1930s, the Swordfish outlived several types intended to replace it, and remained in front line service until VE Day.
The Swordfish was based on a Fairey Private Venture (PV) design; a proposed solution to the Air Ministry requirements for a spotter-reconnaissance plane, spotter referring to observing the fall of a warship's gunfire. A subsequent Air Ministry Specification S.15/33, added the torpedo bomber role. The "Torpedo-Spotter-Reconnaissance" prototype TSR II (the PV was the TSR I) first flew on 17 April 1934. It was a large biplane with a metal frame covered in fabric, and utilized folding wings as a space-saving feature for aircraft carrier use. An order was placed in 1935 and the aircraft entered service in 1936 with the Fleet Air Arm (then part of the RAF), replacing the Seal in the torpedo bomber role.
By 1939, the Fleet Air Arm (now under Royal Navy control) had 13 squadrons equipped with the Swordfish Mark I. There were also three flights of Swordfish equipped with floats, for use off aircraft catapult-equipped warships. One – from HMS Warspite — spotted fall of shot (i.e., radioed gunnery corrections back to the ship) during the Second Battle of Narvik in 1940 and subsequently sank the U-boat U-64. The Swordfish pioneered the use of Air to Surface Vessel radar (ASV), by carrier borne aircraft to locate surface ship targets at night and/or through clouds.
Swordfish flew from merchant aircraft carriers ("MAC ships"), 20 civilian cargo or tanker ships modified to carry three or four aircraft each, on anti-submarine duties with convoys. Three of these ships were Dutch manned, flying Swordfish from 860 (Dutch) Naval Air Squadron. The rest were manned by pilots and aircrew from 836 Naval Air Squadron, at one time the largest squadron with 91 aircraft.
Almost 2,400 had been built, 692 by Fairey and 1,699 in Sherburn by the Blackburn Aircraft Company, which were sometimes dubbed the "Blackfish". The most numerous version was the Mark II, of which 1,080 were made.

The differences…
David did an excellent job in his review and this new offering is essentially the same kit but of course with the addition of the floatplane parts. New decals are also included and you can see the sheet and colour guide below.
Taking the new parts first
Sprue E has all the new parts for the floatplane. It includes the following:
Main floats in three parts – sides and upper deck – nice detail on show here and with a wash and dry-brushing, the raised detail will come up very well
Support frame attachments
Separate wheeled bogies for mounting on dry land
'wooden' frame support for under front floats
Observations across the rest of the kit
What strikes me is the level of detail provided for a Fairey swordfish in 1:72 scale. I've been lucky enough to build several of the Tamiya 1:48 scale kits (and they are superb) but this smaller cousin from Airfix has it all. You really can't fault this kit in terms of what's provided with well equipped cockpits for both the pilot and observer. The small Lewis gun is neat and with the inclusion of a decal sheet for the main instrument panel all you'll have to find are some seat belts/harness.
The option for a wing-fold is fantastic although I do remember that when I built by 1:48 model in that configuration it was frustrating as just about all the model is covered by the spread wings! Still the aircraft looks fantastic when viewed from low down in wings-folded layout.
Accuracy is good. I don't believe in plans and all that – sorry just too much room for error and who's plans anyway? How accurate are they? How do you know? Frankly, if it looks right, it is to me. Certainly I took lots of images of the RNHF aircraft a few years ago and this Airfix kit matches up very well in comparison and that's good enough for me and I suspect many of you.
Clear parts
Clear and finely moulded – impressive.

Instructions and decals
The usual fold out sheets/booklet here. exploded diagrams are clear with clarity at each stage of the build, especially when it comes to your options for wings spread or folded.
The all-colour painting guide is nice and clear and both silver dope and camouflage schemes are included. I have to say my favourite has always been for the Ark Royal machine with it's red/blue fuselage band – just love it and so this one looks destined for my workbench in due course. There are just so many great models queuing and jostling for position though… decisions, decisions!
The quality of the decal sheet is good with colour saturation good and colour accuracy not bad at all. All markings look in register.
Overall
This package is very impressive and will sell well – it has to, you don't get much more for your money in this scale than you do here. The original release earlier in the year was good, this is better. Ok, maybe slightly more expensive but you get more in the box – it was exactly the same with the Tamiya 1:48 offering but boy, so much modelling for your buck with both kits.
Highly recommended
Geoff C.
SMN Quick summary Star rating out of 5
| FEATURE | STAR RATING (out of five) |
| --- | --- |
| Quality of moulding | **** |
| Accuracy | **** |
| Instructions | **** |
| Decals | **** |
| Subject choice | ***** |
| Overall | **** |