Review by: Geoff Coughlin (Oct 11)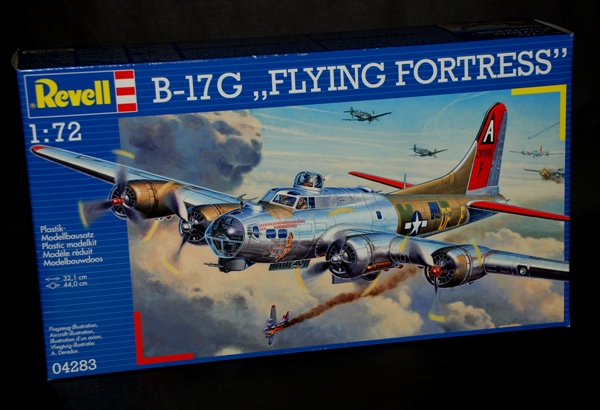 Our thanks to Revell for supplying our review sample. 

A little bit of inspiration…
The Revell Kit
When I think of a B-17G kit, I think of the old Airfix kit. It dominates my mind, with that original box artwork – port outer engine blazing – vapour trails streaking across the sky. I wanted one then and subsequently built at least two over the years, where the build experience was tricky to say the least, but the landing gear did retract and many a belly landing was performed on the carpet (no, not last week Les….what is he like…) many years ago.
And it has stayed pretty much that way for years, until Academy did a pretty good job with their release.
And, now, you have the Revell offering. This release is definitely the pick of the crop for me and represents the type very well. The silver plastic is still there, in common with the original Airfix kit, but the Revell kit moves the whole build process on significantly.
Box and Contents
Click below to enlarge the images and see what you think!
Revell persist with rather flimsy boxes that are doubtless cheap to produce, but not so good in protecting the contents or proving useful during construction.
Having said that, the artwork is usually impressive enough and that's the case here – an image of a B-17 on a daylight raid in WWII reminiscent of that original Airfix kit. Let's go inside…
The silver sprues are packaged well and no damage is apparent. Taking the main components first, they are well tooled, mainly recessed panel line detail and having a quality feel, if a little heavy. No distortion was apparent and a dry fit of the fuselage promises a decent fit; certainly a dry-fit of the fuselage and wings showed a good clean fit.
There's an option for open bomb bay with bomb load and racks. It's when examining this area of the kit that I was reminded just how small the B-17 bomb load was.
The cockpit is perfectly adequate for the scale and, to be honest, you really aren't going to see a lot when the canopy is fitted and your model painted. The seats are just about all that will be readily visible, although good bulkhead detail and decal for the main instrument panel feature too, though the latter won't be seen either.
Much of the interior of each fuselage half is covered in moulded rib detail, although you should remember that virtually none of this will be visible on your completed model. Worth considering before putting loads of effort into weathering and washes!
The waist gun MG's are nicely detailed as are the turret positions.
The bomb bay is detailed too and will look good when painted and weathered with some suitable wash and pastels, as will the bombs if you add them.
Cleverly, the bomb bay bulkheads are moulded as part of the wing spar set up, which I'm sure will help when it comes to lining everything up inside the fuselage.
Moving to the wings, they are well tooled and, although the panel line detail is quite prominent, this will appear less obvious if you choose an Olive Drab scheme, but a metallic finish would look superb. I'm trying to work this one into the SMN schedule so we'll see if we can do that in due course.
The fabric effect on the elevators looks quite restrained and fine in this scale.
Engine/Undercarriage Sprues
The four engines are a distinctive feature of this American WWII 'Heavy' and are nicely detailed, especially as this is 1:72 scale. The engine ignition injectors are moulded as a separate ring, which is good because they will be easier to paint and look more realistic. This also goes for the cylinder heads, separate with good engraved detail, which will look great under a wash.
The prop blades look pretty accurate in terms of shape and the separate turbo superchargers fitted below each engine look nice and, again, are all moulded separately. I'm beginning to really like this model in terms of the engineering and the thought that has gone into the sub-assembly and overall build approach.
Clear Parts
The clear parts look clear and the canopy/windscreen is provided with two options – each with a slightly different windscreen layout depending on the variant/version/date of subject you are creating.
That the room forms part of the forward upper fuselage is again a good idea as there's nothing worse than trying to clean up and smooth out joins right up to the clear windows. All the turrets and upper fuselage glazing is there and when painted should look fine.
Instructions and Decals
The Revell instructions follow their usual exploded stages format. Location of parts is clear, but colour paint coding is for Revell paints only.
However, the colour names are provided and this will help you to match your own choice of paints. The build sequence is pretty standard and logical, but many modellers will part company with the stated order to suit their experience.
The decals look to be good quality – certainly good subject choice – especially "Little Miss Mischief", that multi-coloured B-18G 48-97880 of the 8th Air Force, 1st Air Division, 1st Combat Wing, 91st Bomb Group, 324th Bomb Squadron, Bassingbourn, UK 1945 (Phew… what a designation!).
Stencil detail is also provided and is almost always well worth adding, even in 1:72 scale to add additional interest to your completed model, but I suspect you'll have your own views on this. All the colours are in register and colour density looks impressive and carrier film limited, so I wouldn't expect any problems with application.
Conclusion
This is a great subject and will undoubtedly sell well.
The inclusion of great colour schemes on Revell's decal sheet is a real bonus and, of course, the model itself looks to be well engineered at first glance and from the dry/test-fit. Moulding is good and the panel detail perfectly reasonable for current 1:72 scale kits.
We've waited a long time for another good model of the B-17 and now we have it. Much like this manufacturer's release of a new-tool 1:72 Avro Lancaster a while back, but this one looks even better in my opinion – buy both and find out!
You'll have a lot of scale modelling for your buck and that just has to be good news…
| | |
| --- | --- |
| Quick summary | Star rating out of 5 |
| Quality of moulding | **** |
| Accuracy | **** |
| Instructions | *** |
| Decals | **** |
| Subject choice | **** |
| Build enjoyment | N/A – we'll see! |
| Overall | **** |
Highly Recommended for all scale modellers.
Geoff C.