Ref: 04839
Price around: £12.00 GBP
Review by Geoff Coughlin (May 2013)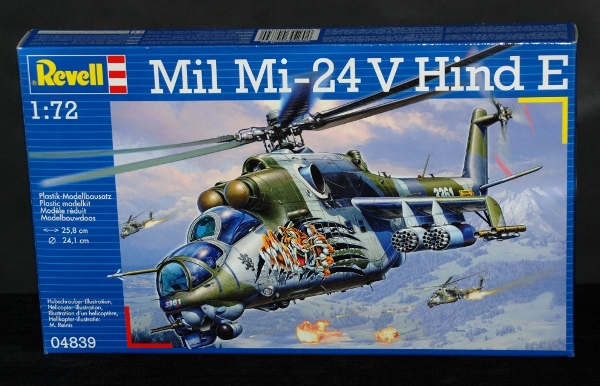 Our thanks to Revell for supplying our review sample. Revell model kits are available from all good toy and model retailers. For further information visit http://www.revell.eu/ or email ukbranch@revell.de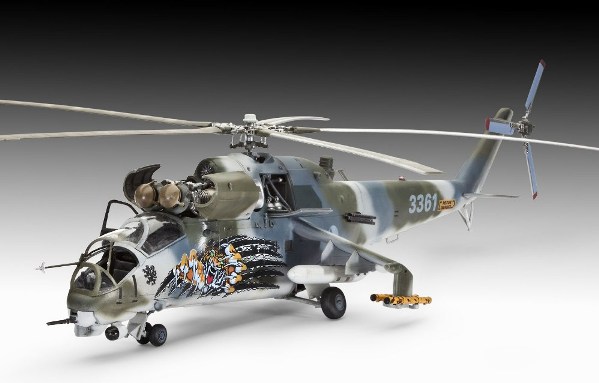 A little bit of inspiration and reference here…
The Mil Mi-24 (Миль Ми-24, NATO reporting name: Hind) is a large helicopter gunship and attack helicopter and low-capacity troop transport with room for eight passengers. It is produced by Mil Moscow Helicopter Plant and operated since 1972 by the Soviet Air Force, its successors, and more than 30 other nations.
In NATO circles, the export versions, Mi-25 and Mi-35, are denoted with a letter suffix as "Hind D" and "Hind E" respectively. Soviet pilots called the Mi-24 the "flying tank", or летающий танк (letayushchiy tank). More common unofficial nicknames were "Crocodile" (Крокодил or Krokodil) due to the helicopter's camouflage schemeand "Glass" (Стакан or Stakan) because of the flat glass plates which surround the cockpit of the Mi-24.
The Revell Kit…
This isn't in fact a Revell kit at all, but the Zvezda kit re-released as a Revell boxing but with new decals. It is well detailed – very well detailed, has an accurate shape and decent level of options and is now available in stunning Czech Air Force 221st Attack Helicopter Sqn special markings.

The grey sprues (including the clear one) feature recessed panel lines – looking restrained in this scale plus a look and feel of good quality moulding with parts crisp and sharp.
Box and contents…
The Revell box artwork is usually impressive enough and that's the case here – an image of a specially-marked Czech Air Force aircraft in this special scheme closing in for the 'kill' looks suitably appetising.
Let's go inside…
The grey sprues are packaged well and no damage is apparent. Taking the main components first, they are very well tooled, recessed panel line detail and have a quality feel, and not too heavy for the scale as I've said. No distortion was apparent and a dry fit of the main fuselage promises a decent fit; the initial impression is one of a lot of detail parts that will go to make up an impressively large and detailed model in 1:72 scale.
Cockpit and interior…
Decals are available on the decal sheet to add to the instrument panels in the cockpit, and, to be honest, I think this is perfectly acceptable in this scale. The other internal details are well detailed too as you can see from the attached photos and will add a fair bit to the eventual look.
Engines…
This area of the model is extremely well detailed allowing you to display your model with the engine cowls open to reveal the engines within. They will look good under some Alclad2 metallic paint and a good opportunity to add some of their 'Hot Metal' colours in the process; an impressive area of the package.
Undercarriage units…
Impressively detailed units are supplied that will be highly visible on your finished model – as is typical of the type. The hydraulic lines are moulded there too and some simple cleaning up should see them usable as is.
Stores…
As I've said you get plenty of options in your box and includes:
two types of chaff/ flare dispensers
IR jammer and optional exhaust deflectors – the dispensers reveal excellent fine details
Notice that the wings are each made from four separate parts plus pylons and some ordnance is also included:
2 X UPK-23-250 gun pods
4 X 9M114 AT-6 Spiral anti tank missiles
2 X drop tanks and
2 X 80mm B-8W-20-A rocket launchers. The barrels of the rocket launchers and the gun pods are moulded solid and so you may want to drill them out to improve their appearance or carefully paint them.
I have read that there is an error Step 73 in that the option of installing the twin-barreled 23mm gun from step 72 is wrong for this kit; apparently this gun is used only in the Mi-35M so you could usefully check your references for that.
Nose weight…
It's worth adding a little to make sure your model doesn't sit on its tail!
Clear parts…
The clear parts look clear and the canopy / windscreen is provided as a multi-piece moulding; this is often necessary for replicate the complex shape but a dry fit and photos from Revell of the finished model suggest all will go together well.
Instructions…
The Revell instructions follow their usual exploded stages format. Location of parts is clear but colour paint coding is for Revell paints only. You'll have to match your own choice of paints if you go elsewhere for your choice of colour. The build sequence is pretty standard and logical but many modellers will part company with the stated order to suit their experience.
Decals…
Options for two different aircraft are included:
Mil Mi-24V Czech Air Force, 221st Attack Helicopter Squadron, Namest nad Oslavou , CSR 2011
Mil Mi-24V Soviet VVS, 337, OBVP, Mahlwinkel, GDR 1993
Immediately apparent is the fact that the grey layer is slightly out of register with the main Czech markings and this is disappointing given the overall quality of the sheet in terms of detail and coverage. Stencil detail is also provided and is almost always well worth adding, even in 1:72 scale to add additional interest to your completed model, but I suspect you'll have your own views on this. All the remaining colours are in register (except the grey) and colour density looks impressive and carrier film limited, so I wouldn't expect any problems with application. The Czech scheme is simply breathtaking and the sheet alone looks stunning. Looking at the manufacturer's completed model (see attached photos) the decals will look great when carefully applied.
Conclusion…
This is a good subject and will provide all modern military fans with an opportunity to expand their collection; especially if you like your aircraft colourful or are creating a collection of rotary or 'Special' aircraft. The inclusion of quite different colour schemes on Revell's decal sheet is attractive and the model itself looks to be well engineered and from the dry/test-fit. Moulding is good and the panel detail better than good for current 1:72 scale kits.
Recommended for all scale modellers.
Geoff C.