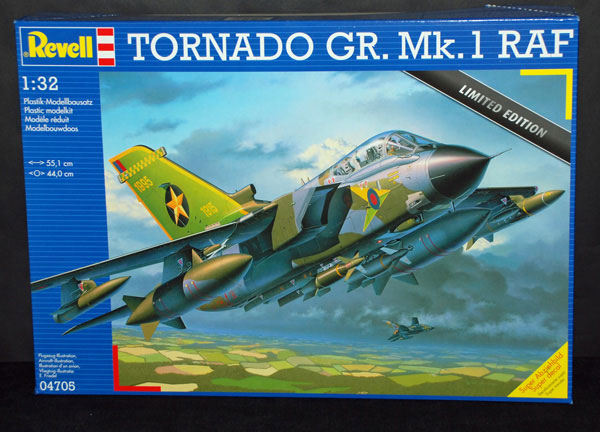 Price around £49.99 GBP (February 2014)
We have TWO reviews for you from different members of SMN's Review Team – first Dave Coward, followed by one from James Vaitkevicius
Review by Dave Coward
Our thanks to Revell for supplying our review sample. Revell model kits are available from all good toy and model retailers. For further information visit www.revell.eu or email ukbranch@revell.de
Initial assessment
Revell first released their 1:32nd Tornado in 1985 in the form of a GR1 and a Marinefleiger boxing and this was followed in 1986 by an F2 (RAF interceptor that was the predecessor to the F3 but with the main differences being that the Foxhunter Radar was replaced with a lump of concrete for ballast, Blue Circle, as the radar wasn't ready in time and they were all twin stick training aircraft).  This initial release was replaced with a new tool version in 1996 which is the basis for this kit. These initial versions were very German orientated with Luftwaffe/Marinefleiger weapons and self-defence kit but in 1998 a dedicated RAF version was released and this is what this re-release effectively is. Incidentally Revell have released several other versions is the meantime including a 2001/2 and 2008/9 Tigermeet ECR variant.

Back to this kit the `Limited Edition` I understand means that this kit will be limited to a production run of 2500 units. Otherwise it seems to be identical to the 1998 RAF boxing. The kit contains 7 grey plastic sprues and 2 clear sprues with a rough parts count of 180 parts (some of these are not required for the RAF version – they are Luftwaffe weapons). An initial look at the parts shows nicely recessed panel lines and minimal flash – the 1996/8 moulds still appear to be good. Cockpit/ejection seat detail is adequate but if you want to display the canopy open you might want to consider a resin replacement but the box version will build up nicely with some care and some scratch built harnesses.
A nice touch is a reasonable representation of the TI GMR/TFR radar system which can be displayed with an open nose cone. Another nice touch is the IFR probe which can also be displayed stowed or extended and the wings can be swept to whatever angle you desire. Be aware though that the wings have the flaps and slats moulded in the up position so if you want these down you will have to hunt for the now quite rare and expensive Paragon resin detail set.
Weapons and stores
The extra sprue over the earlier release covers all those extras needed for an RAF GR1. Included on it are:
2 x `Hindenburger` fuel tanks
Sky Shadow ECM pod (the BOZ pod is on the other weapon sprue
2 x 1000lb Paveway LGBs
4 x 1000lb retard bombs and
LRMTs under fuselage pod.
There are two major weaknesses with this kit though and they are the intakes and the main undercarriage. The intakes have no trunking so you can see straight into the fuselage void and wing sweep mechanism – you`ll either have to live with this, do some serious scratch building or use intake blanks. The issue regarding the main undercarriage is it is quite fragile and weak especially considering the size and weight of this model. There are metal replacements from SAC or you could just be careful with the kit parts and consider the use of superglue and epoxy to secure them in place.
Decals and instructions
The kit has three decal options:
Tornado GR1 No 31 Sqn, RAF Bruggen,  Germany, 1995 (80th Anniversary tail markings) – wrap around green/grey camouflage
Tornado GR1 No 617 Sqn, RAF Lossiemouth, 1992 – wrap around green/grey camouflage
Tornado GR1 `MiG Eater` RAF Tornado Det, Tabuk, Saudi Arabia, Operation Desert Storm, 1991.
The decal sheet is very comprehensive and rather large. All printing is in register and the colour saturation looks good. Along with the major markings all stencilling and weapons markings are included.
The instructions are typical Revell; they are in the form of a black and white unstapled booklet that is clear and logical but does have some minor misprints (Sidewinder tail fins are shown being fitted backwards!!) so be aware but they are nothing major.
In Summary
Even with its issues, this is a very welcome re-release from Revell as these kits were becoming harder and harder to come by and their second hand price was inevitably being driven up. Having built one of the earlier versions and an ECR variant I know it builds well and with a little bit of work (see Relish Resin`s FLIR pod) it can be made into a reasonable GR4. The box decal options are nice covering a `loud` special  version, a line bird and a desert war `Tonka` so most tastes will be covered here.
Overall a nice kit that will build into an impressive model and is well within the capabilities of most abilities of modeller so it must come highly recommended.
Dave C.
SMN Quick summary Star rating out of 5
| FEATURE | STAR RATING (out of five) |
| --- | --- |
| Quality of moulding | **** |
| Accuracy | **** |
| Instructions | *** |
| Decals | **** |
| Subject choice | ***** |
| Overall | **** |