Review by: Geoff Coughlin
Price: £39.99 approx (January 2012)
Revell model kits are available from all good toy and model retailers. For details visit Carrera Revell UK 

Definitely something to get you 'in the mood'…!
And some great internals of the rear cargo bay…
Reference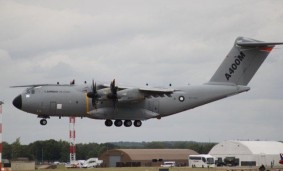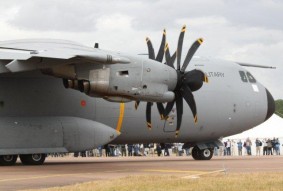 Check out your SMN Photo Reference Library, where I've just uploaded 36 great reference images covering the external aspects of the A-400M in close up. The aircraft featured is pretty much identical to one you can model from this new Revell kit.
The Kit
I remember when visiting Telford UK in 2011 seeing this awesome Revell kit in the flesh on their stand, made up and it seemed to be saying: 'You like 'em big? Well look at me!'
This kits is unbelievably big! Yes, yes, I know all about where on earth will you store it, but worry about that then – this is now!
1:72 scale has always been very popular especially for large scale planes, airliners, and other large projects. It's hardly any wonder then that this very nice new-in kit from Revell is also offered in that scale.
The model is perfectly proportioned and ideal for the scale with good levels of detail. Just check out the image in the gallery below, where I have shown the Revell P-40 easy Kit next to the fin – extraordinary isn't it!
We certainly plan on building this model in your SMN so keep a beady eye on Build Now…
Box and Contents
Click on the Thumbnails below to enlarge images.
Even Revell had to put this huge kit in a decent box this time, so well done to them for that as the box will be useful during construction to store parts and has protected the review sample in transit – all arrived in good shape.
The artwork is usually impressive enough, which is the case here. Let's go inside…
The light grey sprues are packaged well and no damage is apparent. Taking the main components first, they are well tooled, mainly recessed panel line detail and have a quality feel.
No distortion was apparent and a dry fit of the fuselage promises a decent fit; certainly a dry-fit of the fuselage and wings showed a good clean fit, which is impressive given the sheer size of the main components.
An impressive idea that also featured in Revell's 1:144 C-17 Globemaster is the whole interior lining for the main cargo hold is provided as two separate left and right side inserts – ingenious.
I am sure that this makes the moulding process easier and did work very well on the smaller C-17 kit; we'll see in due course when the model is built in SMN.
The main cargo floor is detailed too and will look good when painted and weathered with some suitable wash and pastels. It is positionable too, enabling you to create a potentially more interesting model to display.
Moving to the wings, they are an inevitable feature of the A-400M "Grizzly" (a name I understand the MOD/RAF were less than pleased with!), in fact the whole thing is wings and body, a bit like a real Grizzly bear is all paws, body and head!
I imagine in order to keep costs down, no dropped flap option is available, but something tells me that in this scale the look of the aircraft might have been spoiled anyway had that been possible.
The cockpit is simple yet plenty detailed enough in this scale – you won't be able to see too much when it's finished.
The whole lower fuselage comes as a separate section, so I hope that it will all line up ok. It should do, looking at a rough test-fit and previous experience with that Globemaster.
Engine/undercarriage Sprues
Separate sprues house the massive engine assemblies and fan blade detail is excellent and a real treat is that Revell include both feathered and non-feathered prop blades for you to use as you wish.
The prop blades are a real feature of the A-400M having a very unique, aerodynamic shape. The wheels have decent hub detail moulded in and, as you can imagine, there are loads of them!
Clear Parts
The clear parts look clear and helpfully the canopy is moulded with some of the upper forward fuselage to make sanding and blending in straightforward.
Instructions and Decals
The Revell instructions follow their usual exploded stages format.
Location of parts is clear, but colour paint coding is for Revell paints only. However, the colour names are provided which will help you to match your own choice of paints.
Despite its size, this is a basic model and so should present little difficulty in working out where all the parts are located, even for inexperienced modellers.
The decals seem good quality – certainly 9/10 for subject choice – German, Italian as well as the Airbus Military overall (Gunship?) grey scheme; no RAF scheme is included, which is a shame for this reviewer because I'm sure the RAF have a number of aircraft on order.
Certainly colour saturation and register is good and all markings are accurate and sharp in their detail. This is a great part of the package; good quality decals will make a world of difference to your completed model.
Conclusion
This is a great subject and will undoubtedly sell well.
The inclusion of good quality decals is a bonus and of course the model itself looks to be well engineered at first glance and from the dry/test-fit.
The novel inclusion of separate internal cargo hold 'liners' is inspired and I can't wait to see how it all goes together. Big models do often sell well, especially ones sold at this price point, and there are bound to be several over the coming years popping up at various model shows around the world.
There might even be one on the SMN stand in the not too distant future! Watch this space.
Highly recommended for all scale modellers.
Geoff C.