Ref: 06643
Review by: Geoff Coughlin (Nov 2011)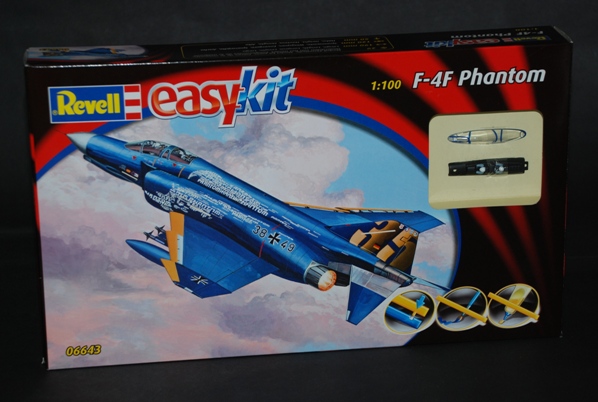 Our thanks to Revell for supplying our review sample. 

A little bit of inspiration. Short and sweet!
The Kit
Whatever your age, any new kit of the legendary F-4 Phantom is going to excite and as it is one in the 'easy kit' range there's plenty to interest any new or inexperienced modeller here.
The 'easy kit' range is squarely aimed at attracting younger modellers into this great hobby and so makes the whole process easy and straightforward – perfect for an entry-level project.
Incidentally, this is something we intend to delve into here at SMN, with our new 'Modelling Newbies' section set to launch in the near future. Stay Tuned…
Box and Contents
The box art is exciting and impressive, with a clear window that shows off the pre-painted crystal clear canopy and crew/cockpit insert.
This is good because I can see any newbie/younger modeller seeing that they aren't getting a made-up model and there's going to be some assembly and creative excitement involved. Two pre-painted sprues, canopy/cockpit insert already mentioned and an instruction sheet make up the package.
Click the Thumbnails below to enlarge the images and explore the contents for yourself.
Detail Sprues
The pre-painted blue sprues are very well done, with markings already applied. These are probably painted too – certainly you can't see any edging or carrier film – impressive.
The scheme featured is the 'R' Richthofen 50th anniversary of the Phantom markings and all of these are beautifully applied. The metallic areas around the rear of the F-4 are distinctive and have been well captured by Revell – another plus point.
I'm beginning to really like where this series is coming from…
This kit is designed to be played with I guess, as it has retractable undercarriage units that are very simplified but all parts are well painted. The AAM's are painted white. The main gear units have double wheels, which is a shame as that's the only main drawback in terms of authenticity. But when you're 6+, who cares!
The sprue gates are quite heavy, so this may cause some younger modellers difficulty in removing the parts from their sprue tree, but a decent pair of side cutters will do the trick (best under supervision of course for the very younger modellers).
There is also some impressive recessed panel line detail moulded into the parts, which creates a better looking model when assembled.
Clear Parts
The clear parts look clear enough and do have very fine, scale thickness canopy frame lines painted on.
Instructions
This is a basic model and so should present little difficulty in working out where all the parts are located, even for inexperienced modellers.
There are heavy and simple locating points for the detachable parts like the underwing drop tanks, that can be easily removed for a different look to the model.
Decals
N/A
Conclusion
I love this little model and I can see that more are due, so we'll cover those as well in SMN as well as part of our new 'Modelling Newbie' section, as we try and get more people involved in this great hobby.
These models are designed as entry-level products that will appeal to younger modellers, but I suspect one or two older more experienced of you may just be tempted too – just for a bit of fun or, of course to buy as a 'present' for a nephew or niece (cough, cough, yes, of course, a present…!)
Quick Summary – Star Rating Out of 5

| FEATURE | STAR RATING |
| --- | --- |
| Quality of moulding | **** |
| Accuracy | ** |
| Instructions | **** |
| Decals | N/A |
| Subject choice | **** |
| Build enjoyment | ***** |
| Overall | **** |
I Couldn't Resist…
Ok, so shortly after compiling this 'Here Now' review, I found myself at a loose end and just couldn't resist putting this one together!
45 minutes later and I was done. Click on the Thumbnails below to enlarge the images and see what you think!