Review by: Geoff Coughlin (February 2012)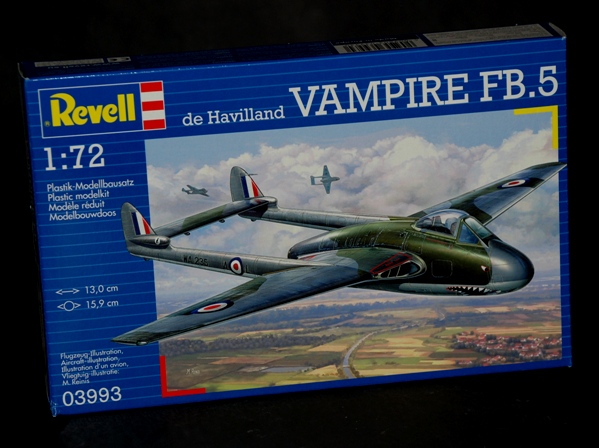 Our thanks to Revell for supplying our review sample.

A little bit of inspiration…those were the days!
The Revell Kit
According to the date on the instructions this is a kit from 2011, but looking at the sprues and parts I suspect that it dates back a lot further.
Everything is moulded in light grey plastic; a bit of a Revell trademark these days.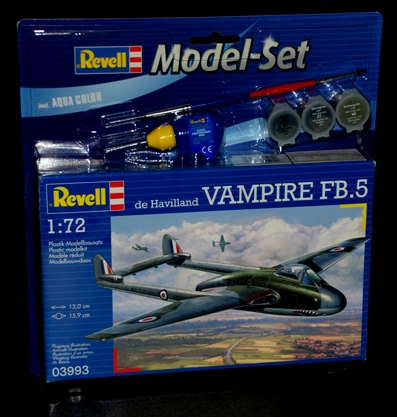 This package is as a Model set with associated Contacta plastic glue, paint brush and paints from the Revell range; everything (well, nearly) to get you started if you are new to this great hobby of ours.
This is the first time that I've looked at this kit in detail and the age of the kit does show through, with a combination of mostly raised and some recessed panel line detail.
Despite the small scale, some detail will be seen in the cockpit and you may want to add a seat harness and other small details to busy this area up.
Click on thumbnails to enlarge images.
The cockpit is basic, much like the real aircraft featuring decal sheet for the main instrument panel, which is a good idea in this small scale. A simple control column and seat finish this area off. The canopy is split, so you should definitely think about some fabricated belts.
There are no stores included.
The excess flash on many parts gives away the age of this kit and the detail generally is very basic, leaving it to you to decide what does or does not need to be added. The wheel wells are shallow, but just about acceptable in 1:72 scale.
Instruction Sheet
This is standard Revell in their usual exploded view format in a fold out sheet. Revell paint references are provided, but helpfully the manufacturer also gives a colour call out so at least you can find an alternative paint source if required.
Transparencies
The clear parts are just that. As mentioned earlier, the separate windscreen is a decent option.
Decals
These look pretty good (see Gallery Grid above), being printed in Italy for Revell.
Colour and register both look sharp and the small Unit insignia included will bring a bit of colour to the Grey-green camo or Airframe Aluminium finishes on offer. The schemes are a good choice and the box image captures the aircraft well.
Overall
Many of the new paint set/model combo packages being released by Revell are essentially often (but not always) older kits, re-boxed with new decal options. It can be a bit of a lottery, but there's no denying they can prove attractive to newcomers into the hobby.
Having said that, they need to offer a decent parts fit if we aren't going to put off less experienced modellers.
| FEATURE | STAR RATING (out of five) |
| --- | --- |
| Quality of moulding | ** |
| Accuracy | *** |
| Instructions | *** |
| Decals | **** |
| Subject choice | **** |
| Overall | *** |
Geoff C.