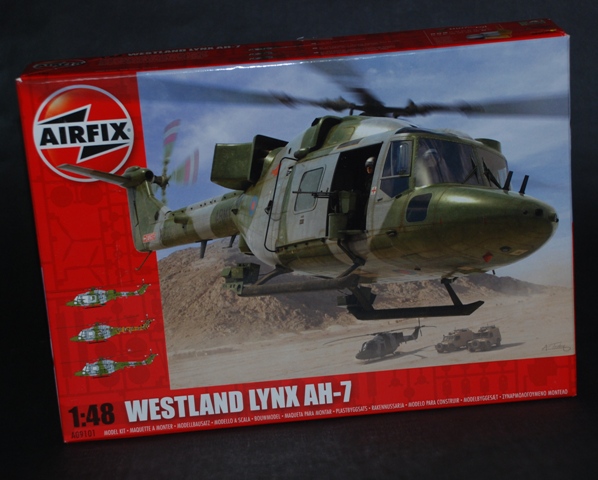 Review by: Geoff Coughlin
Price: £29.99 approx (Apr 2012)
Our thanks to Airfix for supplying our review sample.
See our FINISHED NOW BUILD REVIEW
Background
The Westland Lynx is designed as a multi-purpose military helicopter that has gone on to serve with countless Air Arms around the world, with many forces using the type in naval operations and roles.
It's amazing to think that the Lynx entered British Army service way back in 1977 and has been continually updated ever since, with the type still at the forefront of assets available to operational commanders across the globe.
Indeed, I remember the type doing for the first time what no other helicopter could do back in the late 1970's and that was being looped – still a breathtaking manoeuvre.
The AH-7 is the most numerous variant of the type, originally armed with TOW anti-tank missiles, only being surpassed by the more capable Apache helicopter in recent years. Nonetheless, the Lynx still offers important support using the huge General Purpose Machine Gun (GPMG).
The Lynx has seen service in both Iraq wars, in the Balkans in Kosovo.
The Lynx AH-7, apart from serving with the British Army, has seen service with the Fleet Air Arm, with machines on loan from the Army, as part of the Joint Helicopter Force in Afghanistan.
Today, the AH-7 is due to be replaced by the more capable AH-9 and will continue to see active service for many years to come.
Reference
Don't forget your SMN has a great walkaround set for the Westland Lynx HMA. Mk.8.
Here are a few images of the Westland Lynx AH-7 to get you started. Click on the thumbnails to enlarge the images and enjoy!
The Airfix kit…Overview and Initial Impressions
Ever since the IPMS UK Scale Model World 2011, I have been waiting for this important new release from Airfix.
The Merlin to come also promises great things from the test shots that were on view on the Airfix stand over that weekend. Well, now all three have landed in our office together!
So that's just written today and the first part of tomorrow off while I get all the images and words together to bring you the first and most in-depth review of these new Airfix Lynx kits.
So, first up is the British Army AH-7, which is bound to be very popular with modellers from the UK for obvious reasons, but also many of our friends from overseas too.
This model immediately looks impressive, starting with that superb rigid box that doubles up as a tray to store parts and heaven's knows a multitude of other tasks!
The box art is stunning and you can almost see that light thin wash filter, which, if applied to your model, will begin to enhance the look no end.
The box is jam-packed with sprues and so many parts it's hard to think/believe that they will all be needed. Most will, but there are various options like folded rotor blades and stores that, depending on your choice of fit-out, may or may not be needed.
Levels of detail, most notably in the cockpit, rotor and inside the main fuselage look stunning. I strongly recommend that you take a look at this model if, like me, you like the type because this is an impressive bit of kit.
Note too the price of this release compared to the other Navalised versions of the Lynx; it's considerably cheaper. I guess this is because the other versions have lots of folding parts, different airframe fit-outs with loads of lumps and bumps and options that add to the parts tally a fair bit.
Five sprue trees are included (including the clear one) that fairly represents the parts needed to make a model of the Lynx helicopter aircraft in 1:48 scale.
The panel line detail is crisp, recessed with plenty of raised detail typical of the type, like rivets, strengthening plates etc.
Cockpit
The cockpit has a pair of seats that look quite good. Thinly and delicately moulded that feature moulded-in seat straps, but if carefully painted should look ok, though I suspect many modellers will shave these off and add their own replacements.
The main instrument panels are addressed using decals and I think that is quite acceptable for this scale, given what you'll be able to see from the outside looking in.
The seat backs are beautifully moulded with lots of detail and throughout this area you have the feeling that it's going to look superb when painted and finished; very busy!
Fuselage Interior
This is simply excellent, especially that fabric-effect quilted material for the inside walls and ceiling.
Add to that the seats and GPMG's and you are going to have a highly detailed interior that will be seen very well through the open doors – another nice option.
Canopy
The canopy glazing is clear and blemish-free – another good feature.
The clear parts are amongst the clearest I've ever seen on a model. Small holes are present in the top of the main windscreen to allow you to fit the windscreen wipers; another neat touch.
Rotor assemblies, Engines…
These look pretty accurate, with the complex shape of the main composite blades captured very well with fine edges that will look highly realistic.
Head detail on both the main and tail rotors is excellent and all looks to be very authentic and well researched.
The exhaust grills for the box-shaped exhaust outlets look a little heavy but I need to try and identify some close up images to confirm this. An extensive search on Google Images failed to turn up conclusive evidence one way or the other, so I suspect just a little thinning of the kit parts will be all that's needed.
Other Observations…
The missile pods on the aircraft sides will look excellent if care is taken in the painting and weathering stages. I love the two huge GPMG's and these are an almost-must for inclusion!
Decals
These look good and high quality, including all the stencil markings too.
You'll need to make sure they are applied to a high gloss finish, before applying the varnish tone you want.
Made by Cartograf, these are high quality decals. Watch the carrier film on the codes.
Looking at them, you might want to trim the carrier film away as close to the actual marking as possible to reduce the chance of a 'silvering' effect, where the carrier film shows through on your finished model. (See the Techniques Bank for advice on how to paint and decal your model).
An option can be to apply the decals to a gloss finish, then when dry apply a coat of gloss over the dry decals before applying your final varnish. This should ensure the decals look like marking pained onto the surface.
Micro Sol and Set are a must here to make sure the decals conform to the surface and pull down well over all that raised rivet detail.
Markings are included for 3 Westland Lynx AH-7 aircraft:
Army Air Corps, Afghanistan 2006
No. 671 Squadron, 2 (Training) Regiment, Army Air Corps, Middle Wallop, Hampshire England 2005 (Tiger markings)
847 Naval Air Squadron, 3 Commando Brigade/Royal Marines Armoured Support Group, Naval Air Station Yeovilton, Somerset, England 2005
Full stencil data is included.
Instructions
These are the classic Airfix fold-out sheet with the usual exploded stage-style diagrams (see the Gallery Grid above).
The stages seem very clear, with options applicable to the various aircraft featured on the decal sheet clearly marked so that you end up with an authentic Lynx.
The decal instructions are superb, on colour fold-out sheets with clear, unambiguous location of the main decals and stencils.
What's the verdict?
Well, I've got to say I'm impressed; it looks very good and certainly worth the wait. Much higher quality than you'd usually expect to find on a model from this manufacturer in this scale.
Manufacturers like Eduard have set a very high bar recently and this new model from Airfix is designed for anyone interested in the type and comes with high levels of detail, is accurate and contains great quality decals.
Personally, I can't wait to see how this kit builds up and we have one build about to start in Build Now as I speak. I just have to negotiate with Andy Goodwin which one he wants to take on…although, knowing he's an RAF man, which one do YOU think he'll choose?!
Keep an eye on Build Now for the start of what promises to be a great build.
| FEATURE | STAR RATING (out of five) |
| --- | --- |
| Quality of moulding | **** |
| Accuracy | **** |
| Instructions | **** |
| Decals | ***** |
| Subject choice | ***** |
| Overall | **** & a half |
Highly Recommended.
Geoff C.