Kit Ref: 04865
Price around £17.99 GPB
Review by Geoff Coughlin (Nov 2012)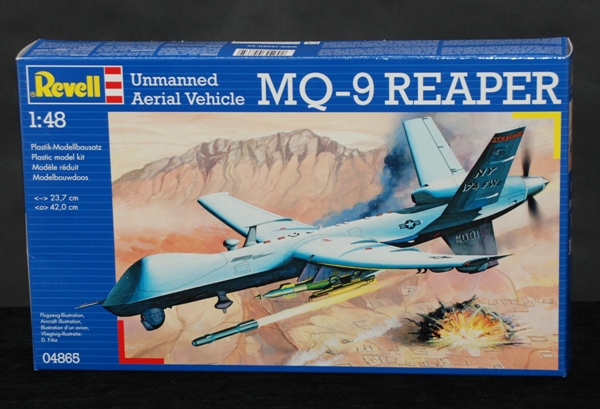 Our thanks to Revell for supplying our review sample. Revell model kits are available from all good toy and model retailers. For further information visit http://www.revell.eu/ or email ukbranch@revell.de"                       
What about this?…
A bit of background…
The General Atomics MQ-9 Reaper (formerly called Predator B) is an unmanned aerial vehicle (UAV), capable of remote controlled or autonomous flight operations, developed by General Atomics Aeronautical Systems (GA-ASI) for use by the United States Air Force, the United States Navy, the CIA, U.S. Customs and Border Protection, the Royal Air Force, and the Italian Air Force. The MQ-9 and other UAVs are referred to as Remotely Piloted Vehicles/Aircraft (RPV/RPA) by the U.S. Air Force to indicate their human ground controllers. The MQ-9 is the first hunter-killer UAV designed for long-endurance, high-altitude surveillance.
The MQ-9 is a larger, heavier, and more capable aircraft than the earlier MQ-1 Predator; it can be controlled by the same ground systems used to control MQ-1s. The Reaper has a 950-shaft-horsepower (712 kW) turboprop engine, far more powerful than the Predator's 115 hp (86 kW) piston engine. The power increase allows the Reaper to carry 15 times more ordnance payload and cruise at almost three times the speed of the MQ-1.Although the MQ-9 can fly pre-programmed routes autonomously, the aircraft is monitored or controlled by aircrew in the Ground Control Station (GCS) and weapons employment is commanded by the flight crew.
In 2008, the New York Air National Guard 174th Fighter Wing began the transition from F-16 piloted fighters to MQ-9 Reapers, becoming the first fighter squadron conversion to an all–unmanned combat air vehicle (UCAV) attack squadron. As of March 2011, the U.S. Air Force was training more pilots for advanced unmanned aerial vehicles than for any other single weapons system.
The Revell Kit…
This is another impressive package from Revell that I believe is a re-release from another manufacturer, although I cannot confirm that as I write. The Reaper is attracting plenty of publicity on the political front but staying with the plastic here, the kit looks well manufactured by Revell. It's big too, a much bigger model than I thought it would be in this scale.
Recessed panel lines – looking restrained in this scale plus a look and feel of high quality moulding with parts crisp and sharp. The overall airframe is very smooth (check out the video that accompanies this review above) and so it's good that this is captured well in the moulding. I can't see any sink marks on the parts, so that's very pleasing too.
Box and contents…
The Revell box artwork is usually impressive enough and that's the case here – an image of a United States Air Force MQ-9 Reaper engaging a target at long range.
Let's go inside…
The light grey sprues are packaged well and no damage is apparent. Taking the main components first, they are well tooled, recessed panel line detail and having a quality feel, and not too heavy for the scale. No distortion was apparent and a dry fit of the fuselage promises a decent fit; the initial impression is one of a simple, clean set of parts that will go to make up an impressively large model in 1:48 scale.
The overall shape looks quite good and the attached images of a completed model can help you to decide for yourself, but the inclusion of the stores give the model a squat, purposeful look.
Weapons…
LGBs are included with sufficient to fully arm your Predator creating an even meaner-looking UAV.
Undercarriage units…
Slender and delicate in design the parts in model form look pretty reasonable with sufficient detail for the scale and will look fine.
Nose weight…
Not sure if you need this, but it will be as well to look for an opportunity to add some somewhere around the forward area to avoid the risk of a tail-sitter.
Clear parts…
The few clear parts supplied look quite clear and well moulded.
Instructions and decals…
The Revell instructions follow their usual exploded stages format in 24 stages. Location of parts is clear but colour paint coding is for Revell paints only. You'll have to match your own choice of paints if you go elsewhere for your choice of colour. The build sequence is pretty standard and logical but many modellers will part company with the stated order to suit their experience.
The decals look to be good quality, being in register and god colouration and carrier film limited, so I wouldn't expect any problems with application.
Conclusion…
This is a good subject and will provide all fans of modern military aircraft modelling with an opportunity to expand their collection to include an important US type. The model itself looks to be well engineered at first glance and from the dry/test-fit. Moulding is good and this should assemble into an impressive-looking 1:48 scale Predator kit. Interestingly the price looks a little heavy when you realise that this simple little model is almost the same price as the big all-new-tool Westland Lynx in 1:32 scale that came in at the same time for review…
Recommended for all scale modellers.
Geoff C.