Review by: Adam Brown (December 2011)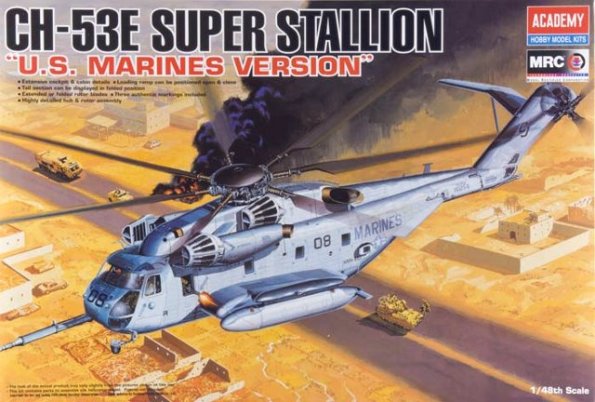 The Helicopter
The Sikorsky CH-53E Super Stallion is the largest and heaviest helicopter in the United States military. It was developed from the CH-53 Sea Stallion, mainly by adding a third engine, a seventh blade to the main rotor and canting the tail rotor 20 degrees.
Sailors commonly refer to the Super Stallion as the "Hurricane Maker" because of the downwash the helicopter generates.
See what I mean?! Loud or what!
It was built by Sikorsky Aircraft for the United States Marine Corps. The less common MH-53E Sea Dragon fills the United States Navy's need for long range mine sweeping or Airborne Mine Countermeasures (AMCM) missions, and perform heavy-lift duties for the Navy.
The CH-53E/MH-53E are designated "S-80" by Sikorsky. Currently under development is the CH-53K, which will be equipped with new engines, new composite rotor blades, and a wider cabin. It is capable of carrying under slung loads as demonstrated in the vide below.
More famously, this helicopter has starred in one of the three 'Transformers' films as 'Blackout', seen in one scene carrying Shia Lebouf and Megan Fox's car underneath in a payload sling, so it's a bit of a celebrity if you like.
Recently at the Milton Keynes Modelkraft 2011, I saw this kit under the table of a club stand for sale and, after much pondering, decided it would be added to the stash, but alas I was too late.
I was a little upset as these don't present themselves too often on the market, so I cheered myself up with something else.
Last week I popped round Geoff's house to pick up the Transall and what should I see in a pile of kits in his workshop!?
"Could I do this Geoff?" was my cry, and I was overjoyed when he agreed.
So I finally got my eager hands on this behemoth of a kit.
The Kit
The kit itself comes in a nice big, deep and sturdy box and inside are 7 light grey sprues of helicopter joy. All parts are crisp and flash free. Click on the thumbnails below to enlarge the images and take a look at some of the contents for yourself.
My only minor gripe is the fuselage detail.
If you look at photos of the real thing, you will notice the Super Stallion and its Stable mates are very heavily riveted, something Academy have not replicated; so if you want a true representation of this gorgeously big chopper, then I'm afraid you have to put the hours in with a riveting tool!
The one clear sprue of wonderfully clear glazed items includes the whole front section of the helicopter, to aid masking and painting.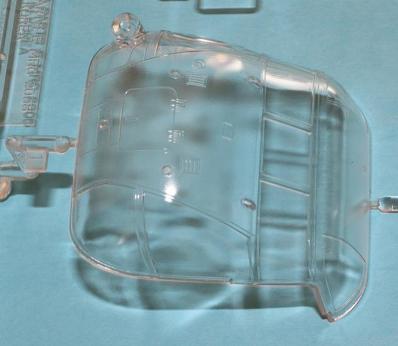 Decals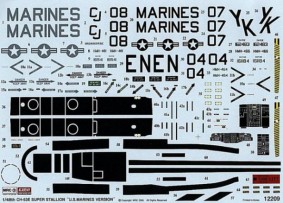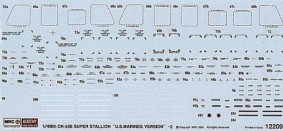 The kit comes with 2 decal sheets with markings for 3 Super Stallions of the USMC. These are:
CH-53E HMH-461 "Ironhorse" #161541 08/CJ Iraqi Freedom Circa '00's
CH-53E HMH-466 #162483 07/YK MCAS Tustin California Circa '80's
CH-53E HMH-464 #161184 04/EN MCAS New River North Carolina Circa '90's
Each sheet is very well presented, with each decal type laid out to make cutting out a not-so tedious job. Academy do make very good decals, so don't be wary.
Instructions
The instructions are a joy to behold, as they are so easy to follow and, while not in the same vein as the likes of Tamiya or Wingnuts, they are still head and shoulders over other manufacturers' plans.
The real beauty of the kit is that Academy allows you to present your model either in flight mode or storage mode, which is great if you don't live in a mansion!
Conclusion
A smashing-looking kit, a shame it's so hard to come by nowadays.
If you can find one at a nice price, snap it up. This will look awesome in your display cabinet (or on top if you want everything hanging out). Cannot wait to get cracking with this as there are some extras with this particular one…!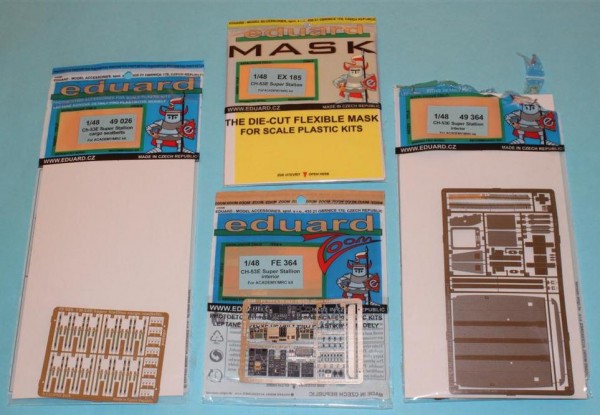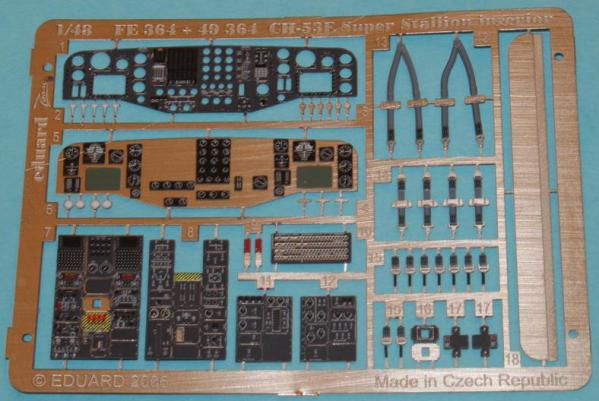 Oh, did I mention it's big?! Compared to my HobbyBoss Tornado F.3 it is!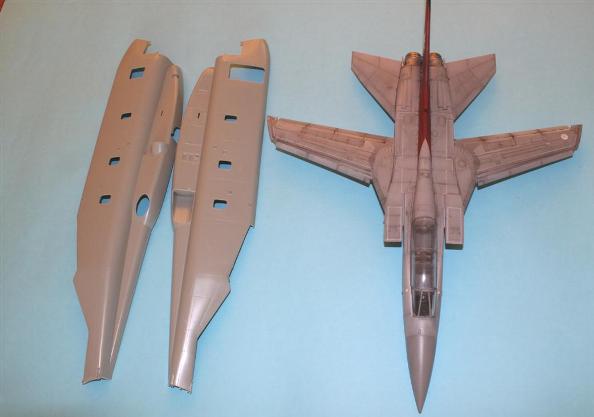 Final Verdict
| FEATURE | STAR RATING (out of five) |
| --- | --- |
| Quality of moulding | **** |
| Accuracy | **** |
| Instructions | ***** |
| Decals | **** |
| Subject choice | ***** |
| Overall | **** & a half! |
Adam B.