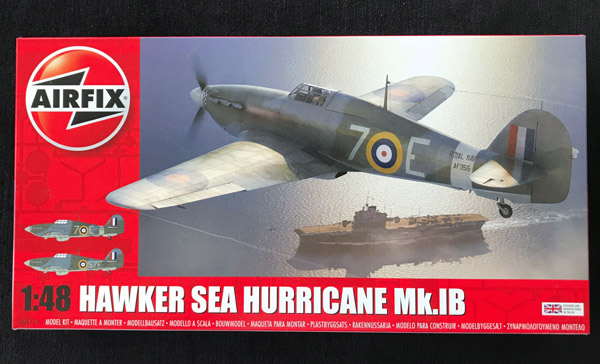 Kit Ref: A05134
Price around £20.99 GBP, $28.16 USD, €23.87 Euros, $37.42 AUS
Review by Geoff Coughlin (December 2017)
Our thanks to Airfix for supplying our review sample – get the Hawker Sea Hurricane Mk.Ib 1:48 kit here now from Airfix
The Airfix kit
I have already seen a couple of completed 1:48 Hawker Hurricane models originating from this new-tool from Airfix and this time we have the Sea Hurricane Mk.Ib. The box art as ever is stunning and when you get inside the contents don't disappoint. The main feedback I have heard is how nice the kit is to build and certainly the completed models look great and so we have high expectations of the forthcoming full build that's on the way to Aircraft-Build Now :)
What do you get?
You can see the sprues as well as I can so take a good look at the images and I think you'll be pretty pleased.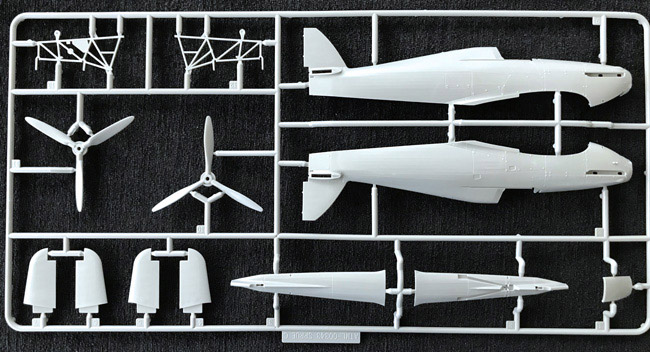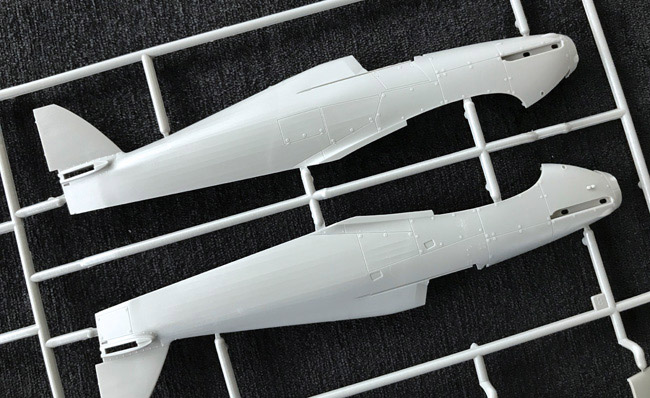 Let's start with the plastic
The plastic is just like the manufacturer's other recent releases – slightly soft yet well-tooled light blue-grey parts. Panel line detail is scribed and well done for the scale. detail and finesse of parts is high – even better than usual from this manufacturer and that's a great step in the continuing general improvement in new products from Airfix.
Parts breakdown is pretty conventional for a Hurricane kit – separate upper main wing panels over the one-piece lower wing section.
Fuselage – general shape looks very authentic and the fabric effect is as good as you'll get on the rear fuselage and control surfaces. I have cut the fuselage halves from their sprues and test-fitted them and they fit very well – promising. A neat separate lower rear insert includes the arrestor kook.
Main wings – separate upper wing halves split in two horizontally and attaching to the one-piece lower wing section. It's good to see surface detail provided on the wheel bay interiors – speaking of which these are excellent with separate detailed rear walls that combine as wing spars to give the whole wing rigidity.
A highlight is the option for open gun bays revealing the detailed guns within and the latter are very delicately moulded and will appeal to many. Some good diorama possibilities with ground crew and vehicles etc (also available from this manufacturer).
I suppose what I'm thinking at this point and maybe you too… is that if the fit of the doors for all the open panels is good, then that's great – if not… well, we'll see (keep a close eye on the SMN What's New page and Build Now).
Flaps – are not provided as separate items, being moulded in the closed position.
Rudder / elevators – These are neatly moulded separately so that you can add some interest by slightly offsetting if required.
Cockpit – One of the real strengths in my view – everything is there to make a perfectly representative Hurricane. The internal tubular framework is there as are the main instruments that attach to it to make the whole area look busy and the main panel also has raised details and the decal instrument panel could work very well over this, using plenty of decal setting solution – we'll see.
The seat just needs a harness to complete the look.
Undercarriage – again, another strength in the kit – all the detail is there as far as I can see to make these areas eye-catching. The wheel wells are well done too with their rear sections integral with the equally detailed main wing spar as mentioned above.
The wheels are provided with and without tyre-flats for the tyres and the fact that the hubs are separate will make painting quicker and neater.

Propeller – the three-bladed prop is well formed as are the exhaust stacks, although these have some mould sink marks to take care of if they bother you. Both pointed and rounded spinners are included.
Pilot figure – a seated pilot figure is included and he looks well tooled. Separate arms can allow you to fine tune his position in relation to the cockpit seat and controls.ß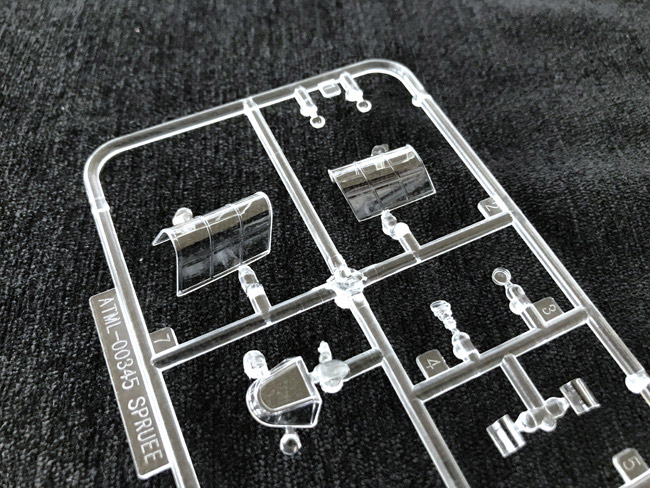 Clear parts
The canopy is helpfully split so front windscreen and rear sections are separate allowing you to pose your canopy open or closed. Crystal clear, blemish-free and well moulded without any distortion. I like the inclusion of slightly different sized main canopy sliding sections to allow you to pick the one you want to show – open or closed.
Instructions
The simple foldout instruction booklet is clear enough with references to paint colours; reference to exact colours and photos will help match your preferred paints to what's needed. There are full colour painting/decal guides included for each version supplied.
Decals
Decals for two different Hawker Sea Hurricane Mk.Ib aircraft is included:
Option A: Aircraft flown by Lieutenant Richard John (Dickie) Cork (DSO and DSC), No 880 Naval Air Squadron, Fleet Air Arm, HMS Indomitable, Operation "Ironclad", Diego Suarez, Madagascar, May 1942
Option B: No 804 Naval Air Squadron, Fleet Air Arm, HMS Eagle, 1941
Full stencil data is included and a clear diagram showing where each tiny item goes. The different schemes are shown on a high quality colour fold-out sheet.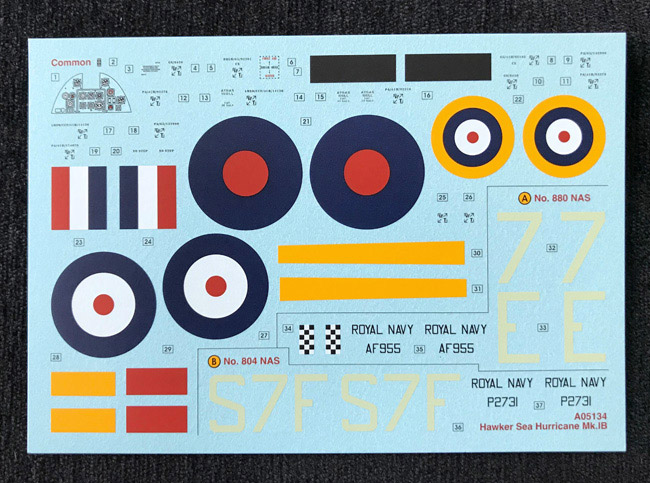 The decals are very well printed and look to be good quality – let's hope so. From building some of their recent releases these decals work well with decal softening solutions that help the markings settle down into the recessed detail.
Here's my summary
This is a good package with excellent levels of quality and detail across the whole kit. Looking at the options and diverse variety of options on offer, I think Airfix has broken new ground with this kit. We will be building this one in the near future and that will show how it all goes together and I for one am really looking forward to it.
Geoff C.
SMN Quick summary Star rating out of 5
| FEATURE | STAR RATING (out of five) |
| --- | --- |
| Quality of moulding | **** |
| Level of detail | **** |
| Accuracy | **** |
| Instructions | *** |
| Decals | **** |
| Subject choice | ***** |
| Overall | **** |