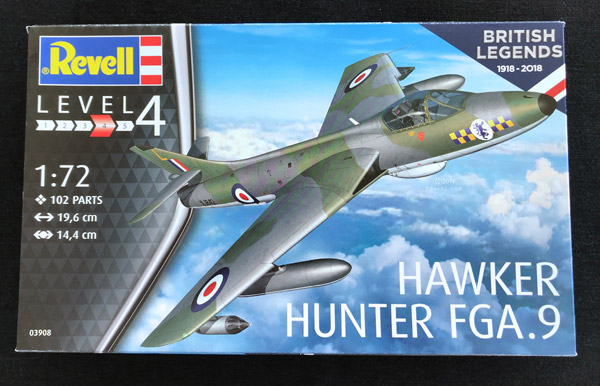 Ref: 03908
Review by Geoff Coughlin (April 2018)
Price around: £19.99 GBP; €22.89; $36.60AUS; $27.63US; $35.62CAD
Our thanks to Revell for supplying our review sample. Revell model kits are available from all good toy and model retailers. For details visit Revell
The Hawker Hunter is a transonic British jet-powered fighter aircraft that was developed by Hawker Aircraft for the Royal Air Force (RAF) during the late 1940s and early 1950s. It was designed to take advantage of the newly developed Rolls-Royce Avon turbojet engine and the swept wing, and was the first jet-powered aircraft produced by Hawker to be procured by the RAF. On 7 September 1953, the modified first prototype broke the world air speed record for aircraft, achieving a speed of 727.63 mph (1,171.01 km/h; 632.29 kn).
The single-seat Hunter was introduced to service in 1954 as a manoeuvrable day interceptor aircraft, quickly succeeding first-generation jet fighters in RAF service such as the Gloster Meteor and the de Havilland Venom. The all-weather/night fighter role was filled by the Gloster Javelin. Successively im-proved variants of the type were produced, adopting increasingly more capable engine models and expanding its fuel capacity amongst other modifications being implemented. Hunters were also used by two RAF display teams: the "Black Ar-rows", who on one occasion looped a record-breaking 22 Hunters in formation, and later the "Blue Diamonds", who flew 16 aircraft. The Hunter was also widely exported, serving with a total of 21 overseas air forces.
During the 1960s, following the introduction of the supersonic English Electric Lightning in the interceptor role, the Hunter transitioned to being operated as a fighter-bomber and for aerial reconnaissance missions, using dedicated variants for these purposes. Two-seat variants remained in use for training and secondary roles with the RAF and the Royal Navy until the early 1990s. Sixty years after its original introduction it was still in active service, being operated by the Lebanese Air Force until 2014.
The Hunter saw combat service in a range of conflicts with several operators, including the Suez Crisis, the Aden Emergency, the Sino-Indian War, the Indo-Pakistani War of 1965, the Indo-Pakistani War of 1971, the Rhodesian Bush War, the Second Congo War, the Six-Day War, the War of Attrition, the Yom Kippur War, and the 2007 Lebanon conflict. Overall, 1,972 Hunters were manufactured by Hawker Aircraft and its successor, Hawker Siddeley, as well as be-ing produced under licence overseas. In British service, the Hunter was replaced in its principal roles by the Lightning, the Hawker Siddeley Harrier and the McDonnell Douglas F-4 Phantom II.
(source Wikipedia)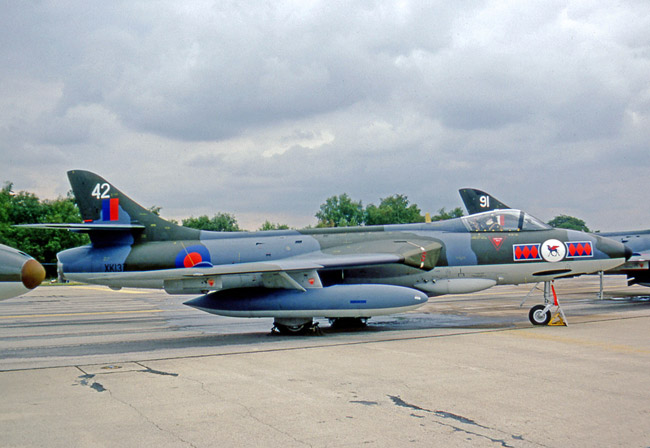 Manufacturer's model
As you can see this model will make up into a very neat replica of the original.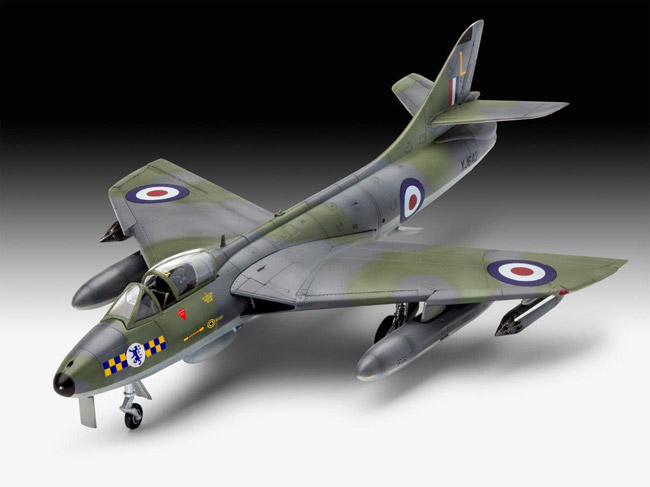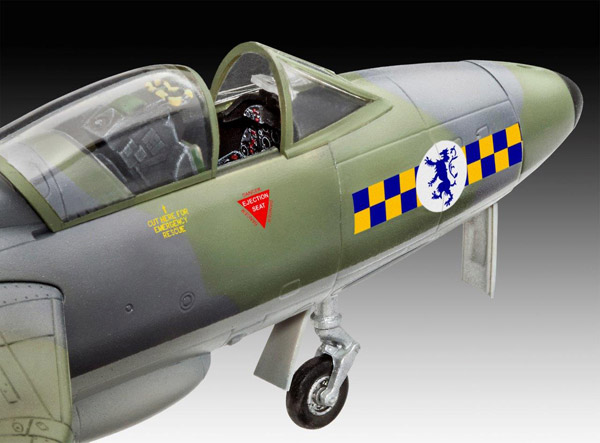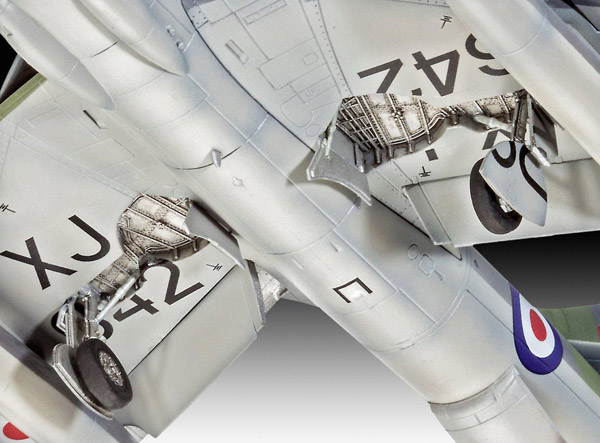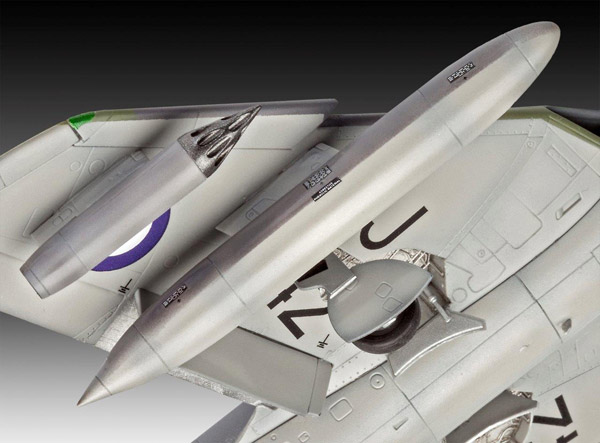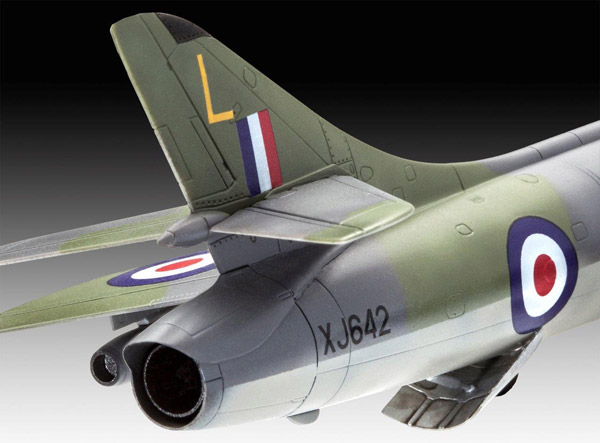 The Revell Kit
This re-release of the single-seat Hawker Hunter FGA.Mk.9 is welcome and comes as part of Revell's British Legends 1918-2018 series of releases for this year. This kit also features two new squadron schemes from the previous incarnation back in 2008 (Source: Scale-mates).
New style box!
Surely not? Well, actually yes! This time we have a much sturdier tray box, rather than the much criticised end-opening boxes that this manufacturer has used for a long time now. Let's hope that this is a sign of things to come for all their kits – high quality, sturdy boxes well presented are good for sales as well as having practical value to us modellers! Enough said.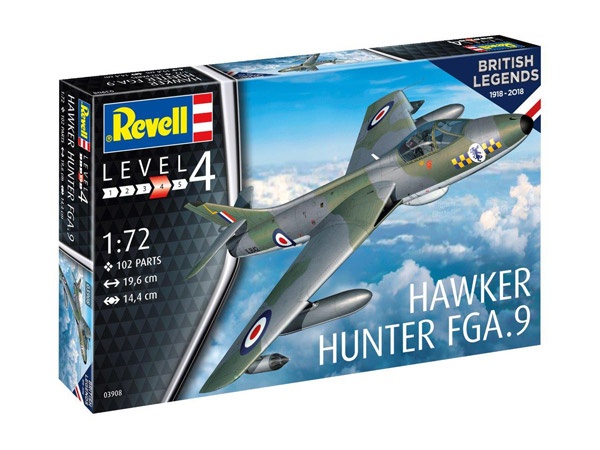 Let's go inside
The grey sprues are packaged well and no damage is apparent. Taking the main components first, they are well tooled, recessed panel line detail has a quality feel and is refined. No distortion on the main grey parts is apparent and a dry fit of the main fuselage promises a decent fit; the initial impression is one of detail parts that will go to make up a nice rep-resentative model in 1:72 scale.

Cockpit and interior
Raised detail on the cockpit panels is provided. The other internal details are well detailed too as you can see from the attached photos and will add a fair bit to the eventual look. The cockpit tub is especially well done and there is useful detail on the rear decking.
The Martin Baker ejection seat is a faithful representation of the real thing.
Other observations
• there is an option for open or closed canopy
• undercarriage units and wheel hubs look good and ideal for the scale
• wheel wells nicely detailed and realistic
• 2 X Matra rocket pods plus, oddly, what look like 2 Maverick air-to-ground missile stores are included
• 2 fuel tanks are included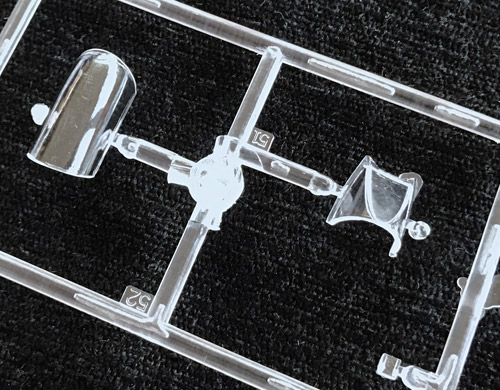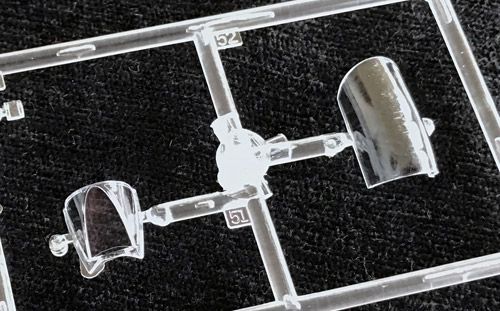 Clear parts
The clear parts look clear and defect-free.
Instructions
The Revell instructions look rather different this time – colour would you believe! Location of parts is clear but colour paint coding is for Revell paints only. You'll have to match your own choice of paints if you go elsewhere for your choice of colour. The build sequence is pretty standard and logical but many modellers will part company with the stated order to suit their experience.
Decals
An option for two aircraft is included:
– Hawker Hunter FGA.9, No.54 Squadron, Royal Air Force, West Raynham, England, June 1968
– Hawker Hunter FGA.9, No.8 Squadron, Royal Air Force, Khormaksar, Aden, early 1963
Looking at the manufacturer's completed model (above) the decals will look good when carefully applied.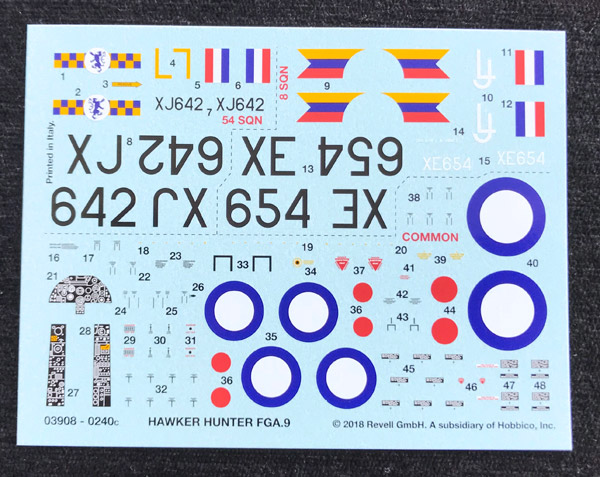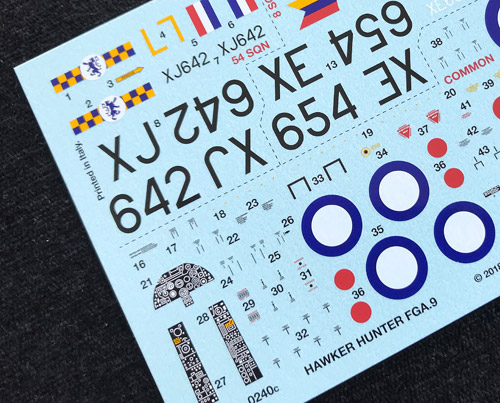 Conclusion
This is a great subject and it's great that the single-seater Typhoon FGR-4 is back and readi-ly available this anniversary scheme. This model will provide all military fans, especially those with interest in 'special' schemes or if you are just looking for something 'different' to build, an opportunity to expand your collection.
The model itself looks to be well engineered from the dry/test-fit. Moulding is good and the recessed panel detail ok in my opinion.
Geoff C.
SMN Quick summary Star rating out of 5
| FEATURE | STAR RATING (out of five) |
| --- | --- |
| Quality of moulding | *** |
| Accuracy | **** |
| Instructions | *** |
| Decals | **** |
| Level of detail | *** |
| Subject choice | **** |
| Overall | *** |