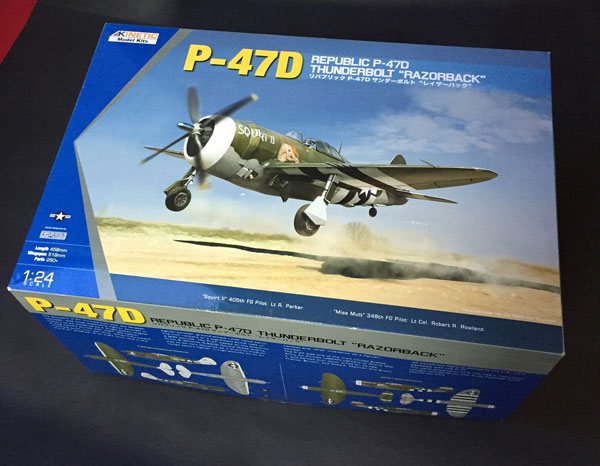 Kit Ref: 3208
Price around: £68.00 GBP, $99.00 USD (January 2016)
Review by Geoff Coughlin
SMN Sar Rating: ****
The Kinetic kit
This kit may look familiar when you look at the sprues and parts-layout because what you have here is the original Vintage kit that now includes new fuselage and additional plastic parts plus decals. The 'Bubble Top' version was released by Kinetic in 2015.
I'm really pleased that we have bought this kit for two main reasons – firstly, we have a great detailed build of the original Vintage 1:24 scale kit in Finished Now – and secondly, Les V has agreed to take this one on and give it the Les V NMF treatment – we're in for a treat for sure :)
Here's a couple of pics of Dave Cs great build of the Vintage Bubble Top kit…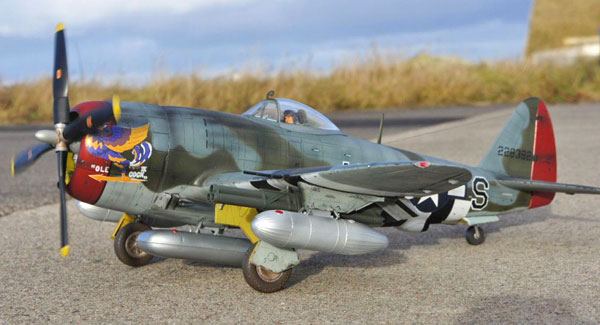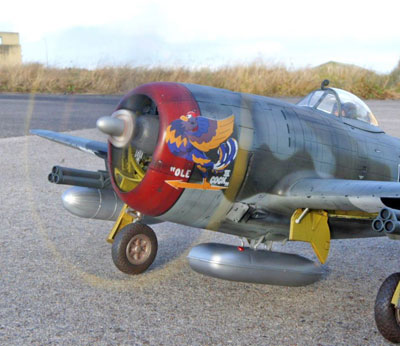 Let's take a closer look at the new Kinetic Razorback
Well, there are plenty of sprues in the packed large 'square' box – easier to post and store I'm sure.
Major components – these look very well tooled – nice restrained recessed panel lines and sharp detailing – sprues have minimal excess flash. Take a look at this gallery grid that shows you what you'll get…
Fuselage – looks accurate and well-shaped. Some internal side wall detail but most of this is included with the cockpit parts. The rudder is fixed in place so if you want to offset it, you'll need to get out your scalpel. Rivet detail may be a little heavy for some, but in this scale it should work fine under paint and weathering.
Wings – these are also well tooled with option for open gun bays. Separate clear wing-tip nav lights is provided as is an option for dropped flaps – nice :) the 'Jug' looks very mean with flaps dropped.
A strong plastic wing spar is included that should ensure that the wings line up properly with the fuselage.
Cockpit – plenty of detail in here with separate main instrument panel that is moulded with the front faces separate too, allowing you to add the decal dials to the back portion and sandwich it in between – clever. The corrugated and flat floor options are both there, although I think only the corrugated version is applicable to this kit.
Side consoles/walls are again well detailed and all the instrument switch boxes will look good when painted and weathered. Seat, control column and other small details will make this area look busy enough, especially if you add some pre-painted seat belts to your finished cockpit – I can't see much else is needed.
Engine – that huge P&W R2800 engine is nicely detailed, especially the cylinders. Oddly, the cowl flaps aren't offered as an 'open' option and so the closed parts will require modification to show them open.
Propellers – nice that both styles of huge Hamilton Standard and Curtiss propellers are included.
Stores and weapons
You get plenty of options from bazookas and bombs to both flat and paper styled drop tanks.
Undercarriage – legs are pretty accurate with clean detail and minimal mould seam lines. The separate wheel hubs will work very well with the vinyl tyres (we've god a good HD video demo for preparing and using these in your SMN Techniques Bank – here; easier to paint certainly. I spotted that the tread patters does seem to be out of alignment where the mould seam would be located on the tyres and this will detract from the finished model unless you can find replacements (at the time of writing, not sure if Roy Sutherland at Barracuda Cals is doing any?).
Clear parts
The clear parts are just that – very clear and blemish-free. Separate front screen is there too to allow the rear 'sliding' portion to be posed open so that the interior of your Jug can be seen.