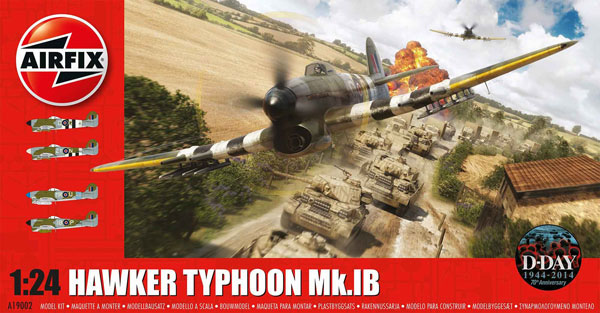 Review by Geoff Coughlin (Aug 2014)
Kit Ref: A19002
Price around: £99.99 GBP
Our thanks to Airfix for supplying our review sample. Get this kit here now at: www.airfix.com
THREE full build articles in Finished Now
See Julian's FINISHED NOW BUILD REVIEW
See Dave Coward's FINISHED NOW BUILD REVIEW
See Chris Evans's FINISHED NOW BUILD REVIEW
Background
The Hawker Typhoon (Tiffy in RAF slang), was a British single-seat fighter-bomber, produced by Hawker Aircraft. It was intended to be a medium–high altitude interceptor, as a replacement for the Hawker Hurricane but several design problems were encountered and it never completely satisfied this requirement.
The Typhoon was designed to mount 12 machine guns and be powered by the latest 2000 hp engines. Its service introduction in mid-1941 was plagued with problems and for several months the aircraft faced a doubtful future. When the Luftwaffe brought the formidable Focke-Wulf Fw 190 into service in 1941, the Typhoon was the only RAF fighter capable of catching it at low altitudes; as a result it secured a new role as a low-altitude interceptor.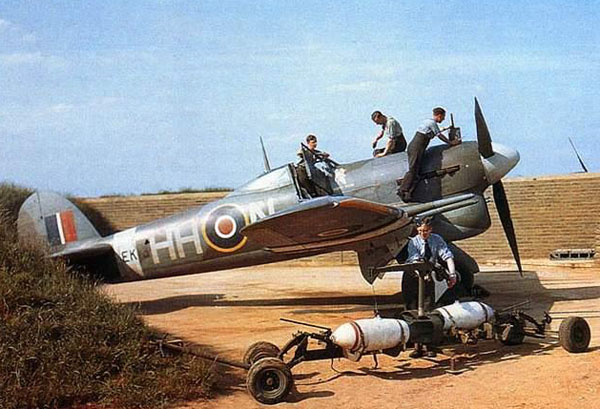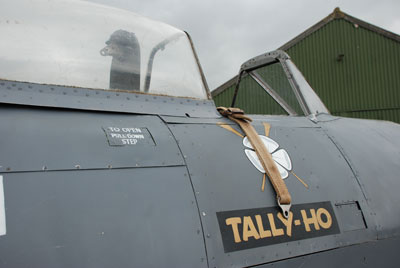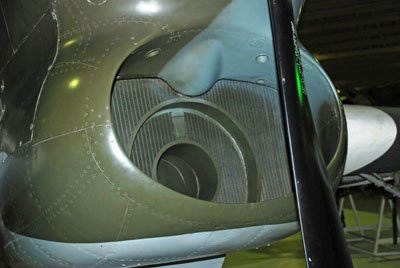 Through the support of pilots such as Roland Beamont it became established in roles such as night-time intruder and a long-range fighter.
From late 1942 the Typhoon was equipped with bombs and from late 1943 RP-3 ground attack rockets were added to its armoury. Using these two weapons, the Typhoon became one of the Second World War's most successful ground-attack aircraft.
References
You shouldn't find it hard to get hold of enough reference, photos and material to complete your Typhoon – the box contains some material, the web a lot more, but to help you get started, take a look at SMN's Photo Reference Library – you have a good walkaround set of modeller's reference pics in there, especially for the cockpit that will help you to finish what is quite a complex area on the real aircraft and this kit alike.
These reference pics are on this page of the Photo Library here.