The Airfix kit
Inevitably, when this kit was seen in mock-up form at last year's IPMS UK Scale Model World, excitement reached fever-pitch! We've been waiting ever since to see this huge new model in the flesh and looking at all spread out before me, that wait has certainly been worthwhile. Looking at the package as a whole, this is probably the most detailed and complex model we have ever featured in SMN and that's saying something given the huge and extensive coverage of models in 1:32 scale as well as 1:24, not to mention the smaller scales.
You may also like to take a quick look at Airfix's own website where, apart from buying the kit direct, you can see some other useful photos of the model ready-primed that give a good idea of what some of the options like exposed engine and gun bays could look like – impressive they are too!
Should you wish, Airfix now does a motor to power your model when displaying it on its base and more details of that can be found on their website here.
As I've said, this is a big model as you would expect – over 40cm long (404mm) and even wider – over 50cm (528mm) and so, if you like your models big, you'll love this one!

Airframe
This is extremely well done looking at the surface detail – good well defined recessed panel lines with rivet detail across all the relevant areas of the airframe. What looks very subtle is the way the designers have captured the 'rippled' effect created where the panels are pulled onto the framework beneath by the rivets on the real aircraft. It'll be interesting to see how this looks on the finished model.
You have a choice from the outset – three in fact for how you'd like your finished Typhoon to look: open engine X2 or closed up with options along the way for open gun bays and dropped flaps.
Cockpit
The Hawker Typhoon cockpit is hardly a simple affair like many WWII fighters, far from it, it's constructed of an extensive tubular structure with lots of panels, wires, levers and of course the seat. All these are well captured and the seat even has separate, realistically posed plastic belts – a first I think for me – never seen them in plastic as separate items before and they look good at first glance and perfectly usable.
The instrument panel has a clear section that fits behind the main plastic panel and even the instrument dials are separate – impressive.

Undercarriage
Weighted tyres are provided and these great bulged items on the real aircraft are a stand-out feature of the type. Hub detail is accurate and will look great when painted and weathered. All the internal well detail is there, as too are the separate hydraulic lines and all the small features of the real machine.
Engine
The Napier Sabre engine is quite possibly likely to be the centrepiece of the model for many of you – simply stunning and featuring all the details of the original as far as I can see, only the smallest of lines may want to be added but it's hard to see how Airfix could have squeezed anything else in here.
Three and four-bladed propellers are also included with good shape and looking the part.

Weapons and Stores
Plenty of 60lb rocket projectiles, two under wing bombs and/or wing tanks to choose from, so you can fit your Typhoon out with all the major stores it carried while on operations.
Another great feature of this kit is the option for open wing gun bays – both sides, and again, just about everything is in there so it's hard to see what else can be provided.
The large wing cannons will need to be carefully glued together and the join line eliminated. The guns themselves are excellent, well-detailed and will become a real feature of your completed model if displayed in their open bay.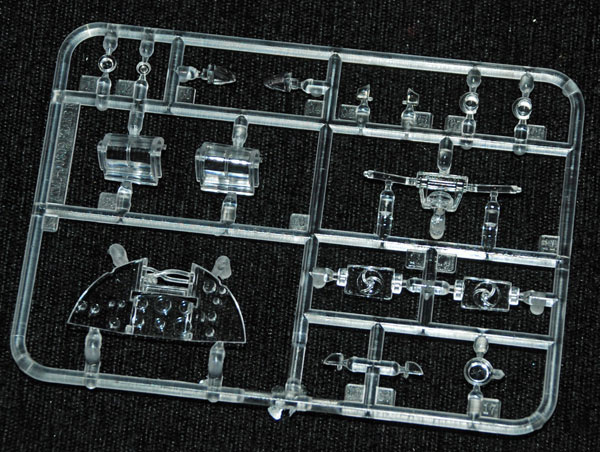 Clear parts
At the time of writing it's clear that Airfix has had some issues with supplying models of this kit that have a crack in the main canopy. It's hard to see in the photos included (look for the red arrow) here but it is quite noticeable and runs aft of the front leading edge of the rear sliding portion (Part Q01). We've approached Airfix for a replacement part and that should arrive soon.
On such a large model I could not live with the crack, but some of you may feel you can – your call. The parts themselves are very clear and otherwise well moulded.