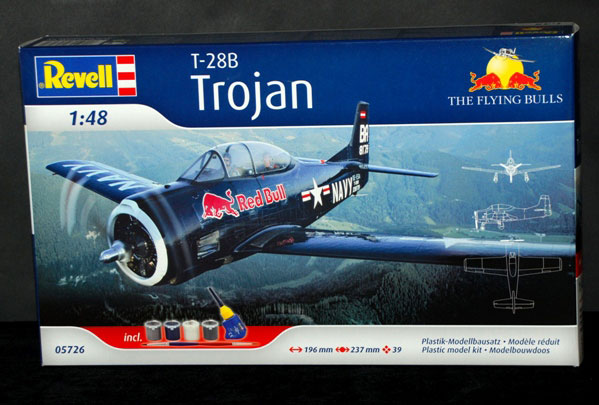 Review by Geoff Coughlin
Price: Around 19.00 GBP (Jun 2013)
Our thanks to Revell for supplying our review sample. Revell model kits are available from all good toy and model retailers. For further information visit www.revell.eu or email ukbranch@revell.de
Something to get you in the mood here!…

A bit of background
The North American Aviation T-28 Trojan is a piston-engined military trainer aircraft used by the United States Air Force and United States Navy beginning in the 1950s. Besides its use as a trainer, the T-28 was successfully employed as a Counter-insurgency (COIN) aircraft, primarily during the Vietnam War.
Built by North America in 1954 the aerobatic T-28B was also used by the U.S. Navy as a training aircraft in Washington DC until 1965. The aircraft featured in this package was subsequently sold to a private owner in Texas who restored it. In the mid 1980's and only after tough negotiations the former Flying Bulls Chief Pilot Sigi Angerer was able to purchase the aircraft. This aircraft was the beginning and nucleus of the Flying Bulls collection of airworthy vintage aircraft. Together with other exhibits the T-28B can usually be admired in Hangar 7 at Salzburg Airport – and of course always in the air at many major air-shows around Europe.
The Revell Kit
This is a box that promises a lot – sizeable with great box art featuring an aircraft from The Red Bulls collection flying over its Austria home landscape. Going inside it's a very different story though and so I plan, as ever, to be honest and objective in all my comments.
Immediately there is a dilemma in terms of who this package is aimed at; I suspect that it's the younger modeller as a bag containing paints and brush is included as with many Revell Sets. The relatively high price given the contents seems a bit poor from the consumer's end.
The bag containing all the dark blue kit parts features a model that first appeared in 1956 would you believe (see stamp mark inside fuselage) it's astonishing that Revell still has these moulds today as they show their age in every department: heavily raised rivet detail; moulded crew-to-seat figure; moulded engine face with cowl, heavy flash and mould marks on components, defects in clear parts – I could go on.
I suggest that you take a look at the following images to get a feel for what's on offer in this package and then I'll make some further observations…

Box and contents
The heavy rivet detail can always be sanded off so that in itself isn't a big deal but the work you'll have to do to get a good-looking model will be considerable. Some small panels are recessed but you'll probably need to do some re-scribing using some plans if you can get them.
Into the cockpit – decals are provided and if you close the canopy this should be passable as the decals are well printed on the decal sheet – main and side panels are included. The control column is very basic and if you want a detailed 'office' you better get your spares box ready and to be fair I quite like adding cockpit detail – it's great fun although in this instance if I had paid around £20.00 I wouldn't be very happy about all the work that's needed.
The undercarriage is also basic bearing a passing resemblance to the original but you'll have to add more detail or replace some parts to get a realistic unit. The tyres look too thin and spindly needing more bulk to appear realistic.
The engine cylinder heads are moulded to the front engine cowl section and do have detail but there's no crankcase or other realistic detail.
Clear parts
The clear parts are poor in this sample – the front windscreen has a large defect that shows up in the image above and that won't be easy to remove at all – I would seek a replacement if yours has a similar defect.
Instructions and decals
The Revell instructions follow their usual exploded stages format. Location of parts is clear but colour paint coding is for Revell mixes of their paints only. However, the colour names are provided and this will help you to match your own choice of paints. This is a basic model and so should present little difficulty in working out where all the parts are located, even for inexperienced modellers.
The decals seem good and definitely the best part of the package, being new and manufactured in Italy. Certainly colour saturation and register is good and all markings are accurate and sharp in their detail; they'll make a world of difference to your completed model.
Conclusion
I'm sorry but I just can't see the attraction for anyone buying this package – the kit is so old and poor quality that I doubt it will encourage younger modellers to carry on with their model making – given the price, that's a lot of pocket money. There are so many better models that are much cheaper that will look just as great as this one when completed and all available in Revel's excellent range of products. If you look around Revell's area in Here Now you will find a lot of impressive models original to the manufacturer and also others that have been bought in and re-boxed but hey, if it's a good model who cares about the origin, I just like to know.
Geoff C.
SMN Quick summary Star rating out of 5
| FEATURE | STAR RATING (out of five) |
| --- | --- |
| Quality of moulding | * |
| Accuracy | ** |
| Instructions | *** |
| Decals | **** |
| Subject choice | **** |
| Overall | ** |