Review by: Julian Seddon (March 2012)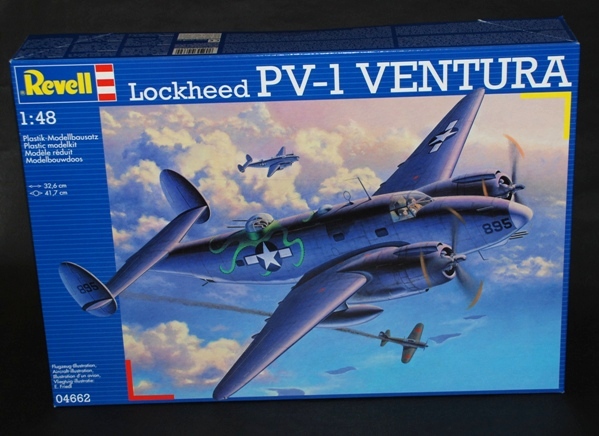 Our thanks to Revell for supplying our review sample.

Reference
Background
At last it is here in the UK! There has been much discussion about this kit in other parts of the world and, at times it appeared that it would never arrive here.
The PV-1 Ventura was about the third version of the aircraft, a successor to the Hudson which had been a smaller aircraft largely involved in patrolling the seas with Coastal Command.
The PV-1 produced by Vega (a subsidiary of the main company) was adapted to carry torpedoes amongst other weapons. By this time, it had larger engines and a longer range than the earlier versions of the Ventura.
The majority went to the Pacific. Those that arrived in England were briefly and very unsuccessfully used as light bombers and it was quickly withdrawn from this use; eventually being replaced by the Hudson aircraft on maritime patrols. They were involved in sinking a number of U-boats in this role.
The Kit
Click on the thumbnails to enlarge the images.
Even in 1:48 scale, this is a surprisingly large kit arriving in a suitably sized box.
There are not a huge number of sprues, but the three that are there (4 with the transparencies) are well moulded and contain parts with an impressive amount of detail.
Most of the critics (and there are not many) have pointed to a problem with the propeller shape (see the gallery grids within this review for close up images).
So, well in advance of the arrival of the kit in the UK I sent off for a correction set to see what was involved. This came from Vector and contains in addition to the props a set of corrected crankcases (see above). A bit of tricky removal of the case moulded onto the engine is necessary, but the result will be crisper and should be worth it.
There are already a number of decal producers with alternatives for the kit. I wanted to do an English version but alas the turret is too different to merit the change in what is a build of the contents of the box. The Revell decals are limited to a couple of squadrons based on the Marianas and Attu (on the Aleutians).
Instructions
In my experience, Revell have always had a very good instruction sheet with their kits. This seems to be no exception, but during my upcoming build I will photograph the relevant sheets and, if there are any problems, they will be highlighted then.
Meanwhile, here are some additional images covering the box contents in great detail.
The Verdict
Here's my full assessment in our usual grid format:
| FEATURE | STAR RATING (out of five) |
| --- | --- |
| Quality of moulding | **** |
| Accuracy | *** |
| Instructions | **** |
| Decals | **** |
| Subject choice | **** |
| Overall | **** |
I will start building this one very soon. Can't wait!
Julian S.