Review by James Vaitkevicius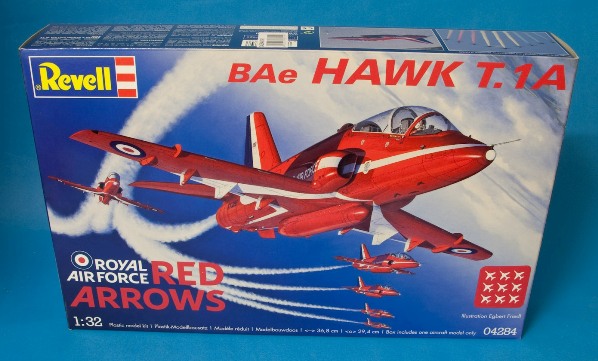 Look out for the full in-progress review in Build Now, coming very soon…
Also… for all our Silver and Gold members is a great walkaround for the HawkT.Mk.1A in your Photo Reference Library.
Also…Geoff will be adding a complete in-depth walkaround for the Red's Hawk T.Mk.1A this coming week – what a treat! Geoff tells me this is going to be the definitive walk-around with everything you could want in terms of internal and external coverage for a Reds Hawk. Don't forget that much of what you'll see there is also directly applicable to much of the remainder of the Hawk fleet in RAF service.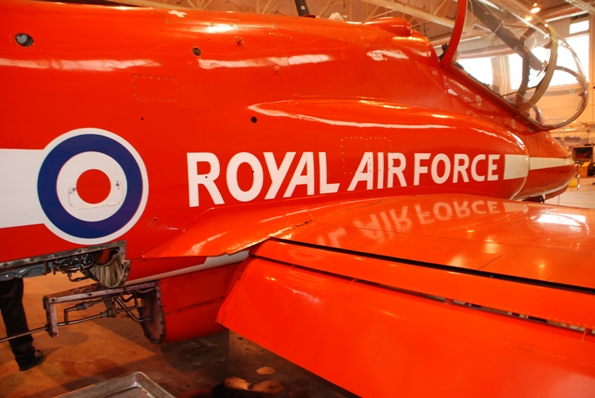 Great box art…
So here we go…. A new tooling, the eagerly awaited 1:32nd scale Revell BAe Hawk T Mk.1… Am I excited, oh yes! I have recently built the 1:72nd Airfix Hawk T2 & 1:48th Scale Italeri Hawk T.1A, This could not have come at a better time to build this kit! I found out at 6pm this evening that a certain retailer has got this kit released a few weeks before its date, so it would be rude not to purchase one! We start with the fantastic box artwork that Revell have provided us; the World Famous RAF Red Arrows Display Team. The full front of the box has a fantastically painted picture of the Red Arrows doing what they do best. I suspect the box art will draw the adults and kids alike in model shops and stands at air shows alike. I do, however, think the box art is not a patch on the recent Airfix efforts which have blown me away!
Ok, so what's in the box?
The first thing that greets you is when you open the box is that (predictably) the sprues are moulded in red… I know that this will frustrate the diehard modellers out there, I can hear you say now that "why isn't it moulded in grey". This can easily be remedied with a few coats of primer of your choice! I think it is a clever move from Revell as it will mean that less skilled modellers or dare I say the younger generation who will be able to build this plane with the use of little of no paint. You are also greeted with ten (yes, ten!) red sprues and one crystal clear sprue with the canopy and associated lights attached.
All moulded parts have nicely engraved panel lines and for the cost of the kit, on first inspection it looks really good, however, you can see the finished surface has a light texture to it. Is this for adhering the primer coat with? I suspect so… You can also see slight mould marks on certain areas of the fuselage which is a sign of cheaper mass production, but we cannot complain too much can we!
Further Inspections in the box…
One thing you immediately notice is the level of detail that the kit has. Details such as air intakes (with no pin casts on the inside), tail pipe, adequately detailed cockpit, & wheel bays make this an interesting kit, especially for those on a budget. There is also a lot of scope for the aftermarket boys to flood the market with highly detailed resin parts… I was actually quite impressed that the T.1A kit comes with a smoke pod (as you would expect for a "Red Arrow" Hawk, but also includes an Aden 30mm gun pod, but no launcher rails (unfortunately). I did also notice that the underside section of the wing include four pin holes for a possible future release maybe? The only down side that I can see on first inspection is that the wheels are not weighted, which is a bit unfortunate… Other than that, I am actually really excited to get this one started! I also forgot to mention that you get two pots of red and one white pot of acrylic paint, one cheap Revell No.2 brush and a tube of Contacta Adhesive (takes you back doesn't it!) Which for me will no doubt end up in the bin, but for a starter set is very impressive!
Cockpit…
A fairly basic and sparse cockpit is included, but it seems adequate. Decals are included for the dials which should be easy to adhere to the control panels. There is also plenty of scope for the more experienced model makers to paint/scratch build their own.
The two Martin Barker seats look similar (if not the same) as those you find in the Revell Eurofighter kit. I am very disappointed that the belts are not include, but they have included these as decals… unconvincing but will be easily improved by adding your own – either an etched set of belts or scratch your own from metal foil (old wine bottle tops work really well) and are a cheaper alternative.
Undercarriage…
A bit disappointing that the wheels are not bulged, again a good area for the aftermarket boys to profit on. I am also unsure if the wheel hub detail is correct (see picture). The main gear legs will benefit from adding a brake line down each one – I am sure with the reference books out there that this can be easily replicated with lead wire or other materials of your choice
Control surfaces…
I have mixed feelings about these. Whilst the control surfaces have the options to move the ailerons, there is no option or mechanism to raise or lower the flaps, which was one of the best options on the Italeri 1:48th scale Hawk T Mk. 1 kit. I can see the aftermarket boys getting a good trade out of modellers who want to drop these flaps.
Clear parts…
Nice looking these – very clear, crisp parts, no seam down the main canopy, which has blown me away as most 1:32nd scale kits I have built have this to remove. The blast screen seems to be accurate, although there is little guidance on the main canopy to get the angle of this correct.  
Instructions, decals and painting guide…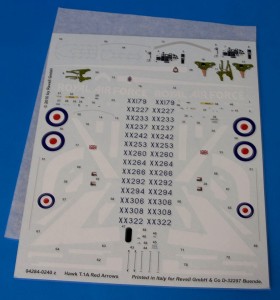 I am sure this Hawk T.1A in the RAF Red Arrows scheme will wow the crowds at air shows and I am sure that this will sell well. It is not really the scheme that I would choose (as you will see in my review), but on inspection of the decals they look really well produced. There are options for all Red Arrow Hawk aircraft in their inventory and includes the newer "Reds" scheme that they have been operating for the last few years. The decals also include for the pilots belts, which might appeal to the junior end of the modelling scale, but not to the more experienced of us out there. I am sure these people will be buying after market seats anyway! I am a bit disappointed as the MDC is included as a decal and as you can guess is printed as a rectangle so you will more than likely see the transfer as well as the colour (if that makes sense). I have seen that there are a lot of aftermarket decals and stencils appearing, so hopefully this can be remedied!
The instructions are well produced, methodical and clear as you would expect from Revell with 52 sequences.
Summary…
I think this kit is going to excite an awful lot of people out in the modelling world. It is a new mould, and for the money you really cannot complain at all. It is a shame that you cannot drop the flaps and the lack of a wheel bulge; that to me would have made it an awesome little kit to build… But at £18.99 (RRP) this is still a cracking little kit, with the potential to be outstanding with the inclusion of aftermarket parts!
Highly recommended – Buy them while you can!!!
James V.