Price: £16.99 (April 2012)
Review by: Geoff Coughlin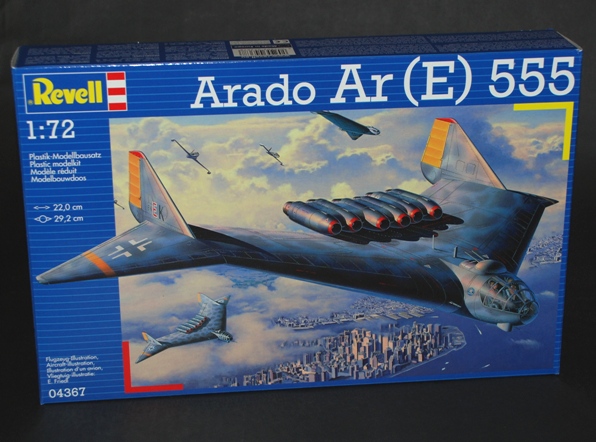 Our thanks to Revell for supplying our review sample. Revell model kits are available from all good toy and model retailers. For further information email ukbranch@revell.de.

Background
Early in 1944 on a directive from the Technical Office of the Imperial Aviation Ministry, the Arado plant in Landshut/Silesia began design of an aircraft with the capabilities of high-speed and long range.
After a meeting on 20 April 1944, it was decided to use a flying-wing concept. The aircraft should achieve a range of 4800km (2,980 miles) and a top speed of 869km/h (534 mph).
As the bomb load, a variety of weapons were to be carried up to a maximum payload of 4,000kg (8,820lbs). For defensive armament, it was envisaged to install two Rheinmetall-Borsig 30mm calibre Mk. 103s in the wing leading edges near the wing root and two twin Mauser 20mm calibre MG 151/20s in turrets above and below the fuselage.
The turrets were to be controlled via a retractable periscope from a pressure-ventilated crew room that was to accommodate up to three crewmen.
As the main undercarriage, an inwardly retractable tandem arrangement with four wheels per side was envisaged with smaller nose gear featuring two wheels.
The power unit consisted of 6 X BMW 003A jet engines mounted on the upper fuselage; located in pairs, placed side-by-side with the outer pairs displaced slightly aft. Similar engines were also used later in the mass production of the Arado Ar 234C and Heinkel He 162.
On 23 December 1944 due to the War and lack of or raw materials, all further work was discontinued on instructions of the Imperial Aviation Ministry.
Today, the Arado Ar 555 together with the Go 229, another aircraft preserved in the Smithsonian Institute in Washington DC, is considered to be a first-generation Stealth aircraft.
The B-2 Spirit is similar to the Arado Ar 555 and has many of its features.
The Kit
I am always interested in Luftwaffe subjects, even if they are ones that didn't actually fly.
Aircraft like the Arado Ar 555 had clearly gone beyond the imagination and, had events unfolded differently for Germany towards the end of WWII, aircraft like this may well have flown.
Revell released this kit back in 1998 and it has now made a welcome return to their list.
Box and Contents
The rather poor quality blue box is still there but the artwork is impressive enough and should get all-but the most diehard Luftwaffe-realty specialist interested in the contents. It features an long-range mission over what looks like New York and F-80s closing in – one possible scenario I guess!
The grey sprues are packaged well and no damage is apparent. Taking the main components first, they are well tooled, mainly recessed panel line detail and have a quality feel – a good start! No distortion was apparent and a dry fit of the large upper and lower wing sections looks like it will offer a decent enough fit.
Bomb Bay
There's an option for open bomb bay with bomb load and racks and this area is well detailed, as are the wheel bays designed to take the substantial gear units.
The cockpit is perfectly adequate for the scale and that He 111-style canopy glazing should afford a reasonable peek inside when all is fitted and your model painted.
The canopy does have a small window in the upper glazing that will help get much needed light to the cockpit, so the well-detailed interior should look good.
Wings
Moving to the wings, they are well tooled and panel line detail is quite subtle. There's no doubt that this is a model that will catch the eye for sure and provide any modeller with a great opportunity to try out some speculative camo schemes that nobody can criticise!
The fabric effect on the elevators looks quite restrained and fine in this scale.
Engine/Undercarriage
The six engines are a distinctive feature of this German jet bomber, although little will be seen of anything on the interior.
The main undercarriage units are well detailed and the hubs should look nice when their raised detail is painted and weathered.
The nose wheel undercarriage bay is formed from the underside of the cockpit floor and again is nicely detailed, although of course all this will be invisible unless you pick the model up to look at it, or pose it on a mirror surface (which can look good).
Clear Parts
The clear parts look clear, undistorted and the main canopy/rear upper glazing provided fit pretty well on a dry-fit run.
Instructions and Decals
The Revell instructions follow their usual exploded-stage format covering 29 stages.
Location of parts is clear, but colour paint coding is for Revell paints only. However, the colour names are provided which will help you to match your own choice of paints.
The build sequence is pretty standard and logical, but many modellers will part company with the stated order to suit their experience.
The decals look to be good quality.
Stencil detail is also provided and is almost always well worth adding, even in 1:72 scale to add additional interest to your completed model.
All the colours are in register and colour density looks impressive and carrier film limited, so I wouldn't expect any problems with application.
Conclusion
This is a great subject and should sell well to Luftwaffe scale modellers.
Don't forget, this is a simple aircraft in terms of model building, so anyone with any experience should have a ball making and finishing this great subject.
The model itself looks to be well engineered, both at first glance and from the dry/test-fit. Moulding is good and the panel detail perfectly reasonable for current 1:72 scale kits.
| FEATURE | STAR RATING (out of five) |
| --- | --- |
| Quality of moulding | **** |
| Accuracy | **** |
| Instructions | *** |
| Decals | **** |
| Subject choice | **** |
| Overall | **** |
Recommended for all scale modellers.
Geoff C.