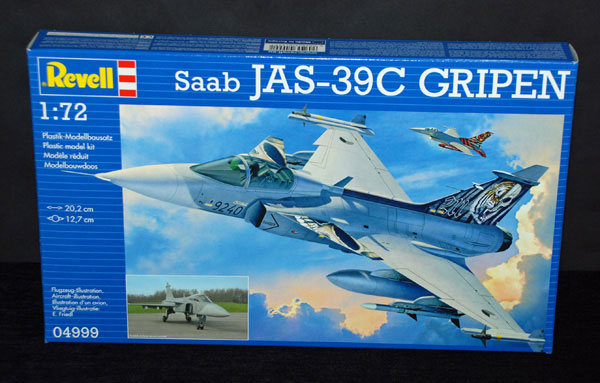 Kit ref: 04999
Price around: £14.99 GBP (Jan 2015)
Review by Geoff Coughlin
Our thanks to Revell for supplying our review sample. Revell model kits are available from all good toy and model stores. For details visit www.revell.de/en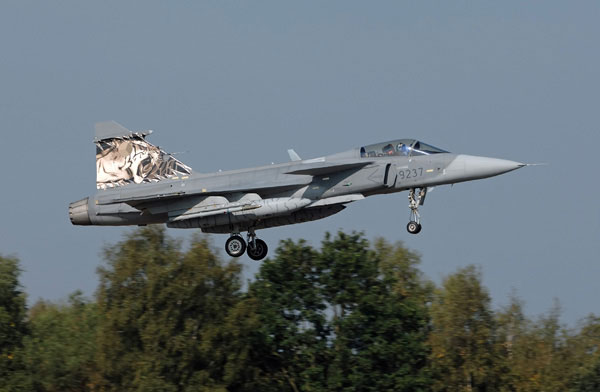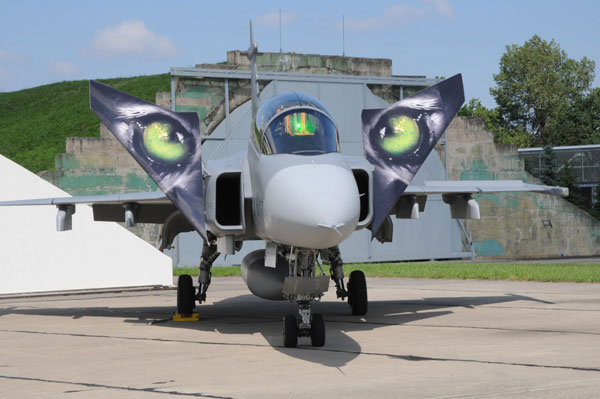 A little bit of background to the type
The Saab JAS 39 Gripen (English: Griffin) is a light single-engine multirole fighter aircraft manufactured by the Swedish aerospace company Saab. It was designed to replace the Saab 35 Draken and 37 Viggen in the Swedish Air Force (Flygvapnet). The Gripen has a delta wing and canard configuration with relaxed stability design and fly-by-wire flight controls. It is powered by the Volvo RM12, and has a top speed of Mach 2. Later aircraft are modified for NATO interoperability standards and to undertake in-flight refuelling.
In 1979, the Swedish government began development studies for an aircraft capable of fighter, attack and reconnaissance missions to replace the Saab 35 Draken and 37 Viggen. A new design from Saab was selected and developed as the JAS 39, first flying in 1988. Following two crashes during flight development and subsequent alterations to the aircraft's flight control software, the Gripen entered service with the Swedish Air Force in 1997. Upgraded variants, featuring more advanced avionics and adaptations for longer mission times, began entering service in 2003.
In order to market the aircraft to export customers, Saab has formed several partnerships and collaborative efforts with multiple overseas aerospace companies. One example of such efforts was Gripen International, a joint partnership between Saab and BAE Systems formed in 2001. Gripen International was responsible for marketing the aircraft, and was heavily involved in the successful export of the type to South Africa; the organization was later dissolved amidst allegations of bribery being employed to secure foreign interest and sales. On the export market, the Gripen has achieved moderate success in sales to nations in Central Europe, South Africa and Southeast Asia; bribes have been reportedly involved in some of these procurements.
A further version, designated Gripen JAS 39 E/F, is under development as of 2014; it has been referred to as Gripen NG or Super-JAS. The changes include the adoption of a new powerplant, the General Electric F414G, an active electronically scanned array radar, and significantly increased internal fuel capacity. Saab has proposed other derivatives, including a navalised Sea Gripen for carrier operations and an optionally-manned aircraft for unmanned operations. Sweden and Brazil have ordered the Gripen E/F and Switzerland initially selected it for procurement. As of 2013, more than 247 Gripens have been built

The Revell kit…
Great! A new-tool model of the type in Revell's 1:72nd range. We've been looking forward to this for a while and on first glance it looks pretty good to me.
Generally the shape looks good with good options available and listed below. Recessed panel line detail is quite restrained and should look perfectly acceptable under paint.
What you get
This is what you get, at-a-glance:
New tool
Finely detailed surfaces
Detailed cockpit
2 versions of the jet tail-pipe
Detailed undercarriage
6 pylons for external loads
2 auxiliary fuel tanks
2 RB-15 anti-ship missiles
2 Sidewinder / AIM-120 guided missiles.
Some other observations
The detail in the cockpit that is provided gives a representation of busyness although it is necessarily simplified for the scale.
Decals for the main and side consoles are provided and I have no issue with that in 1:72 scale.
Clear parts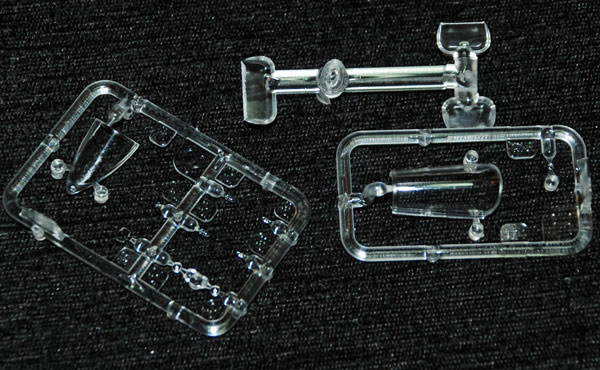 Good and moulded clear without any blemishes.
Decals and instructions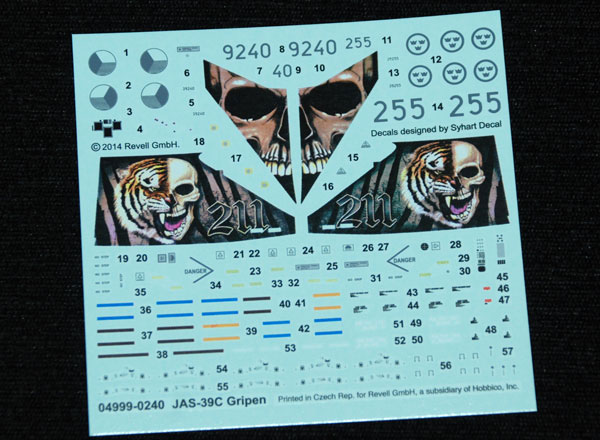 Markings for:
JAS-39C Gripen – 211Sqn Czech Air Force Tigermeet 2014
JAS-39C Gripen s/n 39255 – F17 Swedish Air Force, Nellis AFB – Red Flag 2013
The decals are good quality and that great scheme and tail/canard art is a cracking feature of this package; stencil data is also included on the sheet.

To sum up
Overall a good release – there's not more to say at this stage and I will try to find space in the schedule for a build and then we can see how this new-tool model get on.
Geoff C.
SMN Quick summary Star rating out of 5
| FEATURE | STAR RATING (out of five) |
| --- | --- |
| Quality of moulding | **** |
| Accuracy | **** |
| Level of detail | *** |
| Instructions | *** |
| Decals | **** |
| Subject choice | **** |
| Overall | **** |