Reviewed by: Geoff Coughlin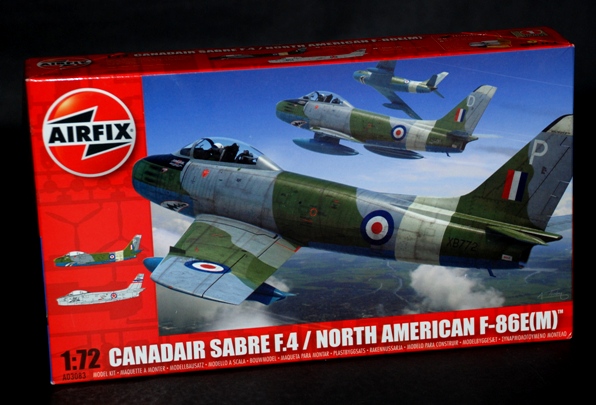 Our thanks to Airfix for supplying our review sample. Get this impressive kit here now at: www.airfix.com

Second release of the excellent Airfix 2011 tooling – The F-86 Sabre
This is the one I have been waiting for – an RAF Sabre Mk.4. You'll doubtless have seen Tom's stunning Kinetic 1:32nd F-86 build in Finished Now and here we have a second 1:72nd release from Airfix to compliment that. We are lucky – Sabres abound! Many years ago I built the 1:48th Hasegawa F-86 modified to an RAF Mk.4 so this is going to be a treat to tackle a 1:72 version. So keep an eye out on Build Now, you should see this new kit pop up there with my tag on it.
Ok, so what's in the box?
Plenty of plastic for sure – 5 sprues including the small clear one with the two-part canopy.
The plastic has a better feel to it than in some past releases, less powdery, quite smooth and on the softer side of hard. Having built the Harrier GR-7 (see your Finished Now area), this plastic is very similar and is easy to trim, sand and work with. Panel line detail is recessed and in 1:72 scale looks very good to me, better in this scale looking more realistic than the slightly heavy engraved detail on some 1:72 kits. Getting better all the time!
Box Art
Simply stunning! Just look at that weathering on the fuselage of the RAF Sabre Mk.4 rising up above the clouds. It looks spot-on to me and something that I plan to try and replicate when I build my Sabre. Some of you may be wondering why I am commenting on the box? Well, the fact is great box art sells kits and I for one think the box is all part of the whole buying and 'owning' experience – it matters! It's even better when the contents match the box in terms of quality and this is the case here in my opinion.
Cockpit
Detail in the cockpit is perfectly adequate for this scale, in fact it is better than adequate. An example are the very thin sides to the ejection seat, also the delicate control column and the raised detail behind the seat on the rear cockpit decking is superb. Right about now I start to take more detailed interest and inspect the remainder of the sprues for subtle detail. More of that in a moment. Decals are provided for the side and main instrument panels and these will be just fine in this scale with the dial detail being comprehensive and noteworthy.
You also get a decent looking pilot if you want to add him.
Undercarriage
The finesse of the undercarriage legs is extraordinary – probably the best I have ever seen in this small scale. No flash, just fine, accurate crisp moulding – impressive. Also a nice set of slightly bulged tyres is supplied and when painted and weathered these will add to the final authentic look of your model. Different wheel hub detail is included depending on the specific aircraft you are creating.
Fuselage
Once again the panel line detail is very refined and this will add greatly to the realism of any finished model. Airfix are certainly listening to modellers and showing great willingness to raise their standards to that of the best and they are certainly getting close with this kit. The integral fin has a moulded-in rudder but it looks like a simple job to cut it away and reposition at a more 'operational' angle often seen on parked machines.
The intake could work quite well, we'll have to wait and see in the build. The nose intake ring is separate and this will look great when attached and this is designed to butt up against a two-part intake trunking. With care the interior join should be able to be sanded smooth making for a nice clean-looking aircraft.
Fuselage side airbrake interior and door detail is excellent and you can pose the doors open or closed. The opportunity to pose mine open will be too great to resist and again I think should add to the final effect.
Wings, flaps and things
The hard-wing applicable to the RAF F.Mk.4 version is included, along with the small box-like wing fences. No option for dropped flaps or elevators positions is offered but that's probably understandable for a kit in this scale and price range. Wheel well detail is again about right for 1:72 scale with reasonable scale depth to the main gear wells and the nose wheel bay being good, featuring substantial depth.
Clear Parts
Nice looking these – very clear without any flash. The fact that the front screen is moulded separately is a major plus, enabling you to pose the canopy open and create a much more realistic-looking model. The canopy plastic is thin too adding to the quality of the package. Unfortunately there is a small mould imperfection on the underside of the front leading edge of the larger rear-sliding canopy section and I may need to seek a replacement as the imperfection is noticeable.
Instructions, decals and painting guide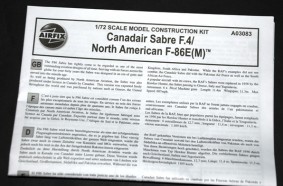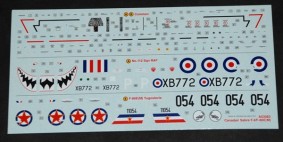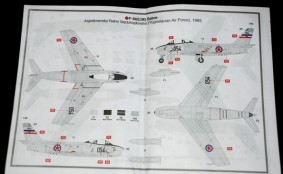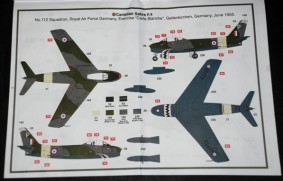 The instructions are logical and well laid out. The usual exploded-stage diagram approach is used. The colour painting guide is an integral part of the instruction booklet and this is just fine – glad to see the all-colour guide is back – nice one Airfix.
Two very different aircraft are featured with this release:
No. 112 Squadron, Royal Air Force Germany, Exercise "Carte Blanche", Geilenkirchen, Germany, June 1955 – you know, the one with the shark mouth across the nose gear door. Dark Green/Dark Sea Grey upper surfaces over PRU Blue undersides and Oak coloured fuselage band
Jugoslovensko Ratno Vazduhoplovstvo (Yugoslavian Air Force), 1965. Solver overall.
The decal sheet is well printed with all markings/colours in register. With these decals being printed for Airfix by Cartograf we should be fine on quality.
Summary
A good addition to what's already available. The fine recessed detail, beautifully delicate and detailed undercarriage legs and bulged tyres are all positive, as is the choice of decals. It's hard to really criticise this package, save for the small canopy imperfection and at around £8.99 (Mar 2011) it offers fantastic value for money and all in all a nice new kit beautifully presented.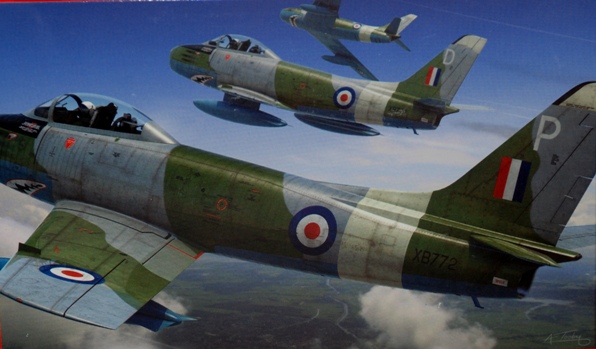 Highly recommended.
Geoff C.