Review by Geoff Coughlin (April 2014)
Price: around £17.99 (GBP)
Kit Ref: 04873
Our thanks to Revell for supplying our review sample. Revell model kits are available from all good toy and model retailers. For details visit www.revell.de/en , @RevellGermany or facebook.com/Revell
Something to get you in the mood!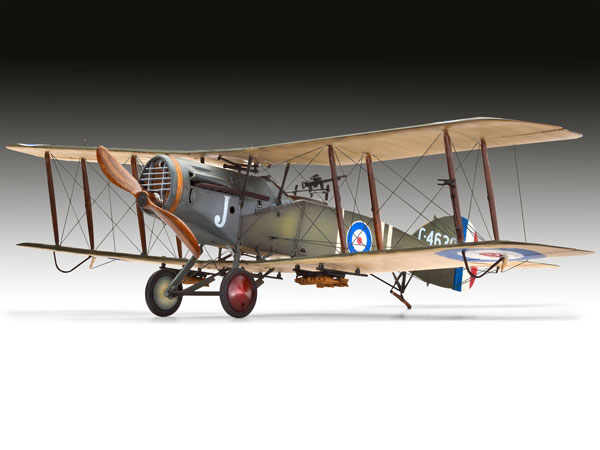 A little bit of background
The Bristol F.2 Fighter was a British two-seat biplane fighter and reconnaissance aircraft of the First World War flown by the Royal Flying Corps. It is often simply called the Bristol Fighter or popularly the "Brisfit" or "Biff". Despite being a two-seater, the F.2B proved to be an agile aircraft that was able to hold its own against opposing single-seat fighters. Having overcome a disastrous start to its career, the F.2B's solid design ensured that it remained in military service into the 1930s, and surplus aircraft were popular in civil aviation.
The Bristol fighter's basic design stemmed from design studies by Frank Barnwell in March 1916 for an aircraft intended, like the R.E.8 and the F.K.8, as possible replacements for the B.E.2c – the Type 9 R.2A with the 160 hp Beardmore engine and the R.2B, powered by the 150 hp Hispano Suiza. Neither type was built, as the new 190 hp (142 kW) Rolls-Royce Falcon in line engine became available, and Barnwell designed a new aircraft around the Rolls-Royce engine. This, the Type 12 F.2A was a more compact design, intended from the outset as a replacement for the F.E.2d and Sopwith 1½ Strutter two-seat fighters: it first flew on 9 September 1916. The F.2A was armed in what had by then become the standard manner for a British two-seater: one synchronised fixed, forward-firing .303 in (7.7 mm) Vickers machine gun, and one flexible .303 in (7.7 mm) Lewis Gun mounted on a Scarff ring in the observer's rear cockpit. This remained the standard armament.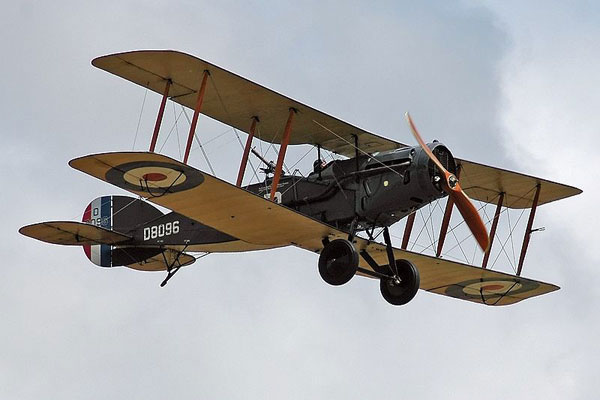 F.2Bs often carried a second Lewis gun on the rear cockpit mounting, although observers found the weight of the twin Lewis gun mounting difficult to handle in the high altitudes at which combat increasingly took place in the last year of the war. A number of attempts were made to add forward firing Lewis guns on a Foster mounting or similar on the upper wing – either instead of, or in addition to the Vickers gun. Unfortunately this caused interference with the pilot's compass, which was mounted on the trailing edge of the upper wing. Some F.2Bs were fitted with a Lewis gun offset top starboard to minimise this effect.