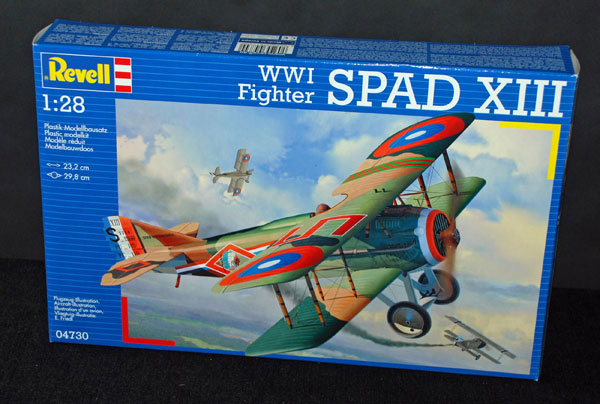 Kit Ref: 04730
Price around £16.99 GBP (Mar 2014)
Review by Geoff Coughlin
Our thanks to Revell for supplying our review sample. Revell model kits are available from all good toy and model retailers. For details visit www.revell.de/en, @RevellGermany or facebook.com/Revell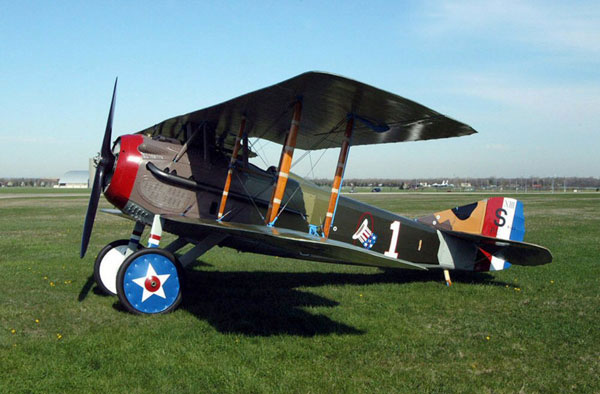 A bit of background
The SPAD S.XIII was a French biplane fighter aircraft of World War I, developed by Société Pour L'Aviation et ses Dérivés (SPAD) from the earlier highly successful SPAD S.VII. It was one of the most capable fighters of the war, and one of the most-produced, with 8,472 built and orders for around 10,000 more cancelled at the Armistice.
The S.XIII was of similar layout to the S.VII, i.e. a single engined biplane of mainly wooden construction with fabric covering, but was generally larger and heavier. Armament was two Vickers machine guns with 400 rounds per gun replacing the single gun of the earlier aircraft. Powerplant was a geared Hispano-Suiza engine, at first an 8Ba giving 200 hp (150 kW), but in later aircraft a high-compression 8Bc or 8Be delivering 220 hp (160 kW). The sum of these improvements was a notable improvement in flight and combat performance. It was faster than its main contemporaries, the British Sopwith Camel and the German Fokker D.VII, and its relatively higher power-to-weight ratio gave it a good rate of climb. The SPAD was renowned for its speed and strength in a dive, although the manoeuvrability of the type was relatively poor and the aircraft was difficult to control at low speeds: needing to be landed with power on, unlike contemporary fighters like the Royal Aircraft Factory SE.5 which could be landed with power off.
While giving the Spad XIII outstanding performance, the geared engines proved to be unreliable, suffering from poor lubrication and vibration. This significantly and severely affected serviceability, with it being stated in November 1917, that the Spad S.XIII was "incapable of giving dependable service". Even in April 1918, an official report stated that two-thirds of the 200 hp SPADs were out of use at any one time due to engine problems. At least one US observer believed at the time that the French were giving the US SPAD XIII squadrons lower quality engines from their least favoured manufacturers while keeping the best for themselves. The problems with the engine were considered a worthy price to pay for the improved performance, however, and as time went by, improved build quality and changes to the engine design led to increased serviceability.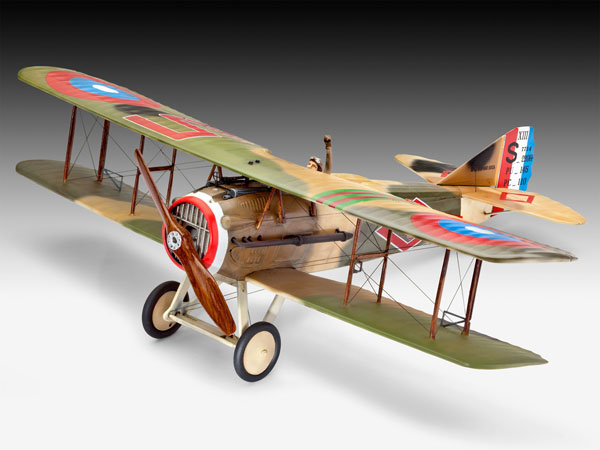 The Revell Kit
This is a box that promises a lot – great imagery that depicts the scheme worn by Spad XIII S.7714 Capt R. Soubiran, 103rd Aero Squadron, 3rd Pursuit Group, United States Air Service, Lisle-en-Barrois, France November 1918. Going inside it's a very different story though and so I plan, as ever, to be honest and objective in what I say below.
Very few parts make up the model on offer and it's immediately clear that this is a very old tooling – poor part definition and my initial reaction was disappointment that we have a tired old-tool model making another appearance. Having said that, looking at the manufacturer's completed model you see here, it can be made into a half-decent kit. A lack of finesses across the board, ejector pin marks, poorly moulded figures and very heavy flash and mould marks on components all detract from the contents. I could go on.
I suggest that you take a look at the following images to get a feel for what's on offer in this package and then I'll make some further observations…
Box and contents
The ejector pin marks can be sanded off or flat so that in itself isn't a big deal but the work you'll have to do to get a good-looking model will be considerable.
Into the cockpit – decals are provided for the simple instrument panel and these should look ok.
The main wings have exaggerated rib detail moulded in and this could look better with some sanding back. Large slots are provided to take the main wing strut assemblies and the slots will need careful filling and sanding to make these areas look presentable.
The undercarriage looks ok as do the wheel hubs and tyres but I suspect the fine detail will not stand up to close scrutiny. You do however, have to keep in mind that the Spad XIII was a very simple aircraft in modelling terms and so I need to keep reminding myself of that.
The machine guns are very weak being solid moulded items and need to be replaced.
The completed and painted engine doesn't look too bad on the manufacturer's model you see here – hardly any of it can be seen anyway.
Clear parts
The angular windscreen is clear but rather heavy.
Instructions and decals
The Revell instructions follow their usual exploded stages format. Location of parts is clear but colour paint coding is for Revell mixes of their paints only. However, the colour names are provided and this will help you to match your own choice of paints. This is a basic model, even for a bi-plane. You'll have to see how it all fits together.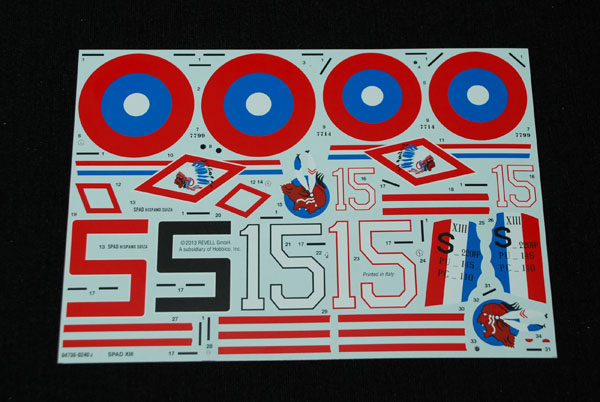 The decals seem good and definitely the best part of the package, being new and offering two colourful schemes. Certainly colour saturation and register is good and all markings are accurate and sharp in their detail; they'll make a world of difference to your completed model.
Conclusion
This package may be competitively priced but will need a lot of work to get a good result. The kit is in a scale that is inconsistent with other models available – old and poor quality that I doubt it will encourage younger modellers to carry on with their model making. I guess it all depends how much you want to build a Spad aircraft as to whether this one finds its way into your stash.
Geoff C.
SMN Quick summary Star rating out of 5
| FEATURE | STAR RATING (out of five) |
| --- | --- |
| Quality of moulding | * |
| Accuracy | ** |
| Level of details | ** |
| Instructions | *** |
| Decals | **** |
| Subject choice | **** |
| Overall | ** |