Price around £15.00 GBP (or less); Euro 17.23; $19.42USD
Review by Geoff Coughlin (September 2016)
See our FINISHED NOW BUILD REVIEW
Get this kit now at Airfix
The Airfix kit
As we have done many times before, if we plan to build a kit here in SMN or just have it to hand and think that you will find it useful, we complete a full in-box review for Aircraft-Here Now-Kits. We do have two full builds in the pipeline for this kit – one from Dave C and one from me :) Looking at what's on offer I can't wait to get into it!
I did complete a full build of the Airfix 1:72 new Folland Gnat T1 a while back and that's in Aircraft-Finished Now on the Airfix pages and that is a very nice model – straightforward and makes into a lovely small-scale replica of the original. In the larger 1:48 scale the possibilities are even greater and the model now comes with dropped flaps and open nose section as options, along with two-part or single canopies.
Having seen dave C's completed model I had to buy one and saw it at this weekend's Brampton Model show, St Ives UK – it looks like a very well spent £15.00, or, as Dave pointed out after made my purchase that another trader was selling them for £12.00 – ah well, thanks Dave!
Let's go inside the box
The now very usual light grey sprues, in the slightly soft light blue plastic fill the box and immediately apparent are the very fine recessed panel lines. Add to that the sharp and neat detail in the cockpit, nose bay and undercarriage wells and this model starts to look very good.
Main components – separate intakes trunking, one-piece upper wing section and vertically split fuselage with integral fin. No flash and nice moulding across the board. The rudder is a separate item that you can position, like the flaps as you like. I really like options like this as they can make your finished model look much more interesting.
Cockpit– good sidewall detail and pilot and instructor main instrument panels have nice crisp raised detail. you can always use the decal instrument faces and this can look perfectly reasonable if applied with plenty of Johnson's Klear (Future) or decal setting/softening solutions.
The ejection seats have moulded in simple belts and these will look much better if replaced with scratched items or photo-etch parts.
A pilot figure is included if you want to add it (or not) and he/she is well moulded.
Detail parts – undercarriage: nice and delicately moulded to reflect the original very well and take care when removing from the sprue as it may easily get damaged.
The flats are included on the type options that will look good when added to your model to show the wheels/tyres taking the weight of the aircraft. The hub detail is well done.
Nose bay – I doubt that I will open this up on my model as doing so will destroy the very 'pretty' lines of the Gnat. If you do decide to go that way, the bay has some nice internals that will come up well under careful painting.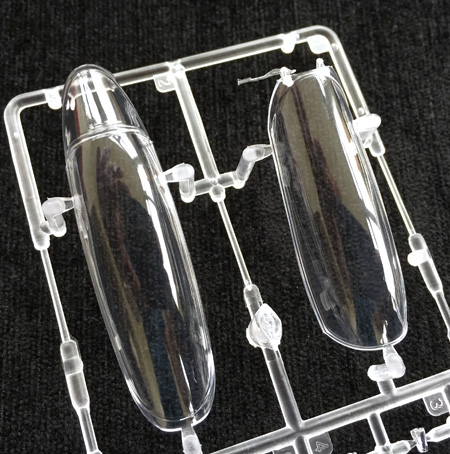 Clear parts…
Good to see two options – one single canopy moulding for a closed canopy and two-part split canopy if you want it open – the latter could look very good if you add some detail to the inside of your cockpit.
No mould seam line down the canopies is a real bonus – no sanding, cleaning up and polishing too do :)
Decals…


Nice quality and offering two classic trainer versions – the Red/White option for No.4 flying Training school, RAF Valley, Anglesey, wales, 1973 or Fluorescent Fire Orange/Silver of the Central Flying School, RAF Little Rissington, Gloucestershire, England 1964 (my most likely option – just love that Day-Glo effect!).
All markings are in register and well printed with good colour. You will do well however to add white behind the roundels and fin flashes to ensure you get a good 'painted-on' look, rather than a translucent marking that looks unrealistic.
Instructions…
All stages offered in the usual exploded diagram format with reference to Humbrol paint numbers.
Did you know… there's a good App available for your mobile: ModelPaint42 that has model paint manufacturers and charts with numbers cross referenced – very useful I find in my den when modelling.
In summary
A very nice kit all in all and definitely recommended. here's my summary:
Geoff C.

| FEATURE | STAR RATING (out of five) |
| --- | --- |
| Quality of moulding | **** |
| Level of detail | **** |
| Accuracy | **** |
| Instructions | **** |
| Decals | **** |
| Subject choice | ***** |
| Overall | **** |
A little bit of background on the Folland Gnat
The Folland Gnat is a small, swept-wing British subsonic jet trainer and light fighter aircraft developed by Folland Aircraft for the Royal Air Force.
The Gnat was designed by W.E.W. Petter as a development of the private venture Folland Midge. It first flew in 1955. Its design allowed its construction without specialised tools by countries not highly industrialised. Although never used as a fighter by the Royal Air Force (RAF), the Gnat T.1 trainer variant was widely used. The Gnat became well known as the aircraft of the RAF's Red Arrows aerobatic display team.
The Gnat was exported to Finland, Yugoslavia and India. The Indian Air Force became the largest operator and eventually manufactured the aircraft under licence. India then developed the HAL Ajeet, a modified and improved variant.