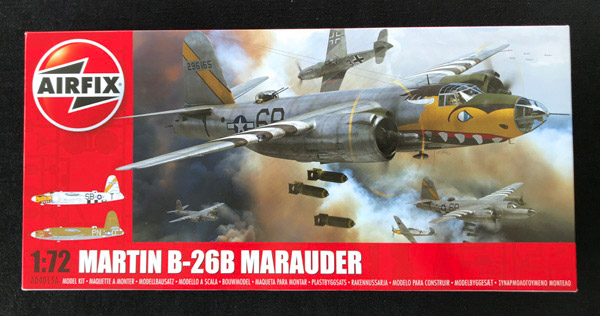 Kit Ref: A04015A
Price around £18.99 GBP, $26.74 USD, €21.69 Euros, $34.75 AUS, $34.45 CAD
Review by Geoff Coughlin (April 2018)
Our thanks to Airfix for supplying our review sample – get this kit here now from Airfix
The Airfix kit
It's important to say up front that this isn't a new tool, rather a re-release of their original 1973 kit. In fact, this was a decent kit when released and even if it does have fine raised panel lines, the level of detail is pretty good and it should make up into a faithful replica of the B-26B.
A new and very colourful decal sheet is included, this time featuring new aircraft not covered before.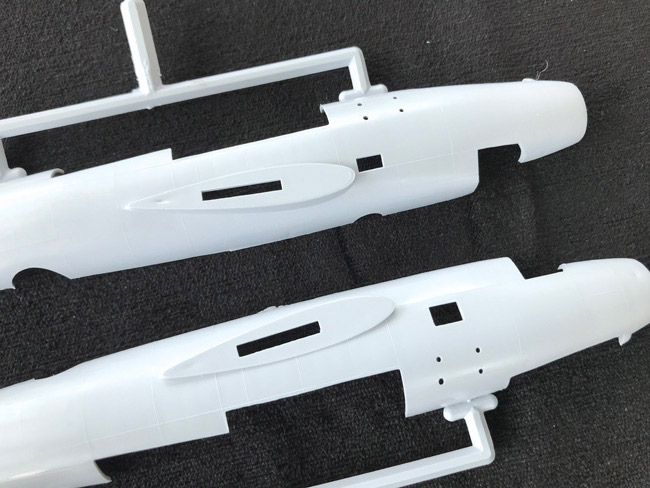 The plan is to include this in SMN's schedule for a full build and one of our "Classic Projects' where we take an older kit and try to get the best out of the box without adding loads of aftermarket stuff – back to 'true' modelling if you like! Should be great fun and we have 2 other models like this that are also now in the full build programme – excited about these too :)
What do you get?
You can see the sprues as well as I can so take a good look at the images and I think you'll be pretty pleased. The main parts are pretty clear with just those fine raised panel lines. Some of the finer engraved details are a bit shallow, I guess because the moulds are wearing? Nothing too serious though. Inevitably there is some flash but this is easily removed with care.
Let's start with the plastic
The plastic is in the familiar manufacturer's light blue plastic and generally moulding is fine, save for the above and a few mould sink marks are evident. Some round ejector pin marks are present too, such as in the bomb bay but just decide if they will be readily visible on your completed model and, if not, my advice is just leave them.
Parts breakdown is pretty conventional for a small twin-engined kit with separate wings attaching to the fuselage. The rear tailplane is quite chunky and is moulded as a separate section.
Fuselage – general shape looks accurate to my eye. I have cut the fuselage halves from their sprues and test-fitted them and they fit very well – promising. The bomb bay doors can be posed open to show the detailed bay interior to expose the bombs supplied – could be good for displaying your model on a mirror tile to show off all that detail?
The interior fuselage halves have the ribbed detail moulded in although this only extends to the bomb bay area.
Main wings – separate upper wing halves split in two horizontally and attaching to their lower wing sections. The roof in each wheel well has moulded rib detail.
Flaps – moulded in the closed position.
Rudder / elevators – These are neatly moulded separately so that you can add some interest by slightly offsetting the latter if required. They are very neatly moulded with fine fabric effect – nice.
Cockpit – this is quite basic and remember not a lot will be visible on your finished model. Having said that, the instrument panel is there with decal (and raised moulded dials should you want to paint them), basic seats, throttle quadrant and control columns for the crew.
Undercarriage – adequately detailed for a kit in this scale.
The wheels are provided with nice hub detail and smooth tyre surface.
Engines/Propellers – these are multiple units and the engine faces offer enough detail in this scale. The prop blades look accurate enough.
Stores/guns – 8 bombs are included for the bomb bay. The MGs are a bit clunky and are the only things that I think may need to be replaced?
Pilot figures – classic poses for the three crew, especially that bomb aimer in foetal position!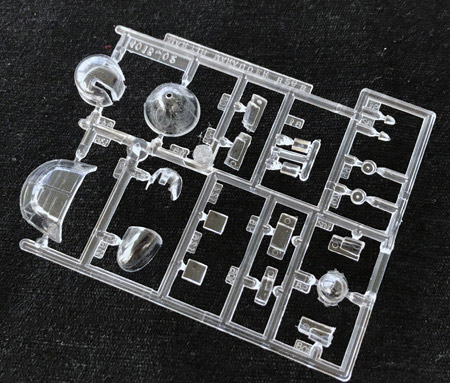 Clear parts
All parts are clear enough and although the nose glazing looks cloudy in the photo, that's just dust I hadn't spotted when photographing the parts for this review. Canopy framing isn't too thick either and it should all look ok when masked and painted.
Instructions
The simple foldout instruction booklet is clear enough and I think is based on the original release and it's style is unlike their new-style sheets. There are full colour painting/decal guides included for each version supplied.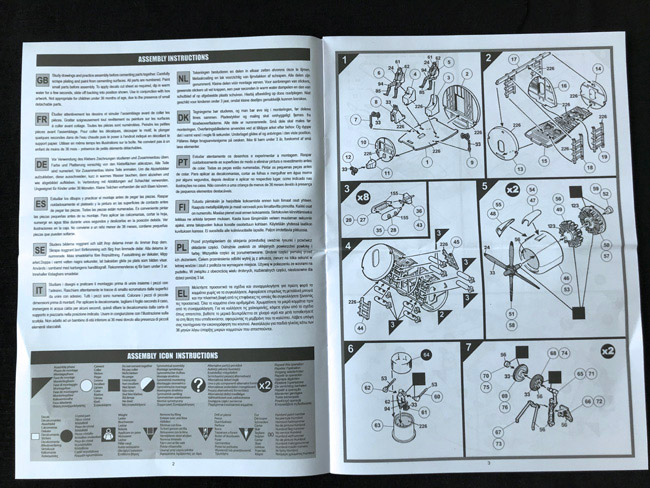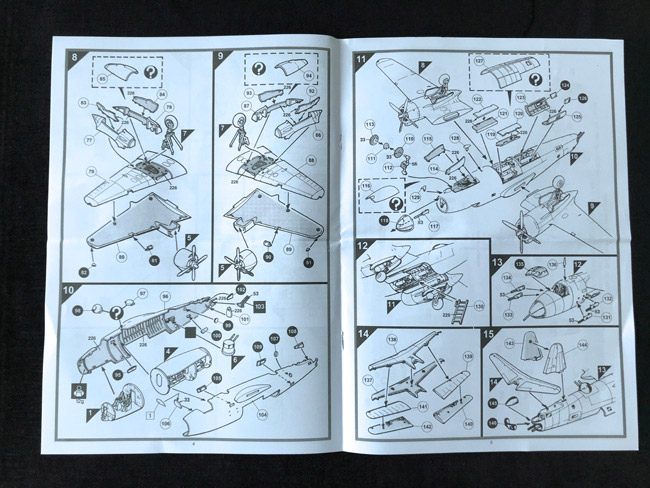 Decals
Decals for two B-26B Marauder aircraft is included:
Option A: Martin B-26B-55MA Marauder "The Big Hairy Bird", 599th Bombardment Squadron, 397th Bombardment Group, 9th Air Force, United States Army Air Force, England 1944/45
Option B: Martin B-26B-55MA Marauder "Flak Bait", 449th Bombardment Squadron, 322nd Bombardment Group, 9th Air Force, United States Army Air Force, Europe 1944/45
Full stencil data is included and a clear diagram showing where each tiny item goes. The different schemes are shown on a high quality colour fold-out sheet.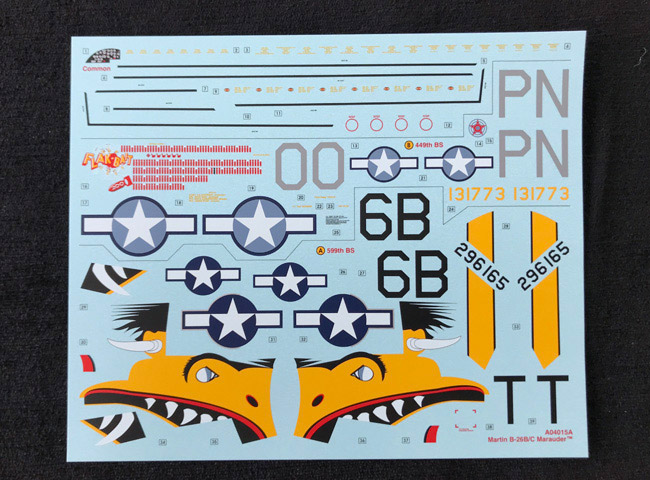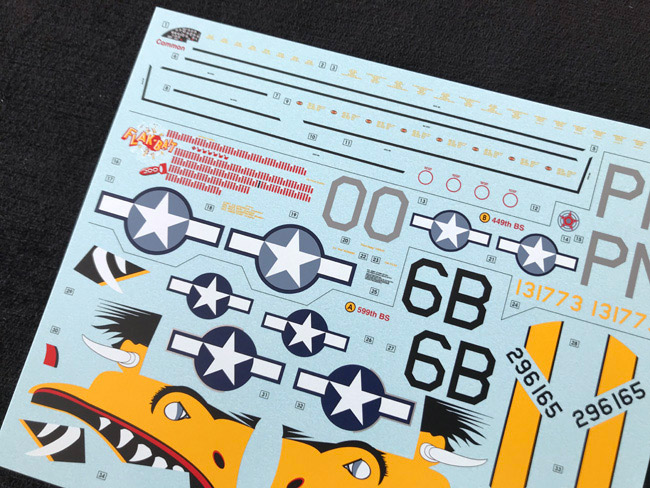 The decals are very well printed and look to be good quality – let's hope so. Certainly my favoured option will be the bright Option A with that great yellow nose art although the thought of an accurate fit leaves me very nervous indeed – I'm already looking for ways I can cut, mask and spray the yellow? We'll see when we get to it.
Here's my summary
This is a decent package with fair levels of quality and detail across the whole kit. The B-26B Martin Marauder is as iconic as they come in terms of type and I can't wait to get into this build and hope you'll enjoy it. Depending on when you read these words this build project will either be planned for or under way in Aircraft Build Now or be completed in Aircraft-Finished Now-Airfix.
Geoff C.
SMN Quick summary Star rating out of 5
| FEATURE | STAR RATING (out of five) |
| --- | --- |
| Quality of moulding | ** |
| Accuracy | *** |
| Instructions | ** |
| Decals | **** |
| Level of detail | *** |
| Subject choice | **** |
| Overall | *** |
A little bit of background on the Martin B-26 Marauder
The Martin B-26 Marauder was an American World War II twin-engined medium bomber built by the Glenn L. Martin Company from 1941 to 1945. First used in the Pacific Theater in early 1942, it was also used in the Mediterranean Theater and in Western Europe.
After entering service with the US Army, the aircraft received the reputation of a "Widowmaker" due to the early models' high accident rate during takeoffs and landings. The Marauder had to be flown at exact airspeeds, particularly on final runway approach and when one engine was out. The 150 mph (241 km/h) speed on short final runway approach was intimidating to pilots who were used to much slower speeds, and whenever they slowed down to speeds below what the manual stated, the aircraft would stall and crash.
The B-26 became a safer aircraft once crews were re-trained, and after aerodynamics modifications (an increase of wingspan and wing angle-of-incidence to give better takeoff performance, and a larger vertical stabiliser and rudder). After aerodynamic and design changes, the aircraft distinguished itself as "the chief bombardment weapon on the Western Front" according to a United States Army Air Forces dispatch from 1946. The Marauder ended World War II with the lowest loss rate of any USAAF bomber.
A total of 5,288 were produced between February 1941 and March 1945; 522 of these were flown by the Royal Air Force and the South African Air Force. By the time the United States Air Force was created as an independent service separate from the Army in 1947, all Martin B-26s had been retired from US service. The Douglas A-26 Invader then assumed the B-26 designation — before officially returning to the earlier "A for Attack" designation in May 1966.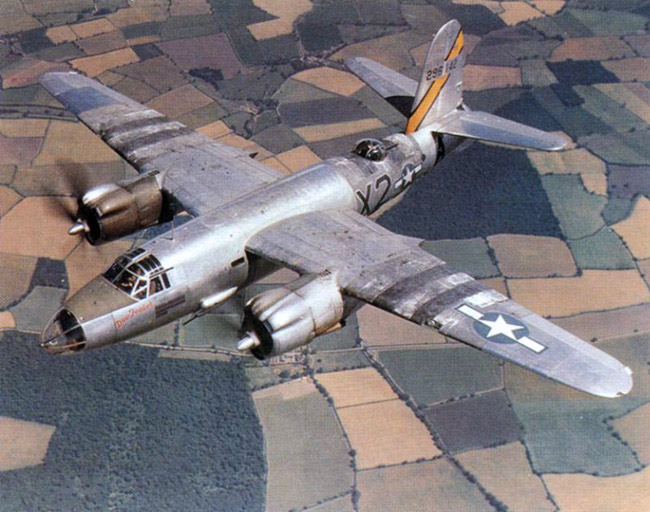 (Photo: A U.S. Army Air Forces Martin B-26B-55-MA Marauder (s/n 42-96142). The aircraft was assigned to the 596th Bombardment Squadron, 397th Bombardment Group, 98th Bombardment Wing, 9th Bomber Command, 9th Air Force in Europe. "X2-A" was named "Dee-Feater" and carries numerous mission markers, and D-Day invasion stripes. The 397th BG was stationed starting 15 April 1944 at Rivenhall, Essex (UK), and moved to Hurn, Hampshire, on 4 August 1944. On 30th August 1944 the Group was relocated to France.)