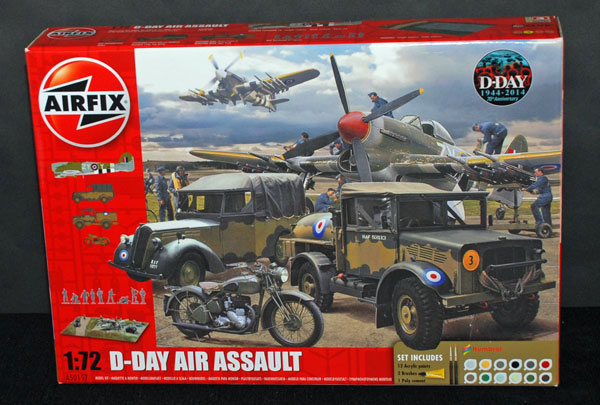 Injection moulded and vac-formed parts
Price around £24.99 GBP
Ref: A50157
Review by Geoff Coughlin (Sept 2014)
Background
It's always good to have accessories that help modellers to display their completed projects and here we have another one from WWII – around the time of D-Day.
On the eve of June the 6th 1944, the vast majority of mainland Europe was either under the control of Hitler's Nazi regime, or heavily influenced by it. Only Britain stood free in Europe and openly opposed the fascist regime then seeking to control the world. Supported by the United States and Canada, as well as troops from the then occupied nations, the 6th of June marked the Western Allies return to France after the humiliation of the evacuation from Dunkirk in 1940.
The invasion required the Allies to hold total air superiority over the Normandy landing grounds. The lead up to the day had seen thousands of sorties carried out by Allied aircraft. From heavy bombers relentlessly pounding targets of strategic important in France, to fighter bombers such as the Hawker Typhoon that attacked enemy troop formations and smaller targets – the Allied air assault was total. Due to the distance from Normandy to the UK, once the Allied had a foothold on the French coast, small temporary airfields were immediately established which gave the Allies the opportunity to fly more sorties and to be closer to the action. Some of these airfields were so close to the frontline they suffered mortar attacks.
These airfields were to prove their worth, and with the help of Allied airpower, Hitler's armies were pushed further and further back, culminating in the defeat of Nazi Germany just eleven months later.
We have already reviewed the Airfix D-Day Coastal Defence Fort plus a number of resin buildings and accessories from the Airfix range so do check them out in the Armour Kits area of Here Now.
The Hawker Typhoon Mk.I
Les V has already reviewed this nice little relatively new-tool kit in you're here Now area – here – so take a look to see what the Typhoon kit has to offer in this package. Decals for MP186 only is included on the decal sheet this time.
Apart from the Hawker Typhoon Mk.Ib you also get:
Standard Tilly vehicle
Bedford MWC/MWD Fuel bowser
BSA N20 Motorcycle
Old RAF Ground Crew set
Vehicles
Again, we have reviewed all these vehicles as part of a previous Airfix release: WWII RAF Vehicle Set here, the same 3 main vehicles are included here.
New additions this time…
Well, new in the sense that they are included – you may remember that old RAF Personnel set and it's that one that appears again after all this time. Here's a reminder of what you get:
Vac form forward landing base hard standing
This is relatively new for Airfix – including a vac-formed diorama base that represents a hard-standing for your typhoon with raised earth blast mounds and access road. It's well-moulded and just needs whatever painting and finishing you choose. With all the materials like grass, groundcover and pigments etc available it's a straightforward job to make your diorama base interesting and realistic.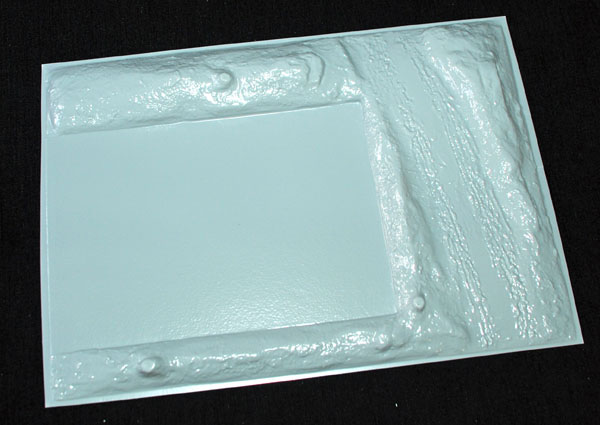 Instructions and decals
A painting guide is provided on a colour sheet with Humbrol colour references and names are given that will help you to complete your model authentically. Decals are also provided for the vehicles and Typhoon aircraft as you can see in the photos.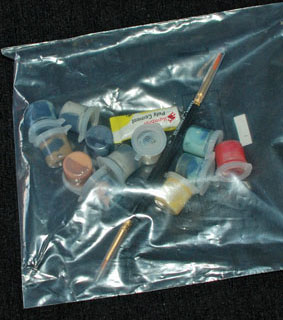 Paints, brushes and glue
As with all the Airfix themed sets, you get a bag containing small paint pots, glue and brushes – ideal for younger modellers.
To conclude
This is a decent enough product enabling you to create a small-scale vignette or diorama involving many of the Airfix AFV kits and Hawker Typhoon Mk.I. Note that some of the resin accessories from Airfix are in 1:72 scale like the fountain and Polish Bank, while others are in 1:76 scale, but that this addition is 1:72 means you can choose from a growing range or armour-related kits and accessories.
Geoff C.
SMN Quick summary Star rating out of 5
FEATURE
STAR RATING (out of five)
Quality of moulding
*** (vac-form base)
**** (injection parts)
** (US infantry set)
Accuracy
****
Level of detail
****
Instructions
****
Decals
****
Subject choice
****
Overall
****