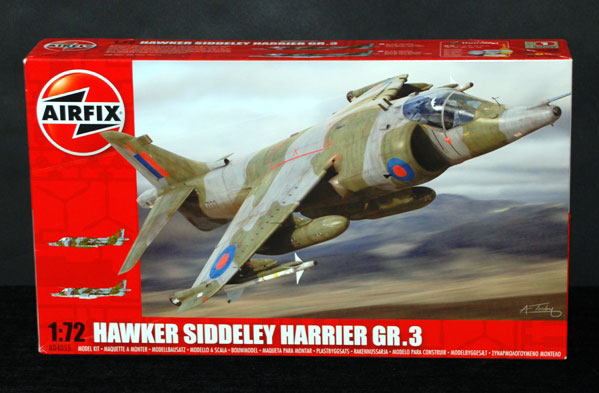 Ref: A04055
Price around £14.99 GBP
Review by Geoff Coughlin (Oct 2013)
See our FINISHED NOW BUILD REVIEW
Our thanks to Airfix for supplying our review sample. Get this impressive little kit here now at: www.airfix.com
Here's something to get you in the mood…
A little bit of background
Developed in the 1960s as the first truly successful V/STOL combat aircraft, the Hawker Siddeley Harrier proved a revelation upon entering service in this, its earliest form, the GR.1. Despite a difficult development period, the Harrier GR.1 matured into an effective close air support machine.
Based predominantly in West Germany to face any potential Eastern Bloc threat, the Harrier force also saw some service in Belize, as well as various goodwill tours around the globe. While the GR.1 never saw any combat, the next version, the GR.3, proved the Harrier's reputation in The Falklands War in 1982 and elsewhere.
A great reference:
Hawker Siddeley / British Aerospace First Generation Harrier In Worldwide Service Volume 1: 1960-2000 by Glenn Ashley and illustrated by Jon Freeman; available from www.airfilepublications.com
Initial assessment
First impressions are good as this kit is an all-new tool and that is good news at any time. You may have seen our other reviews of this model in various guises in Here Now, including the recently released Harrier GR1 version. This model enhances further the growing number of Harrier versions available in 1:72 scale that have been re-tooled from earlier models and this boxing offers the new laser/rangefinder 'thimble' nose.
Quality
The sprues are full of well detailed, often very delicate parts that look very impressive. The panel line detail is quite fine, maybe slightly heavy for the scale but very presentable and sharp and bearing in mind the type has little in the way of panels is fine. There is some flash visible but this should be able to be removed easily enough.
The tyres in this kit come with the option for a slightly weighted appearance – very typical of the type.
Cockpit
The cockpit tub has decals for the main instruments and this is ideal in this scale, with a seat that's simple and will be enhanced by the addition of a scratched or etched seat harness.
Other details
The intake doors come open or closed for in-flight and 'parked' fit but one of the nicest moulded parts is the Pegasus engine fan blade insert – very finely moulded. You get some nice stores with this model like the Matra rocket pods and twin 30mm Aden gun pods beneath the fuselage.
An option to drop the ventral speed brake is a great idea as this almost always is seen drooping (open) on parked Harriers and contains a nicely detailed interior.
Clear parts
Usefully the front windscreen is moulded separately to the rear portion that can easily be displayed open – nice touch in this scale and this will allow you to add additional detail.

Instructions
These follow the usual exploded stage diagrams and are clear and straightforward. Humbrol paint references are given on the all-colour painting guides included and that's nice to see. Colour names are also given allowing you to match your colours from whatever source you prefer.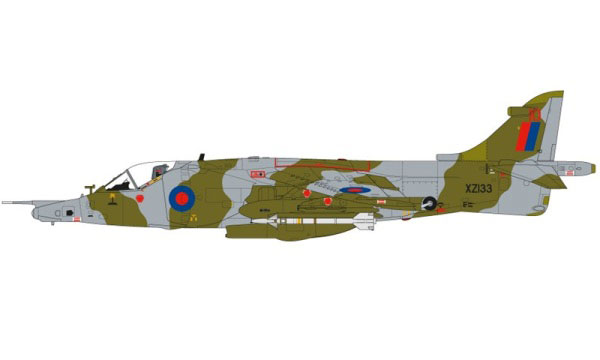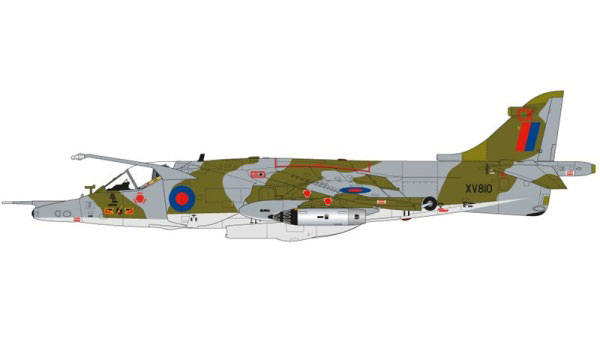 Decals
Two classic early Harrier GR.Mk.3s are included, one with the Light Aircraft Grey undersides, the other the impressive Grey/Green wraparound scheme. The decals provided here look good quality like others we are getting now from the manufacturer – just ensure that they go onto a gloss surface and then spray (or paint) gloss varnish over the decals once dry before applying your chosen varnish/finish. I say this because I have been caught out with the slightly matt texture of the decals looking far too obvious if you apply the varnish directly onto them; just something to bear in mind! The decals are in register and colour saturation is good too.
A nice feature is full stencil data markings.
To sum up…
SMN Quick summary Star rating out of 5

| FEATURE | STAR RATING (out of five) |
| --- | --- |
| Quality of moulding | **** |
| Accuracy | **** |
| Instructions | **** |
| Decals | ***** |
| Subject choice | ***** |
| Overall | **** |
Geoff C.