Review by: Geoff Coughlin (Dec 2011)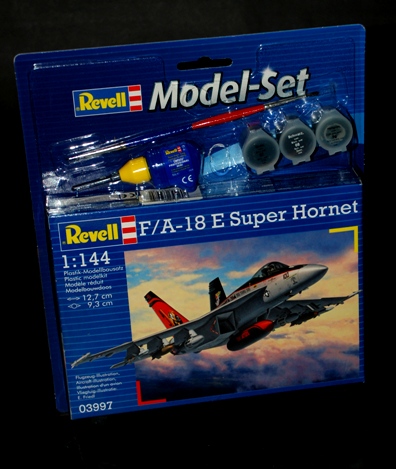 Our thanks to Revell for supplying our review sample.
Some interesting reference…
The Kit
Revell are producing some great new-tool kits these days, like the impressive Panther Ausf D in 1:35 scale for you armour modellers and Arado Ar-196A-3 in 1:32 to mention just two.
But it's not just these larger scales that are attracting interest; the very small scale 1:144 is too. Now have the F/A-18E Super Hornet carrier fighter coming into service with other Air Arms around the world too. And, if you like small projects, then you should take a good look at the Revell range – it's growing and impressive.
Box and Contents
Click on the Thumbnails to enlarge images.
The box artwork is impressive, capturing an F/A-18E Super Hornet climbing at speed resplendent in its "Tomcatters" 75th Anniversary scheme!
The light blue-grey sprues are packaged well as part of this starter set and no damage is apparent. Taking the main components first, they are quite well tooled, feeling quite hard and brittle-like.
No distortion was apparent and a dry fit of the fuselage promises a decent fit and overall shape looks pretty good.
The wings are reasonable and the wheel wells are detailed and a realistic scale depth.
Detail Sprues
The components feature recessed panel lines, which will please most of you, although they may appear a bit over scale for some. The trick in this scale I think is to not go overboard on the weathering and start accentuating the panel line detail too much as it may look unconvincing.
The cockpit is spartan when compared to references and the seat only really bears a passing resemblance to the original design. Disappointingly, there are no decals for the instrument panels.
Undercarriage detail is subtle and delicate, reflecting the original units quite well.
You get some stores for your F-15E like AMRAAMs and what look like an attempt at Mk.82 bombs, plus two wing fuel tanks, although the shape of these looks a little questionable.
This kit sits in the pocket-money bracket and so it's fair to say that the kit is surely aimed at the junior and novice market.
Clear Parts
The clear parts look clear enough with a separate front windscreen and rear hood.
Unless you are prepared to do a lot of work on the interior, you may be better closing the canopy and just creating a decent overall impression of a Super Hornet cockpit through careful painting of the kit parts and adding some scratched seat belts and a harness.
Instructions
The Revell instructions follow their usual exploded stages format. Location of parts is clear but colour paint coding is for Revell paints only. However, the colour names are provided and this will help you to match your own choice of paints to the overall grey scheme.
This is a basic model and so should present little difficulty in working out where all the parts are located, even for inexperienced modellers.
Decals
The decals seem good. Certainly colour saturation and register is good and all markings are accurate and sharp in their detail.
This is probably the best part of the package; good quality decals will make a world of difference to your completed model, although you'll have to watch that carrier film on all those 'CAG' markings applicable to the "Tomcatters" scheme.
Conclusion
Basically, if you are into small-scale modelling, then this kit is definitely worth a look, especially as given the low price you could build a whole squadron of them!
Recommended for all inexperienced and small-scale modellers.
| FEATURE | STAR RATING (out of five) |
| --- | --- |
| Quality of moulding | *** |
| Accuracy | *** |
| Instructions | *** |
| Decals | **** |
| Subject choice | **** |
| Overall | *** |
Geoff C.