Model Set Series including: Glue, paints and brush
Review by: Geoff Coughlin (Jan 2012)
Price: £6.00 approx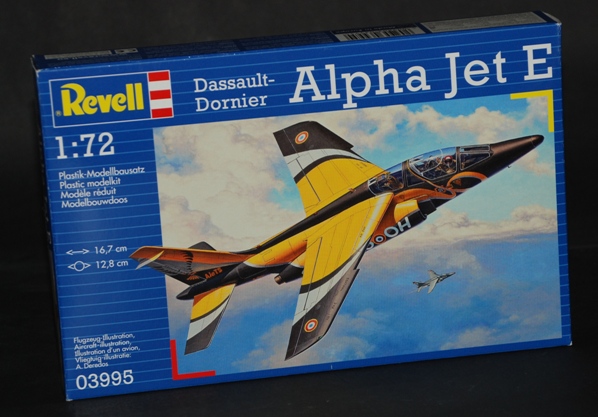 Revell model kits are available from all good toy and model retailers. For details visit Carrera Revell UK
Something to get you in the mood…
The Kit
Revell are certainly on a roll these days with plenty of new-tool kits. But, as well as the larger releases, the smaller 1:72 scale is also attracting interest. So we now have the Alpha Jet advanced trainer in new decals for a 1,000 000 hours commemorative scheme.
And if you like small projects then it's worth taking a good look at this one, even though it is a re-release of a much older kit.
Box and Contents
Click on thumbnails to enlarge images/go back.
The box artwork is usually very good and it's decent enough here with one of the Armee de L'Air 2008 aircraft sporting 1,000 000 hours flying time.
The light blue-grey sprues are packaged well as part of this starter set and no damage is apparent. Taking the main components first, they are quite well tooled, feeling quite hard and brittle-like.
No distortion was apparent and a dry fit of the fuselage promises a decent fit and overall shape looks pretty good.
Moving to the wings, they are reasonable in outline shape.
Detail Sprues
The components feature raised panel lines, which may not impress all of you. They are a bit over scale and not as fine as, say, the newer kits from this manufacturer.
The trick in this scale I think is to not go overboard on the weathering and start accentuating the panel line detail too much, as it may look unconvincing, especially in such a small scale and given the subject – a French Air Force demonstration aircraft!
The cockpit is spartan when compared to references and the seats only bear a passing resemblance to the original, with decals supplied for the main instrument panels; this is quite reasonable in this small scale.
Undercarriage detail is adequate, reflecting the original units ok, although they are simplified.
Quite a bit of excess flash is formed around most parts that will need to be cleaned up and removed to ensure the best fit possible. Two under wing drop tanks and centre-line pod are supplied but no other stores.
This kit sits in the pocket-money bracket, so it's fair to say that the kit is surely aimed at the junior and novice market. Nothing wrong with that of course, but it's important to point this out here.
Clear Parts
The clear parts look clear enough, with the whole canopy moulded as one piece.
Unless you are prepared to do a lot of work on the interior you may be better closing the canopy and just creating a decent overall impression of an Alpha Jet cockpit through careful painting of the kit parts; adding some scratched seat belts and a harness.
Instructions
The Revell instructions follow their usual exploded stages format. Location of parts is clear but colour paint coding is for Revell paints only.
However, the colour names are provided, which will help you to match your own choice of paints.
This is a basic model and so should present little difficulty in working out where all the parts are located, even for inexperienced modellers.
Decals
The decals seem good, being newly created and manufactured. Certainly colour saturation and register is good and all markings are accurate and sharp in their detail.
This is probably the best part of the package; good quality decals will make a world of difference to your completed model.
Conclusion
Basically, if you are into small-scale modelling, then this kit is worth a look, especially as given the low price you could build a number in different markings by cross-kitting and mixing decals.
If you're prepared to spend a lot of time, you can get good results.
| FEATURE | STAR RATING (out of five) |
| --- | --- |
| Quality of moulding | ** |
| Accuracy | *** |
| Instructions | *** |
| Decals | **** |
| Subject choice | **** |
| Overall | *** |
Recommended for all inexperienced and small-scale modellers.
Geoff C.