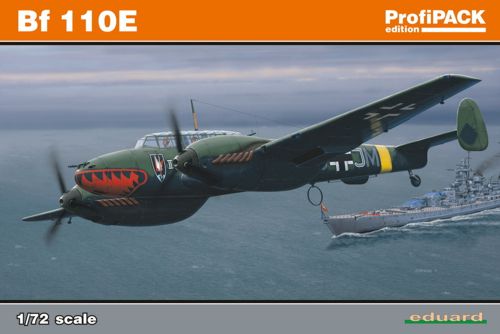 Price: €25.95 (£20.92 GBP) 18 September 2012
Review by Jamie Haggo
Intro…
This kit has been eagerly awaited by Luftwaffe fans as the 1:48 kit by Eduard is superb. It is not without its faults however and has some fit issues which take the shine off an otherwise superb package.
Being a ProfiPACK we get a small photo etch sheet and canopy masks. But before that, lets talk about the plastic.
Plastic…
This is moulded in Eduard's traditional olive/tan plastic and is well up there with their latest products. The moulding is crisp with no flash whatsoever, the surface is detailed beautifully with very restrained panel lines (take note Airfix) and there are a few rivet rows. These are confined to major panel lines so those who don't like this feature on kits will be pleased. Personally I like rivets so I have the choice of adding them if I wish which is probably easier than removing them if I don't like them!
The interior is very well detailed with lots of moulded plastic detail. In fact, just by looking at the photos you'd be hard pressed to identify this as a 1:72 kit.
The clear parts are up to standard and what is a nice touch is they are bagged separately in a zip lock bag. Nice one, it's that kind of attention to detail which all manufacturers should be aspiring to. The plastic itself is very thin and clear however not thin enough to permit the rear section to be opened. I'm not surprised at this and I don't blame Eduard at all but it is a shame.
Photo etch…
A small zoom type colour photo etch fret is included. All the small details you'd expect are on it, instrument panels and placards, undercarriage torque links, small aerials etc. There is another photo etch sheet out for those who want to got the extra mile but most people, including me, will be happy with what is provided here.
Canopy Masks…
Now these are essential in my opinion. I hate masking, it's the worst job ever and the thought of doing this aeroplane canopy by hand makes me want to give up modelling all together so thank you, thank you, thank you, thank you, thank you, thank you, thank you, thank you, thank you, thank you, thank you, thank you, thank you, thank you, thank you, thank you Mr Eduard!
Decals…
These are printed by Eduard themselves but don't let that put you off. They are ultra thin, very glossy and in my experience are of equal quality to the best the after market have to offer. The colour schemes are very varied and show imagination from the designers. For those who like the more boring traditional aeroplanes there is a plain 74/75/76 scheme included however also there are night fighters, winter eastern front, Mediterranean aircraft included, many with Wespen or shark mouths.
Instructions…
These are printed on glossy paper and are in booklet format. To be honest, I think I'd prefer fold out paper instructions for easy use on the workbench but I'm more than happy with the full colour profiles for the decals.
Summary…
At £19.50 RRP this kit is not cheap for a 1:72 scale fighter however there are a few things to bear in mind. The decals are superb and the equal of the best of the after market (£8), a zoom photo etch set (£5) and a masking set (£4); that comes to £17! Even without the decals it still means there is about a tenner's worth of plastic in there.
So, for value for money this gets 5 stars. For those who don't like the photo etch etc there will be the inevitable Weekend boxing out at some stage which will be cheaper omitting the photo etch and canopy masks (but you know my opinion on the latter).
The plastic is superb and as good as it comes. It's loaded with detail and the parts breakdown means there will be plenty for the after market boys to get stuck into. In fact Eduard themselves have recently released a full engine set, open nose gun bay and resin wheels not to mention a photo etch ground servicing platform!
In summary then, I cannot recommend this kit highly enough; Eduard at their best.
Jamie H.
SMN Quick Summary rating out of 5
| FEATURE | STAR RATING (out of five) |
| --- | --- |
| Quality of moulding | ***** |
| Accuracy | ***** |
| Instructions | ***** |
| Decals | ***** |
| Subject choice | **** |
| Overall | ***** |