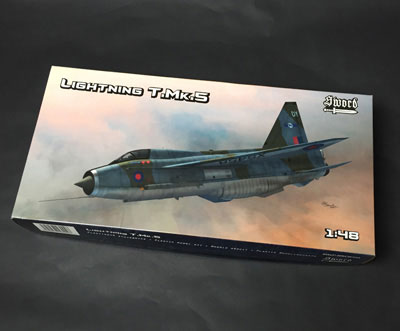 Price around £32.00 GBP (January 2016)
Review by Geoff Coughlin
The Sword kit…
Not that I'm biased or anything – far from it, well, maybe a little when we're talking EE Lightnings as they are my favourite aircraft of all time :) and so when Sword announced that we were finally getting a 1:48 Lightning T5 AND a T4 in their range the order went straight in.
Sword from the Czech Republic are known to some of you for sure, but are less well-known to others but have established a growing reputation for producing good multi-media kit packages, especially in 1:72. Indeed they produced some nice EE Lightnings in this scale and are continuing their great work by stepping up to 1:48 – love it!
What do you get?
You can see the sprues as well as I can so take a good look at the images and I think you'll be pretty pleased:
3 sprue trees for the main plastic parts
resin reheat/afterburner cans to slot into the rear fuselage
twin resin Martin Baker ejection seats
clear plastic split-canopy with front screen and separate rear section
comprehensive decal sheet featuring 3 Lightning T5 aircraft – printed by Techno and looks near perfect quality
fold-out instruction booklet
Let's start with the plastic…
The plastic is shiny and hard (a lot like Classic Airframe kits if you've built one). Panel line detail is scribed and generally fine, only occasionally looking a little shallow but good in the main. Some of the small vents and ducts will need to be opened up or are included as separate items and that's fine. Many of the parts have excess flash and some mould seam lines that'll need to be cleaned up but as the parts count isn't that great, this is no great hardship in my view.
Parts breakdown is pretty conventional for a Lightning kit – fuselage vertically split with main wings split in two horizontally. It's good to see surface detail provided on the wheel bay interiors.
You get separate tail fin parts for both the T5 and T4, (the latter featuring the smaller, rounded fin).
Main wings – these are well moulded although the leading edge of each wing may not necessarily fit that well (from some reports I've heard) but remember that the EE Lightning T5 has a gap at the forward wing leading edge and so it's worth remembering that before getting the putty out (if you think it is necessary). I'll cover this in full when I get to the build that won't be far away :) keep an eye on Build Now and What's New.
Flaps – are provided as separate items and this is ok if you want to add a little more interest to your model, even if they would more usually appear raised on parked aircraft.
Tailerons – that move on the real aircraft are supplied as solid items, as are the fins, so only minimal cleaning up needed before they can be attached. The former may benefit from attaching with a section of brass rod for strength as no locating pins are moulded on each wing part.
Cockpit – I'll come to the seats in a mo, but the main tub detail is there for a T.Mk.5 that doesn't have a centre console between the aircrew positions (like the T4). The main instrument panel layout looks fairly accurate for a T5 although, if you buy the T4 kit note that the kit parts supplied are exactly the same for both kits and so you'll need to adapt or replace what's provided to be strictly accurate.
Undercarriage – Looks pretty accurate and complete to me and should look good when cleaned up, painted, weathered and installed on the model. The main wheels are moulded in separate halves with nice hub detail.
Nose ring – this will need careful cleaning up to mate nicely to the forward fuselage and provide a smooth internal look and you'll also probably need to add some nose weight where you can to be sure your model won't be a tail-sitter (although this is unlikely).
Cable duct trunking – separate lengths are provided so that you can add the appropriate length as required to the forward fuselage sides for the version you want to complete – check your references carefully for your chosen machine as these did vary on the different Mk.s of Lightning.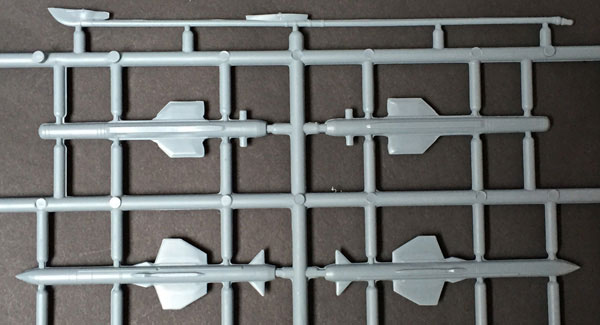 Weapons – this is probably the oddest part of the package because for some reason Sword has created neither accurate Red Top nor Firestreak air-to-air missiles. What they have done is incorrectly swap the nose of each missile type to create a new AAM (maybe called a 'Firetop' – sorry just my sarcasm!!). The fix is straightforward enough – either use spares from your Airfix Gloster Javelin kit or the Airfix 1:48 Lightning; failing that revert to your spares box or simply cut the front of each kit part and carefully mate the correct nose with it's own missile? Or buy new aftermarket items. Your call.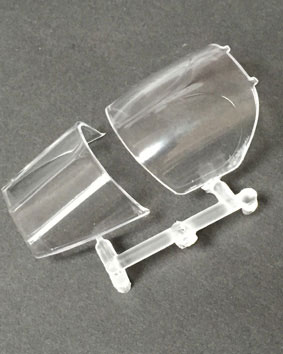 Clear parts
The canopy is helpfully split so front windscreen and rear sections are separate allowing you to pose your canopy open or closed. Blemish free and well moulded without any distortion.
Resin
Sword has picked the best parts to reproduce in resin – nice one; the reheat cans and MB ejection seats. Detail is much more refined and the parts will just slot into place as required. The seats are cleanly moulded with precise definition although some excess flash will need to be removed.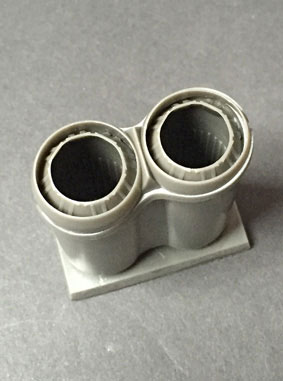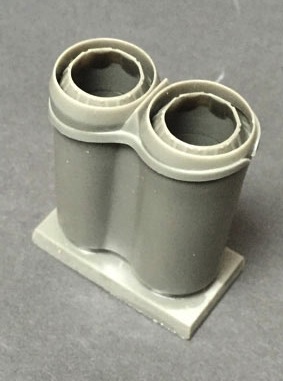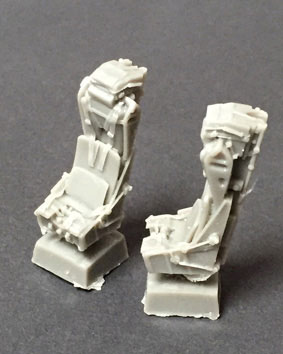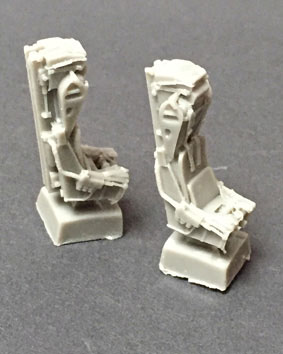 Instructions…
The simple foldout instruction booklet is clear enough with references to paint colours; reference to exact colours and photos will help match your preferred paints to what's needed. There are full colour painting/decal guides included for each version supplied.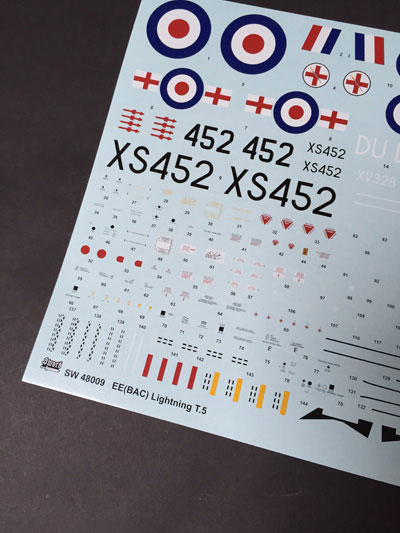 Decals
One of the best parts of the package for sure. The sheet is produced by Techmod and it looks faultless in terms of quality – great colour resolution, saturation and everything in register. Carrier film is nice and thin and based on past experience with their decals they should work very well in practice.
On the flip side, one or two of the small stencils have typo errors but nothing to shout about.
Options for three EE Lightning T.Mk.5s is included – each very different and offering you a great choice:
Natural Metal Finish (NMF) (No. 226 OCU)
RAF Grey/Green camouflage pattern over NMF
RAF Medium Sea Grey over RAF Barley Grey.
Here's my summary
This is a good package with good levels of quality and detail across the whole kit. We have a T5 and T4 to compliment the excellent Airfix fighter versions in the same scale -what's not to like? OK, there are a couple of small errors but nothing that can't be easily rectified from this initial inspection. I will be building this one in the near future and that will bring out the reality and how it all goes together and I for one am really looking forward to it.
Geoff C.
SMN Quick summary Star rating out of 5
| FEATURE | STAR RATING (out of five) |
| --- | --- |
| Quality of moulding | **** |
| Level of detail | *** |
| Accuracy | *** |
| Instructions | *** |
| Decals | ***** |
| Subject choice | ***** |
| Overall | **** |
Reference
Don't forget to take a good look in your SMN Photo Reference Library – there's a really comprehensive modellers' walk around covering the interior and exterior of the Lightning T5.
A little bit of background to the EE Lightning T.Mk.5
The English Electric Lightning is a supersonic fighter aircraft of the Cold War era. It was designed, developed, and manufactured by English Electric, which was subsequently absorbed by the newly formed British Aircraft Corporation. It was then marketed as the BAC Lightning. The Lightning was the only all-British Mach 2 fighter aircraft. The Lightning was used by the Royal Air Force (RAF) and the Royal Saudi Air Force (RSAF). Although it was the RAF's primary interceptor for more than two decades it was never required to attack another aircraft.
The Lightning is powered by two Rolls-Royce Avon turbojet engines in a unique staggered stacked installation in the fuselage. The Lightning was developed to intercept increasingly capable bomber aircraft (Tupolev Tu-16, Tupolev Tu-22, Tupolev Tu-95), and thus has exceptional rate of climb, ceiling, and speed; pilots have described flying it as "being saddled to a skyrocket". This performance made the Lightning a 'fuel critical' aircraft meaning that its missions are dictated to a high degree by its limited range. Later developments provided greater range and speed along with aerial reconnaissance and ground-attack capability.
Following retirement in the late 1980s, many of the remaining aircraft became museum exhibits and, until 2010, three Lightnings were kept flying at "Thunder City" in Cape Town, South Africa. In September 2008, the Institution of Mechanical Engineers conferred on the Lightning its "Engineering Heritage Award" at a ceremony at BAE Systems' site at Warton Aerodrome.
Lightning T.5…
Two-seat side-by-side training version, based on the F.3; 22 production aircraft built. One former RAF aircraft later converted to T.55 for Saudi Arabia.
Lightning T.4…

Two-seat side-by-side training version, based on the F.1A; two prototypes and 20 production built, two aircraft later converted to T.5 prototypes, two aircraft later converted to T.54.