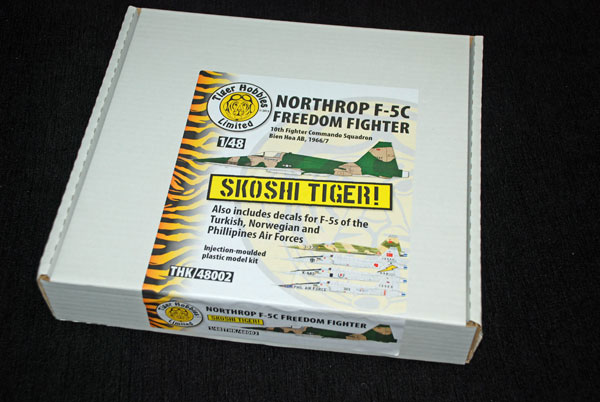 Ref: THK 48002 (limited release)
Price (for latest pricing info contact Tiger Hobbies)
Review by Geoff Coughlin (Nov 2014)
Our thanks to Tiger Hobbies for supplying our review sample. Get this kit that will be available in limited numbers here now at Tiger Hobbies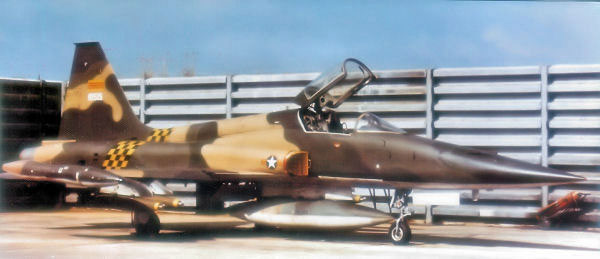 A little bit of background to the type…
The Northrop F-5A/B Freedom Fighter and the F-5E/F Tiger II are part of a family of light supersonic fighter aircraft, initially designed in the late 1950s by Northrop Corporation. Being smaller and simpler than contemporaries such as the McDonnell Douglas F-4 Phantom II, the F-5 cost less to both procure and operate, making it a popular export aircraft. According to Pierre Sprey, it was perhaps the most effective U.S. air-to-air fighter in the 1960s and early 1970s. A small visual and radar cross section size and consequent detection difficulty often conferred the F-5 the advantage of surprise. The aircraft also has a high sortie rate, low accident rate, high manoeuvrability, and is armed with a combination of 20mm cannon and heat seeking missiles. The flying qualities of the F-5 are often highly rated, comparable to the North American F-86 Sabre and the General Dynamics F-16 Fighting Falcon. Fiscally, it is reportedly unmatched among supersonic fighters, contributing to its long service life.
The F-5 started life as a privately funded light fighter program by Northrop in the 1950s. The design team wrapped a small, highly aerodynamic fighter around two compact and high-thrust General Electric J85 engines, focusing on performance and low cost of maintenance. Though primarily designed for the day air superiority role, the aircraft is also a capable ground-attack platform. The F-5A entered service in the early 1960s. During the Cold War, over 800 were produced through 1972 for U.S. allies. Though the USAF had no acknowledged need for a light fighter, it did procure roughly 1,200 Northrop T-38 Talon trainer aircraft, which were directly based on the F-5A
The first contract for the production F-5A was issued in 1962, the first overseas order coming from the Royal Norwegian Air Force on 28 February 1964. It entered service with the 4441st Combat Crew Training School of the USAF, which had the role of training pilots and ground crew for customer nations, on 30 April that year. At that point, it was still not intended that the aircraft be used in significant numbers by the USAF itself.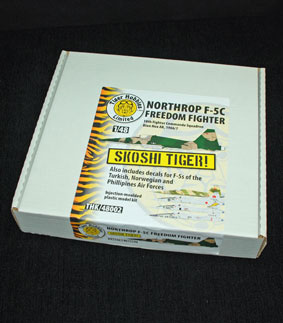 This changed with testing and limited deployment in 1965. Preliminary combat evaluation of the F-5A began at the Air Proving Ground Center, Eglin AFB, Florida, during the summer of 1965 under project Sparrow Hawk, with one airframe lost through pilot error on 24 June. In October 1965, the USAF began a five-month combat evaluation of the F-5A titled Skoshi Tiger. Twelve aircraft were delivered for trials to the 4503rd Tactical Fighter Squadron, and after modification with probe and drogue aerial refuelling equipment, armour and improved instruments, were re-designated as the F-5C. Over the next six months, they performed combat duty in Vietnam, flying more than 2,600 sorties, both from the 3rd Tactical Fighter Wing at Bien Hoa over South Vietnam and from Da Nang Air Base where operations were flown over Laos. Nine aircraft were lost in Vietnam, seven to enemy ground fire and two to operational causes. Although declared a success, with the aircraft generally rated as capable a ground-attack aircraft as the F-100, but suffering from a shorter range, the program was considered a political gesture intended to aid the export of more F-5s than a serious consideration of the type for U.S. service.
The Tiger Hobbies Kit
It's great to see any kit of the famous F-5C Freedom Fighter, this time an older kit but with new decals and improved instruction sheet. My understanding is that this kit, boxed as it is with markings for one of the US Air Force F-5C's that operated for a short while in Vietnam will only be available for a short time.

So what's this kit like?
Well, for a start it comes in a great sturdy box, so nothing's going to get damaged ☺
Inside, the light grey sprues offer parts that have very little excess flash plastic and well moulded items – check out the instrument panel and wheel hubs for example.
There are slightly heavy recessed panel lines and we'll see how it goes with the build that's coming here in SMN to find out if they need any remedial work.
Cockpit
The main instrument panel is well tooled with separate side walls to the cockpit tub that again have some moulded detail. Unfortunately the side consoles are bare and without decals being supplied for these you'll need to detail them or find some replacement decals to make the cockpit look convincing.
Ejection seats are quite basic and will need work or replacement.
Stores
The drop tanks (X3) supplied are great because the F-5C looks so good with these fitted; having said that it's almost impossible to find an angle where the aircraft doesn't look good! Wing tip tanks have heavy recessed detail and I'm beginning to think that with some filler and a little re-scribing of some of the detail this kit could look very good.
Wheels and undercarriage
While the wheels and hub detail is good, the legs look to be somewhat simplified and wheel wells too shallow, but hey, you won't see the wheel wells when your model is standing so maybe not so much of a problem.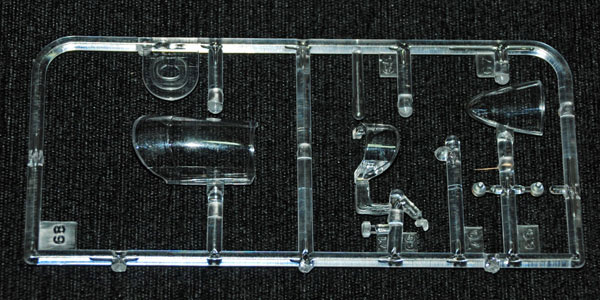 Other comments
The in-flight refuelling probe will add interest although I notice that on some, if not all the F-5C's handed over to the VNAF had these removed (see above photo)
Clear parts are clear enough and will benefit from a polish or 'dipping' to really enhance their clarity but no blemishes or distortion is apparent. The canopy rear section can be posed open (with a little work) but you'll need to add some detail to make this area look convincing if you do
Engine intakes have separate front ends and these are likely to need some filler to lose the joins but that's all part of modelling to me.
Decals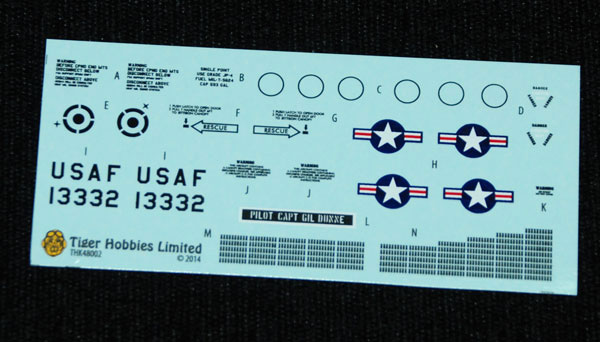 The small sheet looks accurate – quality looks to be very good with minimal carrier film. Colour saturation looks good and all decals are in register. Some stencil data is provided.
Instructions
This kit is very straightforward in terms of parts breakdown and I know that Tiger Hobbies has improved the instruction booklet by adding colour and also showing colour diagrams of the schemes I understand will be made available in the other planned boxings.
To sum up
This isn't an expensive boxing and you've got plenty of modelling ahead of you, not a state-of-the-art offering for sure, but who cares – I don't! Well worth a good look.
Geoff C.
SMN Quick summary Star rating out of 5
| FEATURE | STAR RATING (out of five) |
| --- | --- |
| Quality of moulding | *** |
| Accuracy | *** |
| Level of detail | *** |
| Instructions | *** |
| Decals | **** |
| Subject choice | ***** |
| Overall | *** |