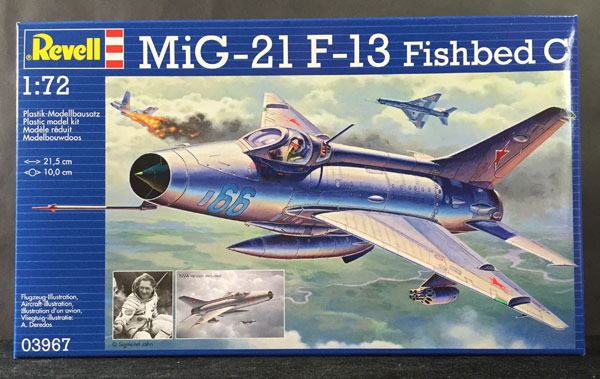 Kit ref: 03967
Price around: £13.50 GBP (Jul 2015)
Review by Geoff Coughlin
Our thanks to Revell for supplying our review sample. Revell model kits are available from all good toy and model stores. For details visit www.revell.de/en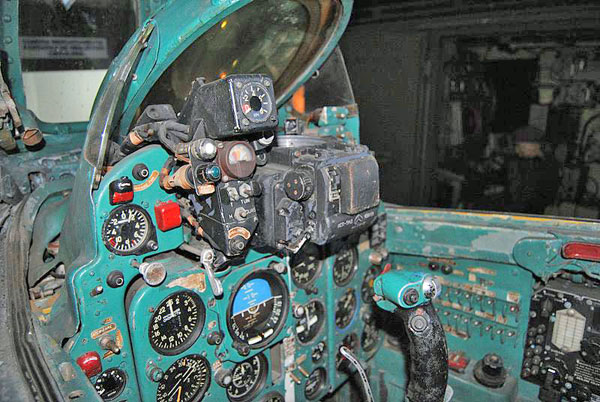 A little bit of background to the type
The Mikoyan-Gurevich MiG-21 (Russian: Микоян и Гуревич МиГ-21; NATO reporting name: Fishbed) is a supersonic jet fighter aircraft, designed by the Mikoyan-Gurevich Design Bureau in the Soviet Union. It was popularly nicknamed "Balalaika", from the aircraft's planform-view resemblance to the Russian stringed musical instrument or ołówek (English: pencil) by Polish pilots due to the shape of its fuselage.
Early versions are considered second-generation jet fighters, while later versions are considered to be third-generation jet fighters. Approximately 60 countries over four continents have flown the MiG-21, and it still serves many nations a half-century after its maiden flight. The fighter made aviation records. At least by name, it is the most-produced supersonic jet aircraft in aviation history and the most-produced combat aircraft since the Korean War, and it had the longest production run of a combat aircraft (1959 to 1985 over all variants).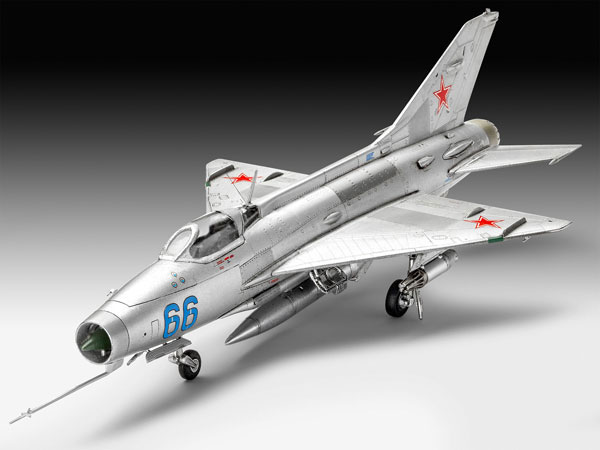 The Revell kit
Taking a look at the manufacturer's model here and you can see that although not a new-tool model, this one does make up into a very reasonable representation of the MiG 21. Some more photos of that model follow in the gallery grid which follows, along with close-up photos of all the kit parts.

Generally the shape looks good with good options available and listed below. Recessed panel line detail is quite restrained and should look perfectly acceptable under paint. The model is moulded in silver plastic – much like the old Monogram models used to be – not to everyone's taste as it can be harder to see your preparation and so a thin grey prime and rub-down will improve this.
What you get
This is what you get, at-a-glance:
Restrained recessed panel joins
Detailed cockpit with side panels
Instrument panel – raised detail and decal options
Ejection seat that's a reasonable representation in this scale
Detailed, if a little shallow undercarriage bays
Reasonable representations of the undercarriage
Detailed jet engine exhausts
Air brakes
30 mm cannon in the fuselage
Fuselage fuel tank and
Two UB-16 rocket pods
Some other observations
The detail in the cockpit that is provided gives a representation of busyness and is quite comprehensive for the scale.
Decals for the main instrument panel is provided and I have no issue with that in 1:72 scale.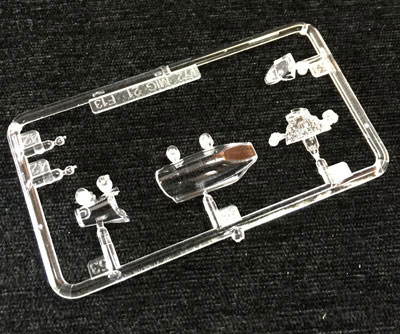 Clear parts
Good and split so looks possible to pose open and moulded clear without any blemishes.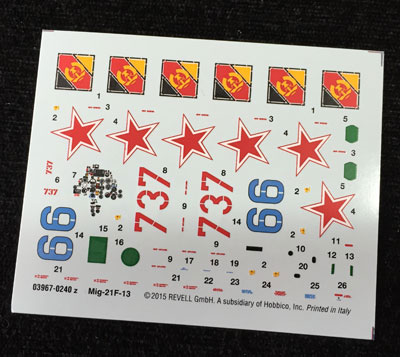 Decals and instructions
Markings for:
Mig-21F, blue 66, 32. Air-Defence-Garde-Regiment, USSR, 1961
Mig-21F, 737, flown by the first German Kosmonaut Sigmund Jähn, GDR, 1963 – 1965.
The decals are good quality and stencil data is also included on the sheet.
The instruction is a simple fold-out type and in the usual Revell format. It includes paint references but for Revell Color paints only. Given the 'silver' versions of the MiG 21 included, this is pretty academic.

To sum up
Overall a good release – nice to see this one back on line.
Geoff C.
SMN Quick summary Star rating out of 5
| FEATURE | STAR RATING (out of five) |
| --- | --- |
| Quality of moulding | **** |
| Accuracy | **** |
| Instructions | *** |
| Level of detail | *** |
| Decals | **** |
| Subject choice | *** |
| Overall | *** |