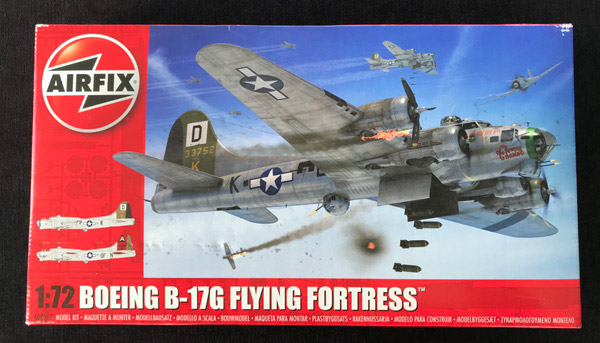 Kit Ref: A08017
Price around £30.99 GBP, $43.20 USD, €35.27 Euros, $53.86 AUS, $53.77 CAD
Review by Geoff Coughlin (January 2018)
Our thanks to Airfix for supplying our review sample – get this kit here now from Airfix.
The Airfix kit
Another new-tool Boeing B-17G Flying Fortress! Oh yes :)
The box art is as impressive as ever – reminiscent of the original Roy Cross artwork for ' A Bit'O Lace' way back when the original Airfix kit was released. I remember the undercarriage used to retract so you could fly it around after take off (well I did, and I bet you did too if you're of a certain age :) )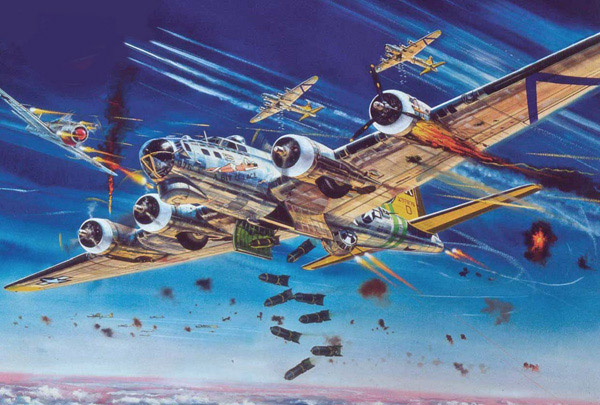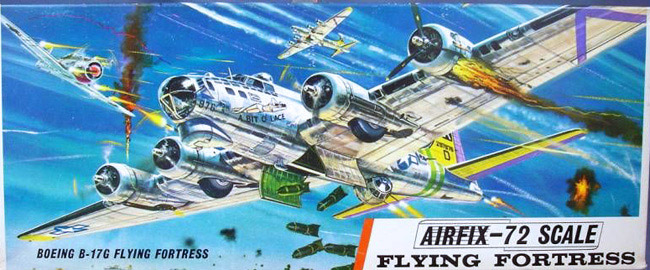 … and the box is more sturdy than those offered for the smaller scale kits and that's immediately a plus (they make great trays to hold parts during construction and painting!).
This is going to be my next project for SMN :) It's ages since I built a 1:72 'heavy' – It was the Revell 1:72 Handley Page Halifax last time that you'll find in Aircraft-Finished Now-Revell. Part of my rationale for this decision is that we modellers want manufacturers like Airfix to keep up the good work and create new-tool kits and I for one want to support all their efforts and we'll feature as many of the new-tool releases (as well as some old kits of course) here in SMN as often as possible.
Option B on the decal sheet (below) is going to be the subject for my build – I built it in 1:48 scale many years ago and it'll be good to revisit such a famous Unit: Boeing B-17G 75 BO Flying Fortress, 43-37993 'Mah Ideel', 324th Bomb Squadron, 91st Bomb Group, Eighth Air Force, United States Air Force, Bassingbourn, Cambridge, England, early 1945

(video courtesy High Flight)
What do you get?
You can see the sprues as well as I can so take a good look at the images and I think you'll be pretty pleased. No rivet detail is moulded onto the parts and it may be worth adding this using one of the many riveting tools available, although remembering that this is 1:72 scale? not sure it's warranted…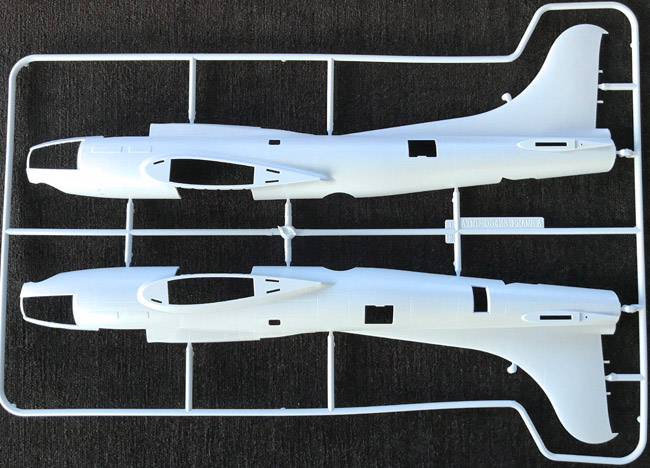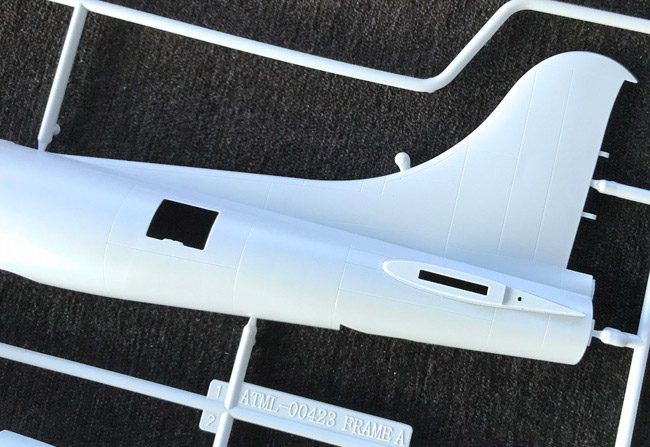 Let's start with the plastic
The plastic is in the familiar manufacturer's light blue plastic and nice well-tooled parts are supplied. Panel line detail is scribed and well done for the scale. Detail and finesse of parts is high – even better than usual from this manufacturer and that's a great step in the continuing general improvement in new products from Airfix.
Parts breakdown is pretty conventional for a multi-engined kit with a good solid main spar offered to hold the main wings securely.
Fuselage – general shape looks accurate to my eye. I have cut the fuselage halves from their sprues and test-fitted them and they fit very well – promising. The bomb bay doors can be posed open to show the detailed bay interior to expose the bombs supplied – could be good for displaying your model on a mirror tile to show off all that detail?
The interior fuselage halves have the ribbed detail moulded in although, as explained, little will be seen of this when you are done.
Main wings – separate upper wing halves split in two horizontally and attaching to their lower wing sections. The engine turbochargers that sit on top of the wings are very well done.
Flaps – dropped flaps is not offered as an option.
Rudder / elevators – These are neatly moulded separately so that you can add some interest by slightly offsetting them if required. They are very neatly moulded with fine rippling – nice.
Cockpit – this is a well detailed part of the kit, although not a lot will be visible on your finished model. Having said that, the instrument panel is there with decal details, seats and tables as well as other instruments for the crew. The cockpit makes up into a kind of capsule that inserts into the forward fuselage – interesting to see how well this works during the build.
Undercarriage – again, another strength in the kit – all the detail is there as far as I can see to make these areas eye-catching. The main undercarriage legs are nicely detailed as are bays themselves.
The wheels are provided with subtle tyre tread pattern and all have a subtle bulged effect which is great.
Engines/Propellers – these are multiple units and the engine faces offer enough detail in this scale. Open and closed cowl flaps are included.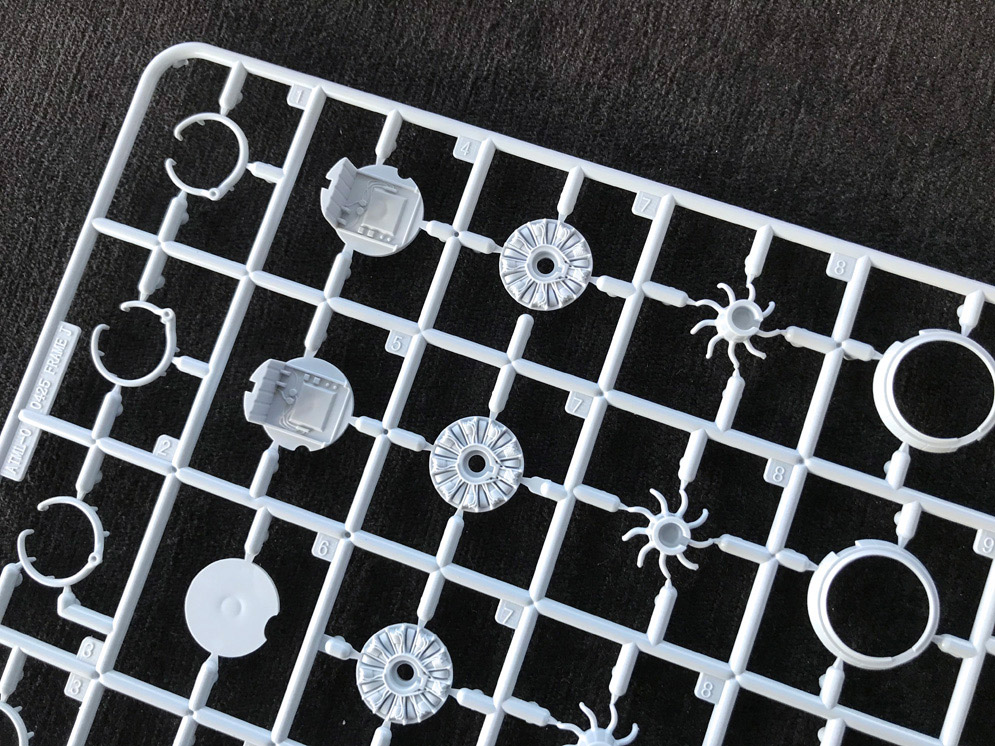 Stores – 4 bombs are included for the bomb bay.
Pilot figures – none included – perhaps because Airfix realise, as I do, that little will be visible of the cockpit interior on your finished model.
Clear parts
The Boeing B-17G has quite a bit of glass around the airframe and all parts supplied are crystal clear and blemish-free.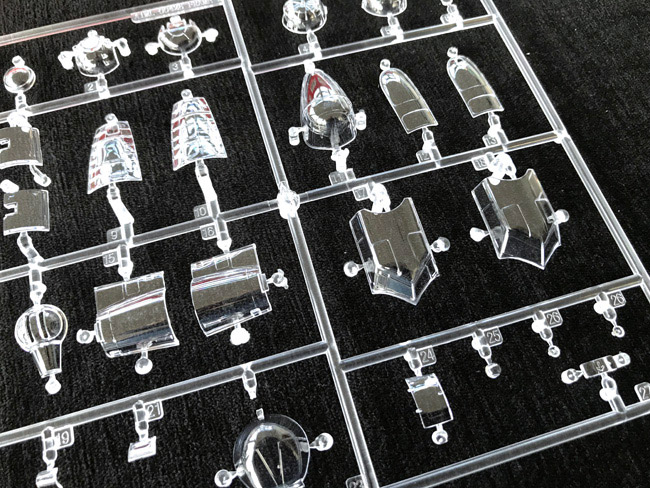 Instructions
The simple foldout instruction booklet is clear enough with references to paint colours; reference to exact colours and photos will help match your preferred paints to what's needed. There are full colour painting/decal guides included for each version supplied.

Decals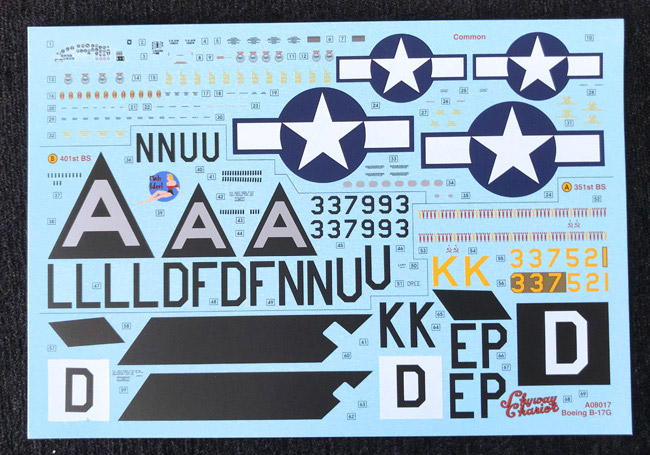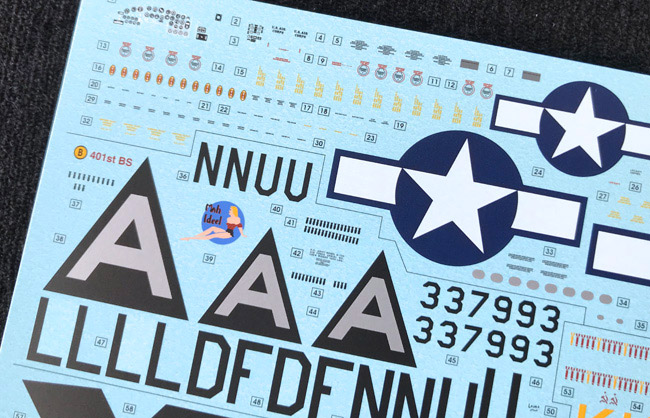 Decals for two Boeing B-17G Flying Fortress aircraft is included:
Option A: Boeing B-17G 65 BO Flying Fortress, 43-37521 'Skyway Chariot', 351st Bomb Squadron, 100th Bomb Group, Eighth Air Force, United States Air Force, Thorpe abbots, Norfolk, England, March 1945
Option B: Boeing B-17G 75 BO Flying Fortress, 43-37993 'Mah Ideel', 324th Bomb Squadron, 91st Bomb Group, Eighth Air Force, United States Air Force, Bassingbourn, Cambridge, England, early 1945
Full stencil data is included and a clear diagram showing where each tiny item goes. The different schemes are shown on a high quality colour fold-out sheet.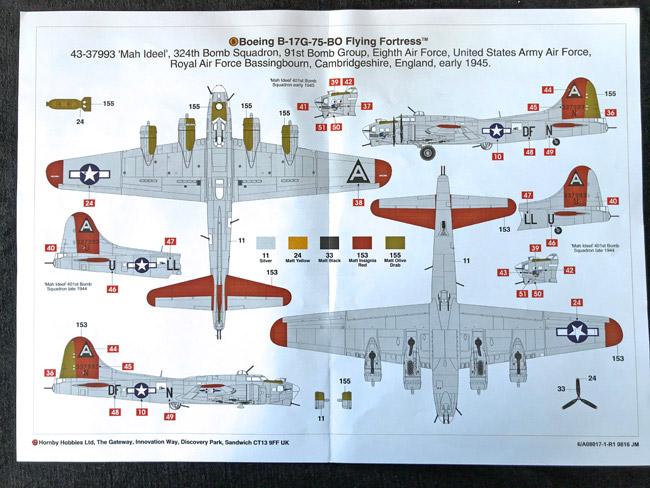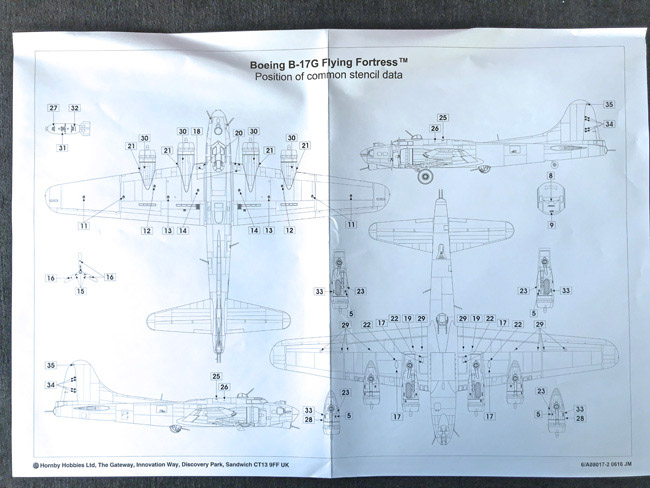 The decals are very well printed and look to be good quality – let's hope so. From building some of their recent releases these decals work well with decal softening solutions that help the markings settle down into the recessed detail.
Here's my summary
This is a good package with excellent levels of quality and detail across the whole kit. The Boeing B-17 Flying Fortress is as iconic as they come in terms of type and I can't wait to get into this build and hope you'll enjoy it. Depending on when you read these words this build project will either be under way in Aircraft Build Now or be completed in Aircraft-Finished Now-Airfix.
Geoff C.
SMN Quick summary Star rating out of 5
| FEATURE | STAR RATING (out of five) |
| --- | --- |
| Quality of moulding | **** |
| Level of detail | *** |
| Accuracy | **** |
| Instructions | *** |
| Decals | **** |
| Subject choice | **** |
| Overall | **** |
A little bit of background on the Boeing B-17 Flying Fortress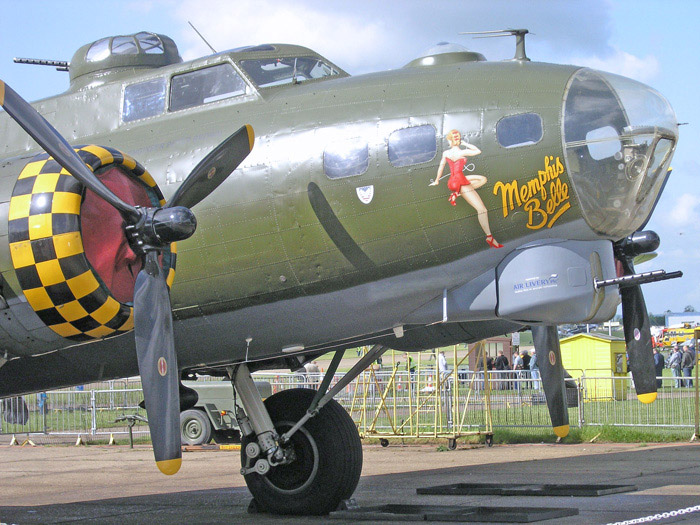 The Boeing B-17 Flying Fortress is a four-engine heavy bomber developed in the 1930s for the United States Army Air Corps (USAAC). Competing against Douglas and Martin for a contract to build 200 bombers, the Boeing entry (prototype Model 299/XB-17) outperformed both competitors and exceeded the air corps' performance specifications. Although Boeing lost the contract (to the Douglas B-18 Bolo) because the prototype crashed, the air corps ordered 13 more B-17s for further evaluation. From its introduction in 1938, the B-17 Flying Fortress evolved through numerous design advances, becoming the third-most produced bomber of all time, behind the B-24 and the multirole Ju 88.
The B-17 was primarily employed by the United States Army Air Forces (USAAF) in the daylight strategic bombing campaign of World War II against German industrial and military targets. The United States Eighth Air Force, based at many airfields in central and southern England, and the Fifteenth Air Force, based in Italy, complemented the RAF Bomber Command's nighttime area bombing in the Combined Bomber Offensive to help secure air superiority over the cities, factories and battlefields of Western Europe in preparation for the invasion of France in 1944. The B-17 also participated to a lesser extent in the War in the Pacific, early in World War II, where it conducted raids against Japanese shipping and airfields.
From its prewar inception, the USAAC (by June 1941, the USAAF) promoted the aircraft as a strategic weapon; it was a relatively fast, high-flying, long-range bomber with heavy defensive armament at the expense of bomb load. It developed a reputation for toughness based upon stories and photos of badly damaged B-17s safely returning to base. The B-17 developed a reputation as an effective bomber, dropping more bombs than any other U.S. aircraft in World War II. Of the 1.5 million tonnes of bombs dropped on Nazi Germany and its occupied territories by U.S. aircraft, 640,000 tonnes were dropped from B-17s. In addition to its role as a bomber, the B-17 was also employed as a transport, antisubmarine aircraft, drone controller, and search-and-rescue aircraft.
As of May 2015, ten aircraft remain airworthy, though none of them were ever flown in combat. Dozens more are in storage or on static display. The oldest of these is a D-series flown in combat in the Pacific and the Caribbean.