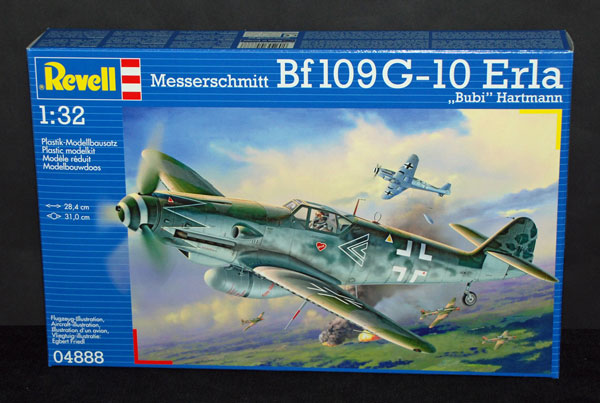 Kit ref: 04888
Price around £20.99 GBP (March 2014)
Review by Geoff Coughlin
Revell model kits are available from all good toy and model retailers. For details visit www.revell.de/en , @RevellGermany or facebook.com/Revell
A little bit of inspiration for you…
ok, not a G-10 but a G-6 and great to see and hear!
A little bit of background
Originally conceived as an interceptor, later models were developed to fulfil multiple tasks, serving as bomber escort, bomber, day, night-, all-weather fighter, ground-attack aircraft, and as reconnaissance aircraft. It was supplied to and operated by several states during World War II, and served with several countries for many years after the war. The Bf 109 was the most produced fighter aircraft in history, with a total of 33,984 airframes produced from 1936 up to April 1945.
The Bf 109 was flown by the three top-scoring German fighter aces of World War II, who claimed 928 victories among them while flying with Jagdgeschwader 52, mainly on the Eastern Front, as well as by Hans-Joachim Marseille, the highest scoring German ace in the North African Campaign. It was also flown by several other aces from Germany's allies, notably Finn Ilmari Juutilainen, the highest scoring non-German ace on the type with 58 victories flying the Bf 109G, and pilots from Italy, Romania, Croatia, Bulgaria and Hungary. Through constant development, the Bf 109 remained competitive with the latest Allied fighter aircraft until the end of the war.
The G series, or "Gustav", was introduced in mid-1942. Its initial variants (G-1 through G-4) differed only in minor details from the Bf 109F, most notably in the more powerful 1475 PS (1,455 HP) DB 605 engine. Odd numbered variants were built as high-altitude fighters with a pressurized cockpit and GM-1 boost, while even numbered variants were non-pressurized, air superiority fighters and fighter-bombers. Long-range photo-reconnaissance variants also existed. The later G series (G-5 through G-14) was produced in a multitude of variants, with uprated armament and provision for a number of kits of pre-packaged, generally factory- installed parts known as Umrüst-Bausätze (usually contracted to Umbau) and adding a "/U" suffix to the aircraft designation when installed. Field kits known as Rüstsätze were also available for the G-series but those did not change the aircraft designation.) By early 1944 tactical requirements resulted in the addition of MW-50 water injection boost and high-performance superchargers, boosting engine output to 1,800–2,000 PS (1,775-1,973 HP). From early 1944 a number of G-2s, G-3s, G-4s and G-6s were converted to two seat trainers, known as the G-12. An instructor's cockpit was added behind the original cockpit and both were covered by an elongated, glazed canopy. The so-called Rüstsätze field modification kits and Umrüst-Bausätze factory conversion kits were part of a system promulgated by the RLM as a whole, throughout the German military aviation industry, with each airframe type number having its own set of "/R" and/or "/U" numbered designations for such upgrade packages.
The Bf 109G-10 fitted with the uprated DB-605D engine and a 50-MW injection unit rolled out of the Erla factory in Leipzig from September 1944 onwards. The design of the Bf 109 G-10's manufactured by Erla differed from those produced by other companies through a completely modified, more aerodynamic engine cowling. All aircraft were equipped to carry a 300 litre drop-tank and drop bombs. Due to its lower take-off weight the G-10 had better performance than its successor the Bf 109, K-4. Including all variants the German Luftwaffe took delivery of over 2000 Bf 109G-10.