Review by: Geoff Coughlin (Jan 2012)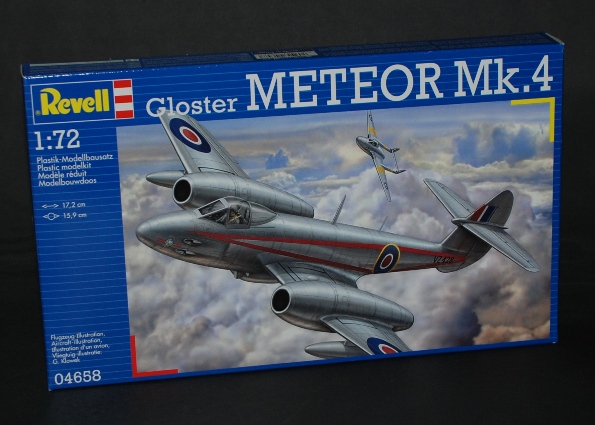 Our thanks to Revell for supplying our review sample.

A little bit of inspiration…
The Kit
This is another impressive package from Revell.
Recessed panel lines – looking restrained in this scale, plus a look and feel very similar to the Tamiya offering released a while back. Not having built the latter, I'm uncertain but some of you may know more. There's a serious 'build-me' element to the look and feel of the whole package for sure.
Box and Contents
The box artwork is usually impressive enough, which is again the case here. An image of a Mk.4 Meteor climbing, having just been bounced by a Vampire! All very embarrassing!
Let's go inside…
Click on Thumbnails to enlarge images.
The light grey sprues are packaged well and no damage is apparent.
Taking the main components first, they are well tooled, recessed panel line detail and have a quality feel; not too heavy for the scale. No distortion was apparent and a dry fit of the fuselage promises a decent fit; certainly a dry-fit of the fuselage and wings showed a good clean fit.
Cockpit
The early Meteor cockpits were very basic as you'd expect and supplying decals for the main panel is a good choice by Revell, although raised dial detail is moulded onto the main instrument panel.
The side wall detail on the real aircraft is minimal (as is the moulded kit detail), without the usual bench-like side consoles, so by adding a bit of scrap detail this area should look convincing. The interior was also mostly 'black' so not a lot will be seen.
Engine
This is certainly one of the highlights of the kit, with detailed engine intake internal detail – although, to be fair not a lot will be visible when the engine cowls are closed up.
Separate rear exhaust outlets are supplied; these are quite fine and should look good after a bit of weathering.
Undercarriage Units
Impressive these, with separate wheels and guards that are essential to capture the look of the real aircraft – nice touch.
Wheel hub detail looks good and will easily take a wash to make the detail stand out. The separate tyres look like they will be able to be clipped into place after painting the leg and tyres/hubs individually, making for an effective focal area when viewing your completed model.
Nose Weight
Don't forget to add plenty of nose weight – your Meteor will need it, or be a tail-sitter for sure!
Clear Parts
The clear parts look clear and the canopy/windscreen is provided as a one-piece moulding.
You could cut your canopy using a razor saw, although the plastic is a little thick so may not look too convincing, but check it out and make your decision.
Taking a shim of the underside of the front edge of the main, 'sliding' section of the canopy if you separate it will create the illusion that your canopy is thinner than it actually is – one for a forthcoming piece in your Techniques Bank.
Instructions and Decals
The Revell instructions follow their usual exploded stages format. Location of parts is clear (see the Gallery above) but colour paint coding is for Revell paints only. You'll have to match your own choice of paints if you go elsewhere for your choice of colour.
The build sequence is pretty standard and logical but many modellers will part company with the stated order to suit their experience.
The decals look to be good quality – certainly good subject choice:
Gloster Meteor F.4, No.1 Squadron, Royal Air Force, Tangmere UK 1950. Overall Airframe Silver
Gloster Meteor F.4, No.600 Squadron, Royal Auxiliary Air Force, Biggin Hill UK 1951. Overall Airframe Silver
Stencil detail is also provided and is almost always well worth adding, even in 1:72 scale to add additional interest to your completed model.
All the colours are in register and colour density looks impressive and carrier film limited, so I wouldn't expect any problems with application.
Applying your decals to a seriously glossy finish is ideal or, of course Alclad2 Gloss varnish over their metallic lacquer tones, as is planned for this project when we get to it.
What you'll be building…
To underline the quality of this kit, here's a few shots of the completed model sent to us by Revell. Click on the Thumbnails to enlarge the images and enjoy!
Conclusion
This is a great subject and will undoubtedly sell well.
The inclusion of good colour schemes on Revell's decal sheet is a real bonus and of course the model itself looks to be well engineered at first glance and from the dry/test-fit.
Moulding is good and the panel detail perfectly reasonable for current 1:72 scale kits. The Gloster Meteor is an iconic British aircraft and now we have another on in this small scale – how good is that?!
| FEATURE | STAR RATING (out of five) |
| --- | --- |
| Quality of moulding | **** |
| Accuracy | **** |
| Instructions | *** |
| Decals | **** |
| Subject choice | **** |
| Overall | **** |
Highly recommended for all scale modellers.
Geoff C.