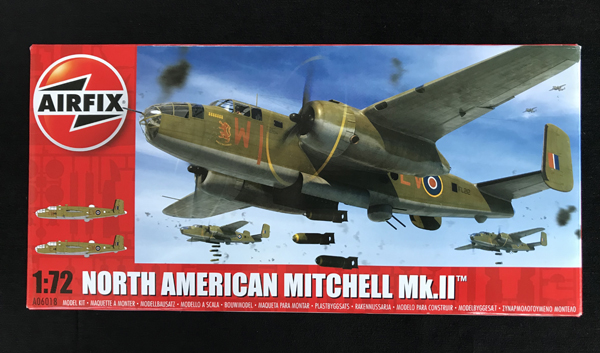 Kit Ref: A06018
Price around £24.99 GBP (January 2019)
Review with Geoff Coughlin

Get this impressive kit here now at Airfix
It's certainly been a while since I remember seeing a new-tool B-25 Mitchell in 1:72 scale and Airfix has now produced the first of what we hope will be a number of versions of this most famous of WWII twins.
The easiest thing to do is show you what's included and you can see for yourself what's on offer this time.
---
---
Great box art one again!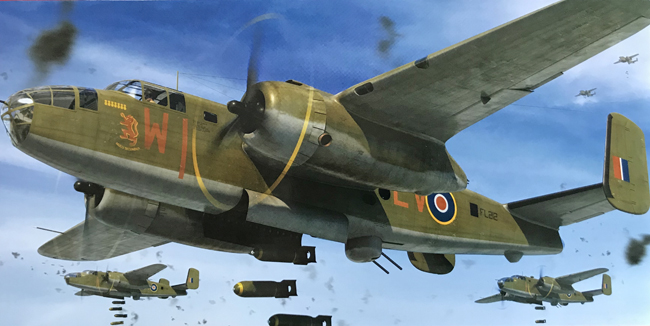 Markings
• Scheme 1: FL212 EV-W 'Nulli Secundus' 180 Squadron RAF Dunsfold 1943
• Scheme 2: FV923 SM-E Lasham 1943.
In Royal Air Force service, the capable North American B-25C/D Mitchell tactical medium bomber was designated the Mitchell II, with the RAF being the only force to operate the type of raids into occupied Europe from bases in Britain. In the weeks following the D-Day landings, RAF Mitchells were sent to operate from advanced airfields in France, to provide support for advancing Allied ground units.
Decals
Quality looks extremely good in every respect. Based on recent experience these new decal sheets are amongst the best out there in my view. I had a great experience with the decals included in the Airfix 1:48 Hawker Hunter F.6
Here's my summary…
Geoff C.
SMN Quick summary Star rating out of 5
| FEATURE | STAR RATING (out of five) |
| --- | --- |
| Quality of moulding | **** |
| Level of detail | **** |
| Accuracy | **** |
| Instructions | *** |
| Decals | ***** |
| Subject choice | ***** |
| Overall | **** |
Here's a little bit about the North American B-25 Mitchell
The North American B-25 Mitchell is an American twin-engine, medium bomber manufactured by North American Aviation (NAA).
The design was named in honour of Major General William "Billy" Mitchell, a pioneer of U.S. military aviation. Used by many Allied air forces, the B-25 served in every theatre of World War II and after the war ended many remained in service, operating across four decades. Produced in numerous variants, nearly 10,000 Mitchells rolled from NAA factories. These included a few limited models, such as the United States Marine Corps' PBJ-1 patrol bomber and the United States Army Air Forces' F-10 reconnaissance aircraft and AT-24 trainers.
The RAF received nearly 900 Mitchells, using them to replace Douglas Bostons, Lockheed Venturas and Vickers Wellington bombers. The Mitchell entered active RAF service on 22 January 1943. At first, it was used to bomb targets in occupied Europe. After the Normandy invasion, the RAF and France used Mitchells in support of the Allies in Europe. Several squadrons moved to forward airbases on the continent. The USAAF did not use the B-25 in combat in the ETO.
The Royal Air Force (RAF) was an early customer for the B-25 via Lend-Lease. The first Mitchells were given the service name Mitchell I by the RAF and were delivered in August 1941, to No. 111 Operational Training Unit based in the Bahamas. These bombers were used exclusively for training and familiarisation and never achieved operational status. The B-25Cs and Ds were designated Mitchell II. Altogether, 167 B-25Cs and 371 B-25Ds were delivered to the RAF. The RAF tested the cannon-armed G series but did not adopt the series nor the follow-on H series.
By the end of 1942 the RAF had taken delivery of a total of 93 Mitchell marks I and II. Some served with squadrons of No. 2 Group RAF, the RAF's tactical medium bomber force. The first RAF operation with the Mitchell II took place on 22 January 1943, when six aircraft from No. 180 Squadron RAF attacked oil installations at Ghent. After the invasion of Europe (by which point 2 Group was part of Second Tactical Air Force), all four Mitchell squadrons moved to bases in France and Belgium (Melsbroek) to support Allied ground forces. The British Mitchell squadrons were joined by No. 342 (Lorraine) Squadron of the French Air Force in April 1945.
As part of its move from Bomber Command, No 305 (Polish) Squadron flew Mitchell IIs from September to December 1943 before converting to the de Havilland Mosquito. In addition to No. 2 Group, the B-25 was used by various second-line RAF units in the UK and abroad. In the Far East, No. 3 PRU, which consisted of Nos. 681and 684 Squadrons, flew the Mitchell (primarily Mk IIs) on photographic reconnaissance sorties.
The RAF was allocated 316 B-25J which entered service as the Mitchell III. Deliveries took place between August 1944 and August 1945. However, only about 240 of these bombers actually reached Britain, with some being diverted to No. 111 OTU in the Bahamas, some crashing during delivery and some being retained in the United States. (Source: Wikipedia)