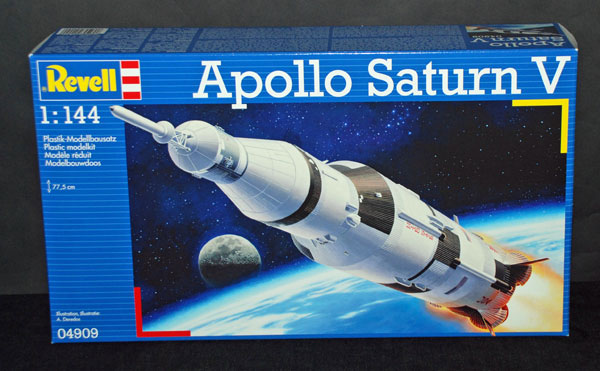 Ref: 80-4909
Review by Geoff Coughlin
Price: Around £29.99 GBP (April 2014)
Our thanks to Revell for supplying our review sample. Revell model kits are available from all good toy and model retailers. For details visit www.revell.de/en, @RevellGermany or facebook.com/Revell
Something to get you in the mood here!

A little bit of background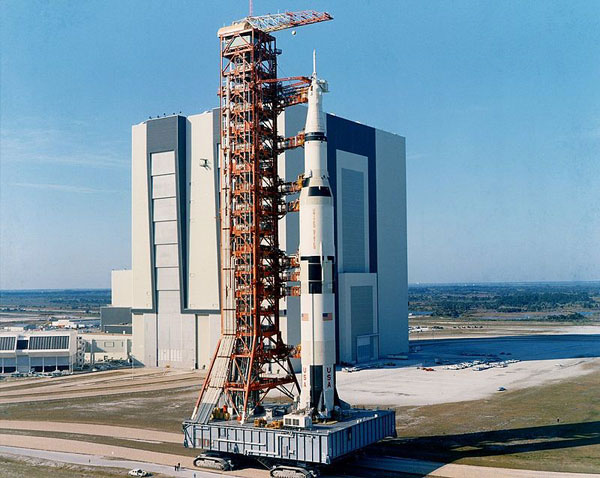 The Saturn V (spoken as "Saturn five") was an American human-rated expendable rocket used by NASA's Apollo and Skylab programs from 1966 until 1973. A multistage liquid-fuelled launch vehicle, NASA launched 13 Saturn Vs from the Kennedy Space Center, Florida with no loss of crew or payload. It remains the tallest, heaviest, and most powerful rocket ever brought to operational status and still holds the record for heaviest payload launched and heaviest payload capacity to Low Earth orbit (LEO) of 118,000 kg (260,146 pounds). This was the official rating for the rocket by NASA but subsequent missions (Apollo 15 in particular) allowed for a weight capacity of up to 240,000 kg to LEO.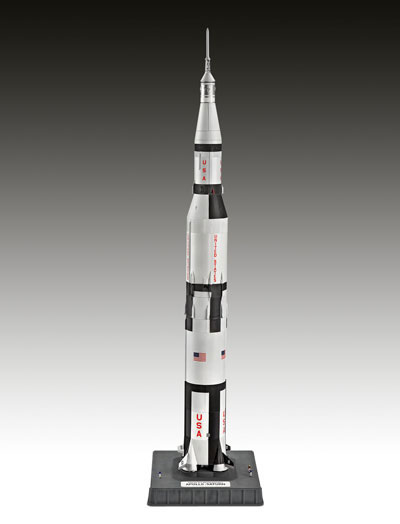 The largest production model of the Saturn family of rockets, the Saturn V was designed under the direction of Wernher von Braun and Arthur Rudolph at the Marshall Space Flight Center in Huntsville, Alabama, with Boeing, North American Aviation, Douglas Aircraft Company, and IBM as the lead contractors. Von Braun's design was based in part on his work on the Aggregate series of rockets, especially the A-10, A-11, and A-12, in Germany during World War II.
To date, the Saturn V is the only launch vehicle to transport human beings beyond low Earth orbit. A total of 24 astronauts were launched to the Moon, three of them twice, in the four years spanning December 1968 through December 1972.
The Revell Kit
It's nice to see this incredible model back again in 1:144, this time with new decals. This continues the theme with several smaller 'new' kits that are in fact older kits repackaged with new, high quality decals. And if you like space craft like the immense Apollo Saturn V rocket then you should take a good look at this one, even though it is a re-release of a much older kit.

Box and contents
The box artwork is usually very good and it's good here showing the Saturn V leaving earth's atmosphere bound for the moon. Let's go inside…
The white plastic sprues are packaged in the usual poly bag and no damage is apparent. Taking the main components first, they are quite well tooled, feeling quite hard and brittle-like. No distortion was apparent and a dry fit of the main rocket parts promises a decent fit and overall shape looks pretty good. Moving to the smaller parts, they are reasonable in outline shape and there's plenty here to keep our paint brush or airbrush happy for hours!
Given the age of the kit there is some excess flash plastic that'll need to be removed from the parts and you can probably see this in the photos.
Detail sprues
The components feature raised panel lines appropriate to the type – lots of corrugated surface detail, perhaps not as fine as, say, the newer kits from this manufacturer. The Apollo Saturn V is an iconic type and is certainly impressive as you can see from the video at the start of this review, so this project is all going to be about fine preparation and that finished paint job – a nice weathering challenge!
The Command and Lunar modules are quite well detailed, especially given the scale and it's worth looking at the photos of the manufacturer's completed model above to see how these can look when added.
This kit is pretty fairly priced at around £30.00 GBP and will make up into an impressive model that has size (77.5cm long!) and in that NASA scheme could look stunning.
Clear parts
There aren't any clear parts required for this kit.
Instructions and decals
The Revell instructions follow their usual exploded stages format. Location of parts is clear but colour paint coding is for Revell paints only. However, the colour names are provided and this will help you to match your own choice of paints. This is a basic model and so should present little difficulty in working out where all the parts are located, even for inexperienced modellers.
The decals seem good, very good in fact, being newly created in Italy. Certainly colour saturation and register is good and all markings are accurate and sharp in their detail. This is probably the best part of the package; good quality decals will make a world of difference to your completed model.
Conclusion
Basically, if you are into 1.144 scale modelling, then this kit is worth a look. There will never be a huge choice of NASA Apollo Saturn V models so the return of this one looks like it could prove popular. If you're prepared to spend some time being patient with your prep and spray work you can get good results from these older-tooled kits. This one will look stunning when complete and sitting on your club stand!
Recommended for all scale modellers, whatever your experience.
Geoff C.
SMN Quick summary Star rating out of 5
| FEATURE | STAR RATING (out of five) |
| --- | --- |
| Quality of moulding | *** |
| Accuracy | *** |
| Level of detail | *** |
| Instructions | *** |
| Decals | **** |
| Subject choice | ***** |
| Overall | *** |