Price around £240.00 GBP (Aug 2013)
Review by Geoff Coughlin
A little bit of background
Much has been written about this most famous of WWII American heavy bomber so here's a quick reminder about the type – as if you needed it!
The Boeing B-17 Flying Fortress is a four-engine heavy bomber aircraft developed in the 1930s for the United States Army Air Corps (USAAC). Competing against Douglas and Martin for a contract to build 200 bombers, the Boeing entry outperformed both competitors and more than met the Air Corps' expectations. Although Boeing lost the contract because the prototype crashed, the Air Corps was so impressed with Boeing's design that they ordered 13 more B-17s for further evaluation. From its introduction in 1938, the B-17 Flying Fortress evolved through numerous design advances.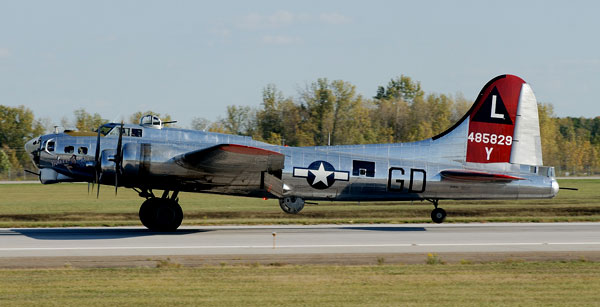 The B-17 was primarily employed by the United States Army Air Forces (USAAF) in the daylight precision strategic bombing campaign of World War II against German industrial and military targets. The United States Eighth Air Force, based at many airfields in southern England, and the Fifteenth Air Force, based in Italy, complemented the RAF Bomber Command's nighttime area bombing in the Combined Bomber Offensive to help secure air superiority over the cities, factories and battlefields of Western Europe in preparation for the invasion of France in 1944. The B-17 also participated to a lesser extent in the War in the Pacific, early in World War II, where it conducted raids against Japanese shipping and airfields.
From its pre-war inception, the USAAC (later USAAF) touted the aircraft as a strategic weapon; it was a potent, high-flying, long-range bomber that was able to defend itself, and to return home despite extensive battle damage. It quickly took on mythic proportions and widely circulated stories and photos of B-17s surviving battle damage increased its iconic status. With a service ceiling greater than any of its Allied contemporaries, the B-17 established itself as an effective weapons system, dropping more bombs than any other U.S. aircraft in World War II. Of the 1.5 million metric tons of bombs dropped on Germany and its occupied territories by U.S. aircraft, 640,000 tons were dropped from B-17s.
By the time the definitive B-17G appeared, the number of guns had been increased from seven to 13, the designs of the gun stations were finalized, and other adjustments were completed. The B-17G was the final version of the Flying Fortress, incorporating all changes made to its predecessor, the B-17F, adopting the remotely-operated "chin turret" for forward defense from the YB-40 "gunship" version, and in total 8,680 were built, the last one (by Lockheed) on 28 July 1945. Many B-17Gs were converted for other missions such as cargo hauling, engine testing and reconnaissance. Initially designated SB-17G, a number of B-17Gs were also converted for search-and-rescue duties, later to be re-designated B-17H

Amazingly there are around 13 airworthy B-17s around the world with many more static aircraft resident in museums.
The plan
There's a lot you could say about this new model from HKM and my approach here is to use fewer words and let the photos do most of the talking – more interesting for you and more objective as well! There are around 80 photos in this review and that's a lot of content for you to take in, come back to and peruse at your leisure.
What I want to do is make some objective observations below and you can make your own mind up about whether to invest in this kit; that it is big is not in doubt of course, nearly a metre (yard) wingspan (989mm) and length of 707mm. The plan is for Les V to build this one and he's just finishing off another project and as soon as that's done he'll be into this major project; I'm sure we all can't wait for that!

In the photo above you'll see Les's recently-completed 1:72 Hasegawa B-26 Marauder and just notice the relative size difference!
Reference material

You may have plenty of references for the B-17G but Les came across these two new ones that are ideal to accompany this build and he plans to ensure that they are well-thumbed by the end of his build:
B-17G Flying Fortress, Walkaround by David Doyle, Published Squadron Signal. This is an excellent one-stop-shop as all the images are in colour and coverage of the airframe inside and out is extensive.
Boeing B-17G Flying Fortress, Haynes Owner's Workshop Manual – another popular release in this growing series of excellent aircraft reference books