Review by: Geoff Coughlin (December 2011 – Updated February 2012)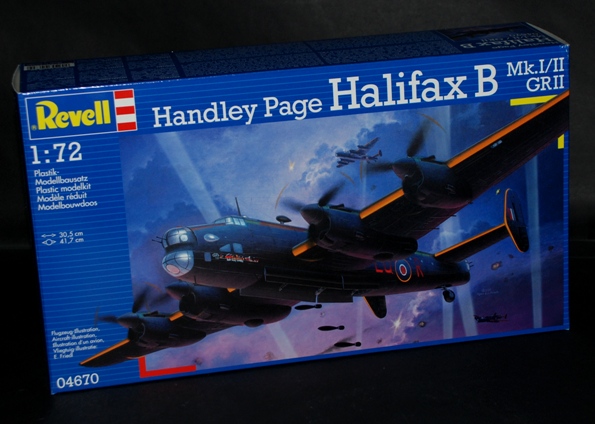 Our thanks to Revell for supplying our review sample. 

A little bit of inspiration…
The Kit
I have to say that Revell's forthcoming release of this model took me by surprise when we received the notification from Revell a few months ago that it was listed. Wow! An all-new tool Handley Page Halifax is definitely worth shouting about and this model has been eagerly awaited ever since. At last, that wait is now over. Let's go inside the box…
Box and Contents
Click on the Thumbnails below to enlarge/go back and scour the contents for yourself!
Revell persist with rather flimsy boxes that are doubtless cheap to produce but not so good in protecting the contents or proving useful during construction. Having said that, the artwork is usually impressive enough and that's the case here – an image of a Handley Page Halifax on night operations in WWII. Typical and evocative!
The light grey sprues are packaged well and no damage is apparent. Taking the main components first, they are well tooled, mainly quite fine recessed panel line detail and having a quality feel and an immediate feeling of complexity and detail; great!
No distortion was apparent and a dry fit of the fuselage promises a decent fit.  There is minimal excess flash on the parts and nothing to write home about.
Fuselage
There's an option for open bomb bay with bomb load and racks. It's when examining this area of the kit that I was reminded just how significant the Halifax bomb load was; maybe not as large as the Lanc, but considerably more than the B-17 Flying Fortress for example.
Assembly looks a little tricky, so I'll have to watch out for that during the build.
The cockpit is perfectly adequate for the scale, in fact very good with plenty of raised detail that will look realistic under paint and weathering. To be honest, you really aren't going to see a lot when the canopy is fitted and your model painted.
The seats will be readily visible, although good bulkhead detail and decal for the main instrument panel feature too; the latter will be hard to see though.
Much of the interior of each fuselage half is covered in moulded rib detail, although you should remember that virtually none of this will be visible on your completed model – worth considering before putting loads of effort into weathering and washes!
The mid-upper and rear gun turrets are nicely detailed with gun barrels delicate and convincing in this scale. The clear parts are also good for these so some internals will be visible. Two different styles of mid-upper turret are supplied, which helps create options when it comes to finishing your 'Halibag'.
The bomb bay is detailed too and will look good when painted and weathered with some suitable wash and pastels, as will the bombs if you add them.
The fuselage bulkheads are well detailed, although not much will be visible as I've said previously. Main wing spars moulded integrally with the bomb bay roof will help when it comes to lining everything up inside the fuselage and getting a good wing-to-fuselage join.